Column: Lakers' front office needs experience and LeBron James needs more help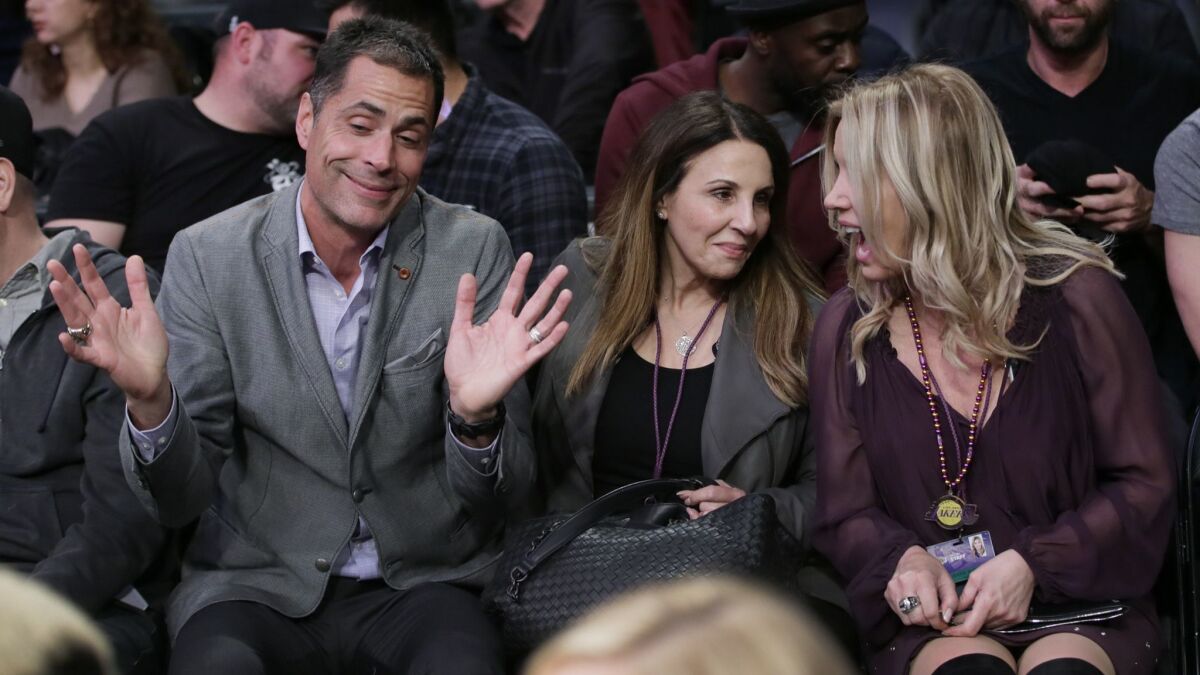 Jeanie Buss isn't selling the Lakers, isn't trading LeBron James and isn't firing Rob Pelinka.
It seems silly to have to start with the obvious, but when opinions on television and radio get aggregated into social media headlines, well, what should be obvious isn't always clear.
The problem with the Lakers isn't necessarily Buss' ownership or Pelinka's ability to be a general manager. To be fair, both are fairly new in their roles. The issue is Buss' failure to bring in someone with a successful track record of running a basketball team to work alongside her and Pelinka.
Pelinka was Kobe Bryant's agent and had never worked for a team before. But instead of pairing him with someone who had worked in an NBA front office, Buss teamed him with Magic Johnson, who had never run a team and had no working relationship with Pelinka. It was a relationship doomed from the start.
During the coaching search, Buss surrounded herself with Pelinka; senior basketball advisor Kurt Rambis and his wife, Linda, who is the executive director of special events; Tim Harris, president of business operations and chief operating officer; assistant general manager Jesse Buss; and Joey Buss, vice president of research and development. She has known everyone in that group for much, or all, of her life. She likes and trusts them. The problem is, none of them has run a basketball team.
Compare that with what Steve Ballmer did after becoming the Clippers' owner. He went out and hired arguably the greatest executive in league history, Jerry West, who has a nearly 40-year track record of success with the Lakers, Memphis Grizzlies and Golden State Warriors.
West, along with president of basketball operations Lawrence Frank, who has been in the NBA for more than 20 years, identified and recruited young executives who will one day run their own teams: general manager Michael Winger, who had been with the Cleveland Cavaliers and Oklahoma City Thunder, and assistant general manager Trent Redden, who had been with the Cavaliers. Winger turned down an opportunity to be the president of basketball operations in Minnesota; Redden passed on the general manager job in New Orleans. Neither received a call from the Lakers.
Buss has no plans to sell the team or fire Pelinka, but she should treat the president of basketball operations job — vacant after Johnson's resignation last month — with the same respect she treats the coaching job. She wouldn't hire someone who has never coached before to be coach of the Lakers. Say what you will about Frank Vogel and Jason Kidd, but they have both been the head coach for multiple teams. They aren't learning on the job with the Lakers like Pelinka is and Johnson did.
The Lakers don't need a reboot as much as they need some missing parts. Along with an experienced front office executive, they need to add a veteran or two to pair with James, who is still arguably the best player in the NBA.
James signing with the Lakers last summer is one of the only highlights in seven years. He's the only solid building block on a foundation that has been crumbling over that time. Not only does it make no sense to trade him and start from scratch, but James also isn't trying to go anywhere else. He's past the point of chasing one more ring in Toronto or Philadelphia or elsewhere.
When James decided to come to Los Angeles, it was a move inspired as much by the city as the team. He has two homes in L.A., where he and his family already had been spending their summers. His production company (SpringHill Entertainment) and media company (Uninterrupted) are based here. His friend and agent, Rich Paul, also has two homes in L.A. and opened up offices for his agency, Klutch Sports, here. Many of his other investments, such as Blaze Pizza, are headquartered here.
Over the past week, James' friend and business partner, Maverick Carter, who also lives in L.A., has been at media events talking about a new docu-series they're working on with DAZN, along with a Muhammad Ali documentary they executive produced for HBO. He also delivered the keynote address at USC's commencement ceremony. Their interests in staying in Los Angeles go beyond basketball.
The Lakers don't need to trade James, they just need to get him some help. But first they need to hire the right person to get him help, and they don't seem interested in doing that.
::
Mayor Eric Garcetti recently said L.A. is a "Clippers town now" while talking to TMZ. While the Clippers have been the more successful team the past six seasons, L.A. won't be a Clippers town until they get past the second round of the playoffs. Garcetti, a lifelong Lakers fan, should know that.
::
The Clippers' hopes of signing Kawhi Leonard this summer took a major hit when Leonard made the game-winning buzzer-beater in Game 7 of the Eastern Conference semifinals to eliminate the Philadelphia 76ers. Leonard has a chance to lead Toronto to its first NBA Finals and, because of that shot, will forever be a legend in the city no matter what he does this summer.
::
If the Lakers somehow get the No. 1 pick during Tuesday's NBA draft lottery, fans shouldn't run to buy a purple and gold Zion Williamson jersey just yet. The first call the Lakers should make, if their 2% chance to get the top pick hits, is to the New Orleans Pelicans to see if that selection would be enough to complete the Anthony Davis trade that never materialized last season. Chances are good that it would.
::
The Scholarship Tower at the renovated Coliseum will be seven stories tall and include premium seats, suites and the press box. But seats next to it will have obstructed views of the field. Depending on how bad USC is this season, one could argue those might be the best seats in the house.
---
All things Lakers, all the time.
Get all the Lakers news you need in Dan Woike's weekly newsletter.
You may occasionally receive promotional content from the Los Angeles Times.