Column: Frank Vogel's hiring by Lakers prompts a question: Are they kidding?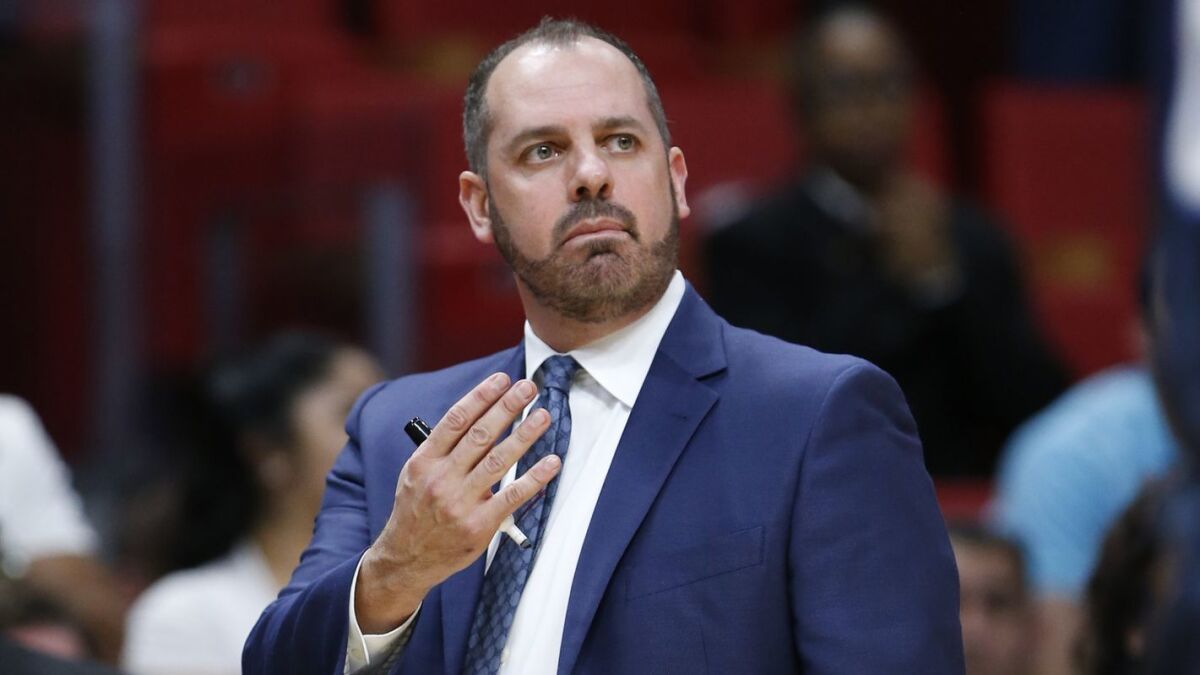 No disrespect to Frank Vogel, but … whaaaat?
The Lakers have found a head coach to replace Luke Walton who recently lost more games than Walton.
The Lakers have found a head coach for LeBron James whose teams were eliminated by James in the playoffs three consecutive seasons.
In its latest bewildering move, a franchise that once enjoyed a Who's Who of coaching talent has hired a Who's That?
Vogel agreed to a three-year contract Saturday to become the Lakers coach, and, as if that wasn't enough of a head-scratcher, the troubling Jason Kidd was immediately added to the coaching staff as an assistant.
This is really going to be, um, interesting.
At the end of a week in which the Lakers front office absorbed well-deserved criticism for botching negotiations with first-choice candidate Tyronn Lue, controlling owner Jeanie Buss' crew has once again amazed and confused.
Vogel, 45, first gained fame as a 10-year-old when he appeared on "Late Night With David Letterman" in the "Stupid Human Tricks" segment, wowing the nation by brushing his teeth while spinning a basketball on the end of the brush.
He has not been as successful with other basketball tricks, winning barely half of his games in parts of eight NBA seasons as a coach, going 304-291 with Indiana and Orlando.
While with the Pacers, his teams lost in three consecutive postseasons to a Miami Heat team led by James, including losing in consecutive Eastern Conference Finals.
There are legitimate questions about whether James will respect and follow a coach who has no rings, no Finals appearances and could never figure him out.
During his two seasons in Orlando, Vogel's teams went 54-110 before he was fired in 2018. If that looks a lot like Walton's Lakers record over the same span of time, well, it is actually eight losses worse.
Vogel may have been hired for his smart and innovative defensive ideas, something the Lakers desperately need. Yet, he hasn't shown imagination on offense, and that might not play well in a town accustomed to the excitement of Showtime and the Lake Show.
Vogel was also seemingly hired because he is known as a nice guy who can present a calm face to the Lakers' furious fan base. But with his personality, he has suffered from teams taking advantage of him, and this is not a good sign on a team with the most controlling player in basketball history in James, plus a locker room full of upstart and entitled kids.
Enter Kidd. He is a former 10-time NBA All-Star point guard with a championship ring, two Olympic gold medals, a mutual-respect relationship with James, and the sort of locker-room credibility that Vogel lacks. He also had the bluster to campaign for Walton's job earlier this season even though Walton had not yet been fired.
Although Kidd was officially hired to be an assistant, it looks like he is here to become the next head coach when Vogel stumbles. This could make for awkward chemistry on the bench and uncertainty in the locker room.
Some folks are already betting Kidd will replace Vogel long before the end of that third year in his contract, and that presents another problem.
Would Buss really give the keys to her franchise to a guy who has pleaded guilty to a domestic abuse charge? That occurred in 2001, when Kidd was charged with assaulting his then-wife, Joumana. Then, in 2012, Kidd was arrested and charged with driving while intoxicated.
It isn't like Buss could be blinded by his coaching record, either. As a head coach, Kidd has been pretty much a flop, winning just 49% of his games with Brooklyn and Milwaukee while never leading a team past the second round of the playoffs.
In all, the two hires seemed to epitomize the problems of the rudderless Lakers front office led by the seemingly overmatched owner Buss.
When Magic Johnson suddenly quit as president of basketball operations before the final game of the season, and when Buss refused to go outside the Lakers "family" to hire a sharp basketball mind to replace him, the Lakers went into a confused spiral from which they haven't recovered.
Sign up for our daily sports newsletter »
Rob Pelinka, Kobe Bryant's former agent, has been given Johnson's power, but he doesn't have the necessary experience, leadership or leaguewide respect. Into this void has stepped many inside figures attempting to exert influence.
Linda Rambis, a friend and confidante of Buss, has long been a shadow owner who is exerting increasing influence. Kurt Rambis, her husband and a former Laker, has taken on a decisive role as an advisor. Former Lakers coach Phil Jackson is phoning in with ideas. And Johnson, who said he was stepping away, has made up with Buss and is still giving advice.
With so many people in charge, there's been nobody in charge, and thus the organization blew the hiring of sensible candidate Tyronn Lue this week, refusing to meet his reasonable contract demands even though Lue had already coached James to one championship.
Lue wanted the same type of five-year deal given this spring to Walton when he joined the Sacramento Kings and Monty Williams when he joined the Phoenix Suns. The Lakers insisted on offering only a three-year deal to link Lue directly to James and the three remaining years on his contract. Lue also wanted full control of his assistant coaching staff, a normal request for a championship coach, but the Lakers were insistent on picking one of their own coaches.
After second-choice Williams took the Phoenix job and Lue turned them down, it seemed all these voices couldn't agree on exactly who to hire, so they hired two coaches. Vogel, who was willing to accept their stifling terms, was seemingly hired to keep the seat warm while Kidd was hired to cozy up to James and eventually take over.
Together, Vogel and Kidd's first task will be to persuade a top free agent to join James this summer and help rescue the Lakers from their record six-year playoff drought.
The search should focus on those who have always wanted to join a circus.
Get more of Bill Plaschke's work and follow him on Twitter @BillPlaschke
All things Lakers, all the time.
Get all the Lakers news you need in Dan Woike's weekly newsletter.
You may occasionally receive promotional content from the Los Angeles Times.