Johnny Buss distances himself from siblings and the Lakers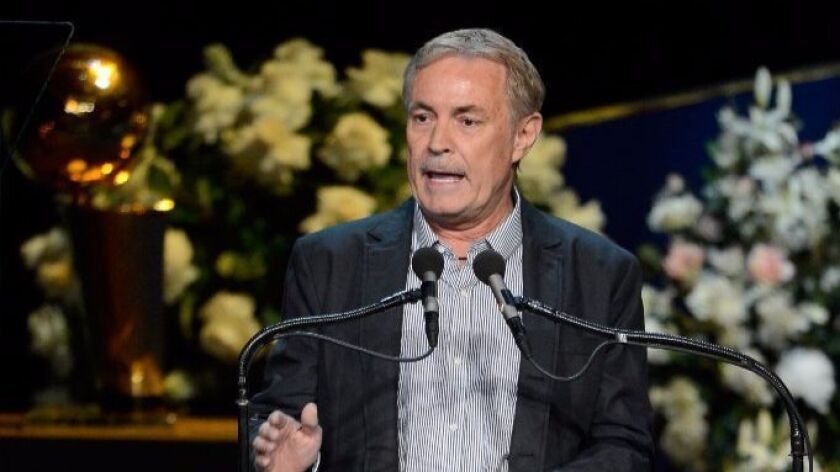 From his home in Northridge, Johnny Buss asked his young sons to give him a moment so he could make a phone call. Charlie is 5 years old and Chayton is 6, so that idea was as much wishful thinking as a sincere request.
He was once an heir to his father Jerry Buss's kingdom, but insists the sports world never quite interested him. Upon his father's death in 2013, that interest waned even more.
"I think the desire to be an owner left when my dad passed away," Johnny said. "I don't think there's any thrill in it. I think there's a lot of money in it. If you knew me you would understand I'm not about money at all. I don't drive fancy cars. I don't wear designer clothes. Money has never been a part of my being. If there was a possibility of me getting totally out of the Lakers, then I was open to it."
When Jack Kent Cooke sold the Lakers, the Kings, the Forum and a 13,000-acre ranch in Kern County, Jerry Buss met him at an office in Palos Verdes. In a limousine outside the office that day in 1979 sat Buss's oldest son, Johnny.
"He said, 'Johnny just sit here because I think we're about to embark on something incredible,'" recalls Johnny, now 60.
Four hours later they did.
Johnny never fully dove into his family's sports holdings, but he stuck around while his father lived. He promoted concerts at the Forum. He ran an indoor soccer team, the Lazers. He ran the WNBA's Los Angeles Sparks while the family still owned the team. He was also a country singer who performed at dive bars, among his favorite jobs.
"I think I hurt his feelings," Johnny said. "His first son did not want to carry on his love for basketball, his love for sports the way he wanted."
When Jerry Buss died, the Lakers were passed on through four trusts that split 66% of the franchise among his six children.
The trust makes it very difficult for any of them to sell their shares, and impossible without the approval of their other siblings. Jeanie Buss, the team's governor and controlling owner has made clear the Lakers are not for sale.
But in February Johnny and his brother Jim proposed a board of directors that did not include their sister. Had they succeeded, that would have removed her as the Lakers' controlling owner and could have threatened the Buss family's ownership of the Lakers.
When asked if selling his shares was part of his aim, Johnny said, "Absolutely."
But he insisted he never wanted to push out his sister.
"Jeanie was always going to be slated as running the business side for as long as she lived," Johnny said. "There was no question about that. We all understood that, we all knew that, we were all for it. She surprised us doing a great job running the Forum.… My dad just figured he'd last another 10 years and that Joey and Jesse would start taking over the basketball side and Jimmy would start retiring and that would be it. That was the plan that I understood."
After the proposal set forth by Johnny, Jim and their attorneys failed, the two brothers resigned as trustees of the Buss Family Trusts and as members of the board of directors. Janie and Joey Buss replaced them. Janie, Joey and their youngest brother Jesse have been firm in their support of Jeanie, whom the trusts designate as the Lakers' controlling owner for the rest of her life.
Johnny says it's all a misunderstanding. He says he's tried to apologize. Sources close to the Buss family who aren't authorized to speak publicly disputed that.
Now, after a public legal fight that split the siblings, Johnny is even more ready to move on.
"After all of this, not only have I resigned from [the Lakers], I've resigned from being a member of the Buss family," Johnny says.
He says he plans to run for political office next year, but wouldn't say which one. And while his relationship with his siblings is strained, he shares with them a reverence for their father.
"If anybody thought that Johnny or Jeanie or Jimmy or any of his kids could fill his shoes, they're grandly mistaken," Johnny said. "He's a once-in-a-lifetime kind of person. So all we could do was try to stay together and do what he asked us to do and that was to make as much money as possible. Create a franchise that was worth billions."
Follow Tania Ganguli on Twitter @taniaganguli
---
All things Lakers, all the time.
Get all the Lakers news you need in Dan Woike's weekly newsletter.
You may occasionally receive promotional content from the Los Angeles Times.