LeBron James' last-second shot snuffed as Lakers blow late lead to get swept by Knicks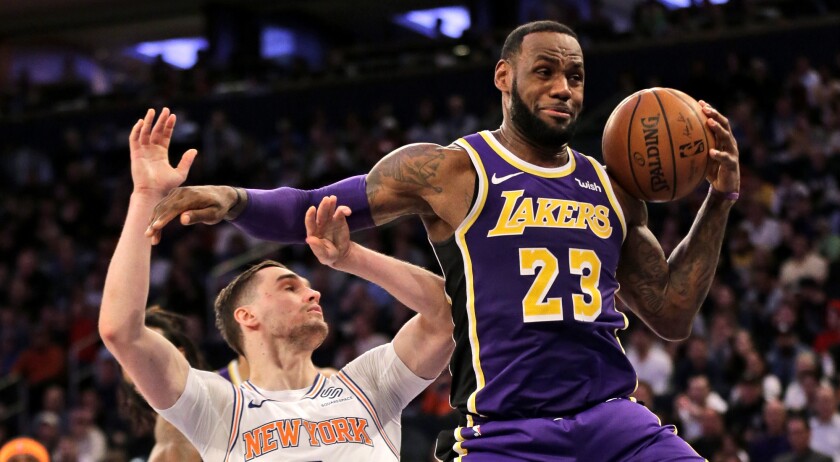 Reporting from New York —
As LeBron James jumped to shoot, New York Knicks forward Mario Hezonja jumped with him and put his hand on the ball.
That's how the game would end — with James unable to release his shot and a mob of Knicks swarming Hezonja.
The Knicks went on a 13-1 run to end Sunday's matinee at Madison Square Garden and beat the Lakers 124-123, snapping an eight-game losing streak and completing a season sweep of L.A.
The Lakers fell to 1-8 in March and 31-39 overall — the same record they had through 70 games last season. They need four wins in the last 12 games to match last year's total.
The Knicks (14-56), meanwhile, have the worst record in the NBA. Both teams are headed to the draft lottery.
"It bothers me in the fact we didn't close the game out, and being the competitor that I am, it bothers me that I didn't make enough plays down the stretch, it bothers me that I didn't even get a shot up at the hoop," James said. "Of course that stuff bothers me, but I mean what's the difference between their record and our record? Two teams out of the postseason. So there's no difference. We have a couple more wins than them, but both teams right now are on the outside looking in. So it's not much of a difference."
James finished with 33 points, eight assists and six rebounds, but shot four for 15 in the fourth quarter. Kyle Kuzma scored 18 points with eight assists, one game after setting his career high with 10. Before Friday, his high was seven.
Sign up for our Lakers newsletter »
The Knicks were led by point guard Emmanuel Mudiay, who scored 28 points with eight assists and made two free throws to give them their first lead of the fourth quarter with 22.3 seconds left.
"We didn't do a good enough job of closing out the game," Lakers coach Luke Walton said. "We fought hard to build a lead and I think it started when we were up nine or 11 and they missed a three and we let the ball bounce and hit the ground and then they kicked it out for a three. So from that point on, we didn't make the plays that we needed to to win a game. And a couple of Knicks stepped up and made some big shots and made some big defensive plays."
It was the Lakers' earliest tip-off of the season: noon local time, 9 a.m. PDT, and they started with a corresponding sleepiness. The Knicks took a seven-point lead before the Lakers went on a 7-0 run to tie the score, mostly fueled by JaVale McGee.
But after one quarter the Lakers trailed 41-30 with James having scored six points and the Lakers having made only three of 10 three-point attempts while the Knicks made five of six.
The Lakers pulled ahead with a 36-point second quarter and led by two after three quarters. It appeared they had taken control of the game during the fourth quarter, with a lineup that included Kuzma, Alex Caruso, Johnathan Williams and Kentavious Caldwell-Pope.
Williams scored seven straight points, James found Caldwell-Pope for a pair of threes, and when James drilled a 22-foot jumper with 3:45 left, the Lakers had an 11-point lead. It was their last field goal of the game.
Things began to unravel. DeAndre Jordan dunked off an assist by Mudiay, grabbed two rebounds and fed Hezonja for a three, grabbed a steal and made a pair of free throws, then blocked a layup by James.
"The last three minutes of the game, it kinda got real stagnant," Kuzma said. "I think that's the biggest thing. We were moving the ball pretty much all night, getting stops and whatnot, but we let it slow down a little too much."
James put the onus on himself to close out the game. He missed a three with 1:20 left and a five-point lead. With the Lakers leading by one, James missed a 22-foot jumper.
Then, when Hezonja picked him up at half court in the final seconds, James drove into the paint and went for the win, fading to his left, but couldn't shake the 6-foot-8 Croatian.
"He's one of the all-time great players in our league. He understands time and score and everything else," Walton said. "So, he's earned that right to take the shots he feels comfortable with. As opposed to some younger guys, you draw things up and tell them what to look for and tell them where to go at what time. He's earned the right to feel that out and take the shots he feels like are going to be good for him."
Follow Tania Ganguli on Twitter @taniaganguli
---
All things Lakers, all the time.
Get all the Lakers news you need in Tania Ganguli's weekly newsletter.
You may occasionally receive promotional content from the Los Angeles Times.