Lakers' Kyle Kuzma struggling with hip injury but wants to tough it out
Lakers coach Luke Walton noticed how Kyle Kuzma's body movement looked restricted and removed his young forward to determine how much longer Kuzma could be effective against the physical play of the Minnesota Timberwolves.
Kuzma acknowledged after Thursday night's game that he's been "dealing with a little hip strain" for the past week that has impeded his motion. He rejected thoughts of resting because the Lakers have been shorthanded and he figured he could play through the pain.
"I just don't like to sit out games," said Kuzma, who hopes to play Sunday against the Phoenix Suns at Staples Center. "But it's a little give and take. I'm a little hard-headed sometimes, but I gotta see what's right and what's wrong."
Not having LeBron James, who remains sidelined while recovering from a strained groin, and Lonzo Ball, out because of a sprained right ankle, weighed on Kuzma's mind.
The Lakers are not only short on healthy bodies, they also are in a fight for a playoff spot in the super-tough Western Conference. They have fallen to ninth in the standings while losing 10 of 15 games without James. The Lakers (25-24) are two games behind the Clippers for eighth, tied with the Sacramento Kings and a game ahead of the Timberwolves.
The Lakers didn't practice Friday, allowing Kuzma to rest his hip. Kuzma has been getting treatment but said he "definitely felt it a little bit more" against the Timberwolves and that it has "been getting a little worse" the more he plays.
Sign up for our Lakers newsletter »
"Gotta keep playing through injuries," Kuzma said. "But the good thing is we got two days off. Get a lot of treatment, try to get back for Sunday."
The Lakers need Kuzma because he is second in scoring, averaging 19.1 points, fourth in rebounding (5.9) and third in free-throw shooting (76%), and that's important for a Lakers team that entered Friday tied for last in the NBA in free-throw shooting (68.6%).
None of that mattered to Walton when he saw that Kuzma "didn't look right."
Walton first pulled Kuzma after he played 4 minutes and 26 seconds to start Thursday's third quarter. Kuzma returned with 10:39 left in the fourth and wound up playing 28:08, five minutes below his season average.
He missed eight of 12 shots, including all four three-pointers, and finished with 10 points.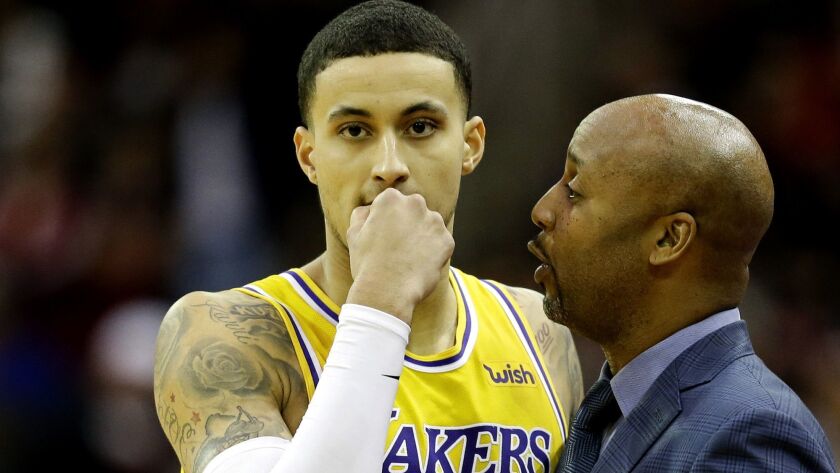 "He didn't look like he was moving right," Walton said Thursday night. "He truly loves to compete. I felt like my gut was that he wasn't able to do what he wanted to do. Now he said he felt fine and he could play, but he didn't look like his normal self."
Kuzma maintains that these are desperate times for the Lakers. They have 33 games left to secure one of the eight postseason berths. They don't know when James is coming back and Ball is expected to be out a few more weeks.
So the Lakers likely need Kuzma, fully healthy or not.
"At the end of the day, every game is a must-win," Kuzma said. "We're fighting to be in the playoffs, fighting for seeding and the season's ticking down. We got less than 40 games right now and everything has to be serious."
Twitter: @BA_Turner
---
All things Lakers, all the time.
Get all the Lakers news you need in Dan Woike's weekly newsletter.
You may occasionally receive promotional content from the Los Angeles Times.