Lakers fans beware: Here comes LeBron James and his fanatical following
First game: LeBron James of the Cleveland Cavaliers looks on during the game against the Sacramento Kings at Arco Arena on Oct. 29, 2003, in Sacramento.
(Jed Jacobsohn / Getty Images)
Soaring over Tim Duncan: LeBron James of the Cleveland Cavaliers goes in for a slam dunk over Tim Duncan of the San Antonio Spurs on Nov. 3, 2006, at the AT&T Center in San Antonio, Texas.
(Stephen Dunn / Getty Images)
NBA playoff debut: LeBron James of the Cleveland Cavaliers tries to get a shot off over Michael Ruffin of the Washington Wizards in Game 1 of the Eastern Conference Quarterfinals during the 2006 NBA Playoffs at Quicken Loans Arena in Cleveland.
(Gregory Shamus / Getty Images)
First MVP in 2009: Fans show support of LeBron James of the Cleveland Cavaliers as he holds up the Maurice Podoloff Trophy after being named the 2009-10 NBA MVP prior to playing the Boston Celtics in Game 2 of the Eastern Conference Semifinals during the 2010 NBA Playoffs at Quicken Loans Arena in Cleveland.
(Gregory Shamus / Getty Images)
The decision: Eric Murosk stands in a large crowd of fans assembled outside the Boys & Girls Club of Greenwich hours before LeBron James was to arrive in Greenwich, Conn. Free agent NBA player LeBron James announced live on ESPN from there that he will be playing for the Miami Heat in the coming season.
(Christopher Capozziello / Getty Images)
The decision: LeBron James attends the LeBron James Pre Decision Meet and Greet on July 8, 2010, in Greenwich, Conn. Proceeds from the $2.5-million event were donated to the Boys & Girls Clubs of America.
(Larry Busacca / Getty Images)
LeBron James helped the Miami Heat win two NBA titles in four Finals appearances.
(Don Emmert / AFP/ Getty Images)
First championship: NBA Finals MVP LeBron James of the Miami Heat holds the championship trophy after defeating the Oklahoma City Thunder in Game 5 of the NBA Finals on June 21, 2012, at the American Airlines Arena in Miami.
(Don Emmert / AFP/Getty Images)
Block party: LeBron James of the Miami Heat blocks the shot of Tiago Splitter of the San Antonio Spurs in the fourth quarter during Game 2 of the 2013 NBA Finals at American Airlines Arena in Miami.
(Christian Petersen / Getty Images)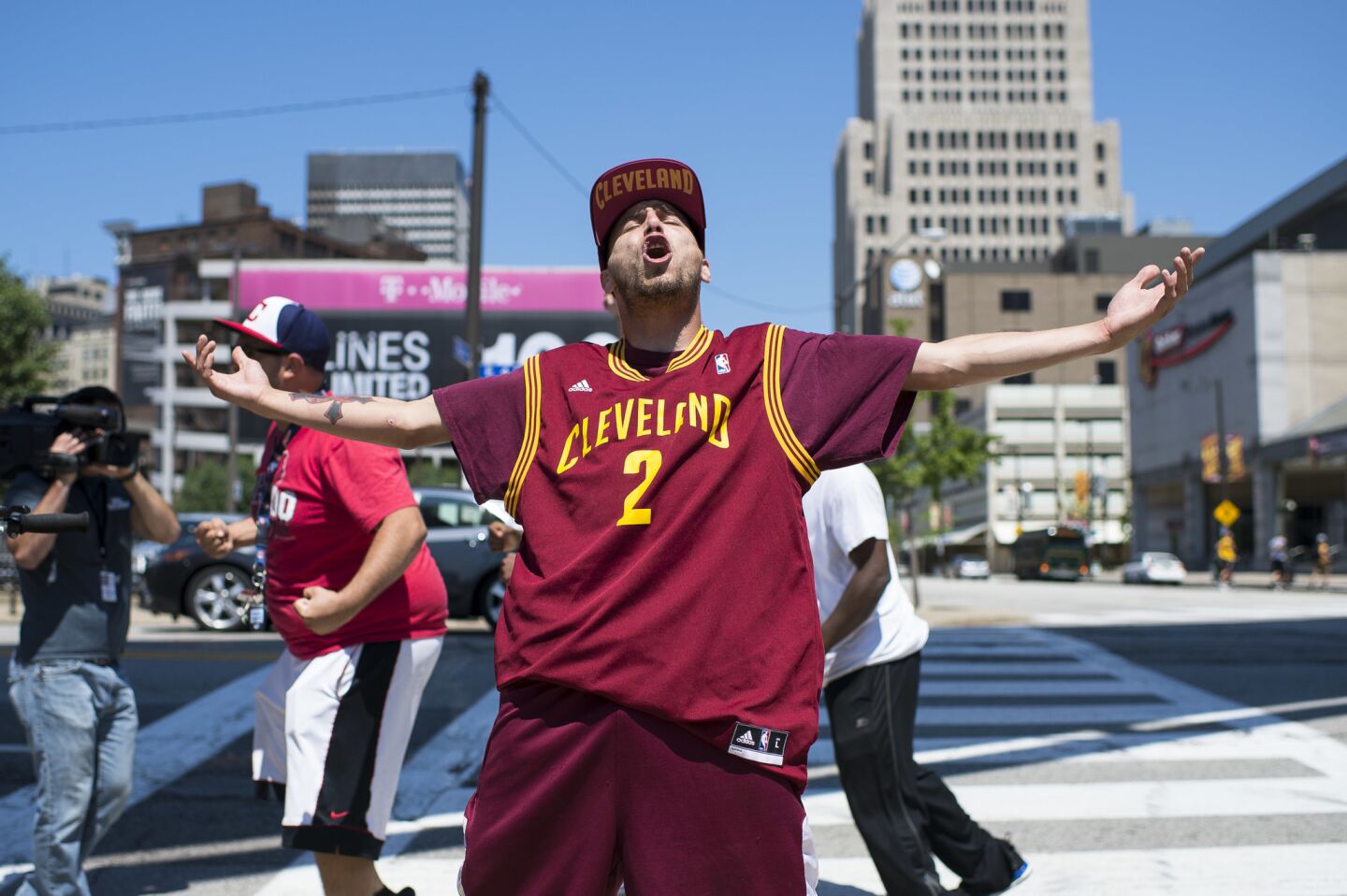 Return to Cleveland: A Cleveland Cavaliers fan reacts to the news of LeBron James' return to Cleveland on July 11, 2014, in Cleveland.
(Angelo Merendino / Getty Images)
Pinned: LeBron James of the Cleveland Cavaliers blocks a shot by Andre Iguodala of the Golden State Warriors in Game 7 of the 2016 NBA Finals at Oracle Arena in Oakland.
(Thearon W. Henderson / Getty Images)
Two days after the Chargers used their first-round pick on safety Derwin James, he stood in the team's media room, watching the club's second- and third-round picks, Uchenna Nwosu and Justin Jones, conduct their first interviews as NFL players.
While they talked about their dreams coming true, James was caught in the back of the room in a daydream of his own.
James is a basketball fan, he said. Loves the game and wowed Florida State fans with a between-the-legs windmill slam while in college to help signal his knee was healthy.
So, while his future teammates talked football, he jab stepped. He bounced an imaginary ball between his legs, crossed over and stepped back.
He flicked the imaginary ball through an imaginary basket, scoring two points for his favorite team.
And that team?
"LeBron James."
When the Lakers reached an agreement to sign James to a four-year, $154-million contract, they didn't just get the NBA's best player, a workhorse, do-it-all athlete with unmatched skill, size, strength and speed.
They also acquired the army of fans who care more about the name on the back of the jersey than the one on the front.
"I never in a million years thought I would ever be a Lakers fan... [facepalm emoji] welp," Pittsburgh Steelers running back Le'Veon Bell tweeted. "y'all can call me a bandwagon all y'all want...lol where LeBron goes, I GO!"
If the Lakers fan base wasn't already strong, it's about to be invaded by people who have followed James from Cleveland to Miami and back to Cleveland as he pied-pipered them through the Eastern Conference.
One of those people, former UCLA basketball player Josiah Johnson, has been spreading the gospel of LeBron on social media for most of James' career.
"LeBron is bigger than the NBA," Johnson said. "Look at his Twitter followers, his Instagram followers."
James has 41.9 million followers on Twitter. The NBA has 27.9 million. Another 39.1 million follow James on Instagram compared to 29.3 million for the NBA's official account.
Johnson, the son of Los Angeles basketball legend Marques Johnson, co-created the Comedy Central show "Legends of Chamberlain Heights" and is a supervising producer of scripted content at Attn:, a Los Angeles-based media company.
A lifelong Clippers fan, Johnson shifted his allegiance to James before he even played in the NBA, with everyone in the basketball world talking about this high school phenom.
"The first dude who was super-hyped like that and more than lived up to it," Johnson said.
He has followed James' career in the East, and now he's ready to join forces with a group of fans with whom he has argued about James' relative greatness compared to Kobe Bryant for more than 10 years.
"It's been over a decade," he said. "It's going to be very telling for Kobe fans, who have sworn hate on LeBron. … But Kobe fans and LeBron fans are at peace right now.
"You had guys in Kobe jerseys literally doing the chalk toss in front of Staples Center. It made my heart flutter. It's a new day in Los Angeles."
Had James told the Orlando Magic he wanted to bring them to glory, Johnson and James' fans would've followed him there. Had he told the Memphis Grizzlies he wanted to grit and grind, his fans would've come. Even if he decided to team up with another Ball, LaVar, and his JBA league, people such as Derwin James, Le'Veon Bell and Josiah Johnson would be pulling for the "Dallas Ballers" or something like that.
James has earned fans through greatness, and now they'll be sharing Staples Center with another group of fans whose loyalty has also been won by greatness, the combining forces a result of a free-agency signing unlike any other in NBA history.
A player this great jumping ship to an organization this storied? It had never happened.
And if he leaves, so will they.
"Really," Johnson said, "we're just here for LeBron."
Twitter: @DanWoikeSports
---
All things Lakers, all the time.
Get all the Lakers news you need in Dan Woike's weekly newsletter.
You may occasionally receive promotional content from the Los Angeles Times.