LeBron James defends young Lakers teammates: 'It's unfair' to ask so much from them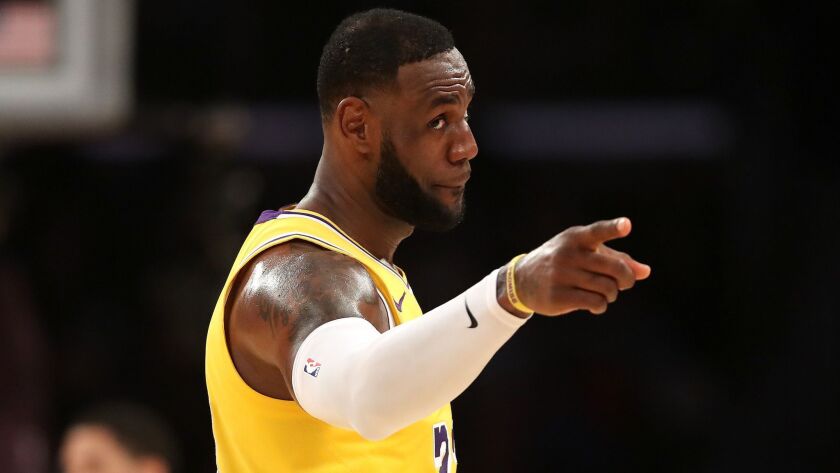 Often when he's asked about the Lakers' struggles, LeBron James refers to the team's inexperience. He says they are a young team and attributes the mistakes they make as a group to that.
On Wednesday morning before the Lakers played the Denver Nuggets, James expanded on that line of thinking. He said twice it was unfair to place so much on the shoulders of the younger players.
"You have four guys in our top eight rotation that you have to really rely on, and it's unfair to them to ask for so much when they're in their second or third year," James said. "We have Zo [Lonzo Ball], Josh [Hart], Kuz [Kyle Kuzma] and B.I. [Brandon Ingram]. And we had Zu [Ivica Zubac] at the time. That's like five out of our top nine guys that we rely on, and they're in their first and second year. You can't find one other team in our league right now that has to rely on that much every single night from their young guys that's in their first or second year."
Sign up for our Lakers newsletter »
James was the only veteran the Lakers added last summer who got a long-term contract. They otherwise filled the roster with players on one-year deals while waiting for the following year's free agency, or perhaps an opportunity to add another star through a trade. Of their veterans, the most stable presence has been Rajon Rondo, who has only played in 30 of the Lakers' 64 games this season because of two injuries and a brief suspension.
No blockbuster trades materialized this winter, so the Lakers' most reliable players have been their young core. They traded Zubac on Feb. 7.
When James signed, he said he understood many of his teammates weren't at a point in their careers yet where they could be key pieces for a championship contender. The stark reality of the season likely ending without a playoff berth has felt starker for James.
Further complicating matters were a groin injury that kept James out for five weeks and a trade deadline that caused unrest in the locker room as the Lakers aggressively tried to trade for Anthony Davis, offering all of their young players in different packages.
"It's unfair to those guys for us to continue to — we want them to learn, we want them to learn, we want them to learn — I want them to learn," James said. "But also we have to understand that they're young as well and they're going to make mistakes. You just try to limit the mistakes as much as possible. You look at all of the 16 teams right now, the best teams in our league right now, just look at the guys they rely on every single night to be able to come through for them. If they have a young guy it's probably one or two of them. So it's been tough on us. It's been tough on us."
Follow Tania Ganguli on Twitter @taniaganguli
---
All things Lakers, all the time.
Get all the Lakers news you need in Tania Ganguli's weekly newsletter.
You may occasionally receive promotional content from the Los Angeles Times.