Newsletter: Lakers! Brook Lopez is the next frustrated, highly paid Lakers veteran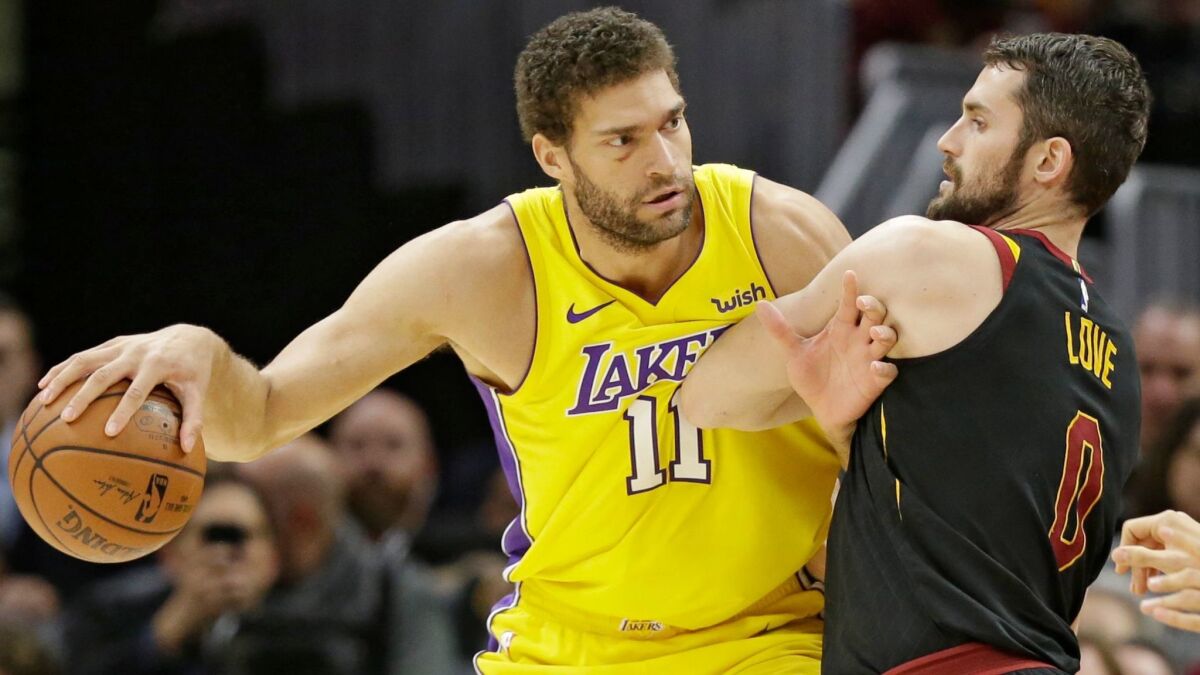 Hi this is Tania Ganguli, Lakers beat writer for the Los Angeles Times here with your weekly newsletter.
Before we get to the meat of the newsletter, I need your help. I'd like to add a new feature to the newsletter in which I offer an in-depth answer to one question each week from one of you. Surely, you've got questions about the Lakers, about the NBA or about whatever's on your mind. Send them on over, please.
Remember that the newsletter typically runs on Thursdays, so if it's a question that needs an immediate answer, well, send it anyway and I'll do my best.
The Lakers are in Brooklyn on Thursday, the place where Brook Lopez's career started. We'll begin with him.
Things are bad for Brook Lopez
There's more to an NBA player's life than the money he makes. That's a statement that might induce eye rolls from some people. Most of us can barely fathom what it would be like to make even $1 million a year, much less $22 million.
But happiness and money are only linked to a certain degree in people generally. In 2010 a Princeton study found that happiness plateaus at a household income of $75,000 a year on average in America. Five years later, another study cited by the Huffington Post adjusted that number on a state by state basis. In California the number was a little more than $90,000.
That's not an insignificant sum, but it is well below the NBA minimum for any player and also much less than the salaries of the Lakers' unhappy veterans.
Add Brook Lopez and Luol Deng in that group.
Deng has made clear to the organization that he wants out. He signed a big contract two years ago, and despite the success he's had at other points in his career, what most people now associate with Deng is that he took a big contract with a team that shortly thereafter decided they didn't want him. He had almost no role on the team. Now he makes $18 million a year and doesn't play the game he dedicated his life to at all.
Lopez is starting to experience some similar frustrations. He's still starting games for the Lakers, but he almost never finishes them. In 16 of the last 18 games, Lopez hasn't played at all in the fourth quarter. He's missed the fourth quarter of half of the Lakers' games this year entirely.
Lopez is a good player. In the right situation he might be a great fit. This is not that situation. When the Lakers go small, Lopez gets squeezed out. When the Lakers want a more defense-focused unit, Lopez gets squeezed out. Lakers coach Luke Walton doesn't want his team going overboard with three-pointers, mainly because they are the league's worst three-point shooting team, and Lopez is taking threes at a higher rate than he has at any other point in his career.
There's a disconnect and it's getting to Lopez. He looked emotional on the bench Wednesday night and seemed very upset at the moment when Thomas Bryant entered the game in the fourth quarter, essentially assuring Lopez another minutes-less fourth quarter.
He had his best game of the season against Brooklyn in Los Angeles. We'll see if being back here, the only other team he's ever played for, will help things in some way.
What else happened this week?
--We finally learned what Lonzo Ball's injury actually is. He has a sprained medial collateral ligament in his left leg, an injury that typically takes one to three weeks to heal. There seemed to be a lot of secrecy from the Lakers in offering details about Ball's injury. For a while it was treated like a day-to-day injury, but it quickly became clear that it wasn't really a day-to-day injury.
--In Toronto a sweet story emerged. Tyler Ennis, who grew up near Toronto, actually has a connection to Jordan Clarkson from before the pair became teammates. Clarkson went with Ennis the night before the Lakers played the Raptors to attend an AAU basketball game in which Ennis' 13-year-old sister was playing.
--It was great to see David Nwaba in Chicago, and to see how excited the Bulls are about him. Nwaba spent his whole life in Los Angeles and Southern California, and it seems like the change of scenery has been good for him. I also noticed Nwaba has become a lot more comfortable giving interviews. That could have been a consequence of familiarity. He seemed happy to see some of the reporters who covered his NBA debut last year.
--Lopez gave us another delightful story (the first was the one about him evacuating his cat Poupon to Fresno amid the Skirball fire). This week I wrote about Lopez having a house on Walt Disney World property near Orlando, Fla. He didn't have time to go to Disney World on this trip, but Lopez wasn't too broken up because he went to Disneyland twice in the week before the road trip. Of course he did.
Up next
The Lakers will finish up this road trip against the Nets and the Thunder before returning home for a pair of games leading up to the trade deadline. The deadline is Feb. 8.
Schedule
All times Pacific
Friday at Brooklyn, 4:30 p.m.
Sunday at Oklahoma City, 11 a.m., ABC
Tuesday vs. Phoenix, 7:30 p.m.
Until next time
Stay tuned for future newsletters. Subscribe here, and I'll come right to your inbox. Something else you'd like to see? Email me. Or follow me on Twitter @taniaganguli
Follow Tania Ganguli on Twitter @taniaganguli
---
All things Lakers, all the time.
Get all the Lakers news you need in Dan Woike's weekly newsletter.
You may occasionally receive promotional content from the Los Angeles Times.