Newsletter: Lakers! Julius Randle and Nick Young are unlikely buddies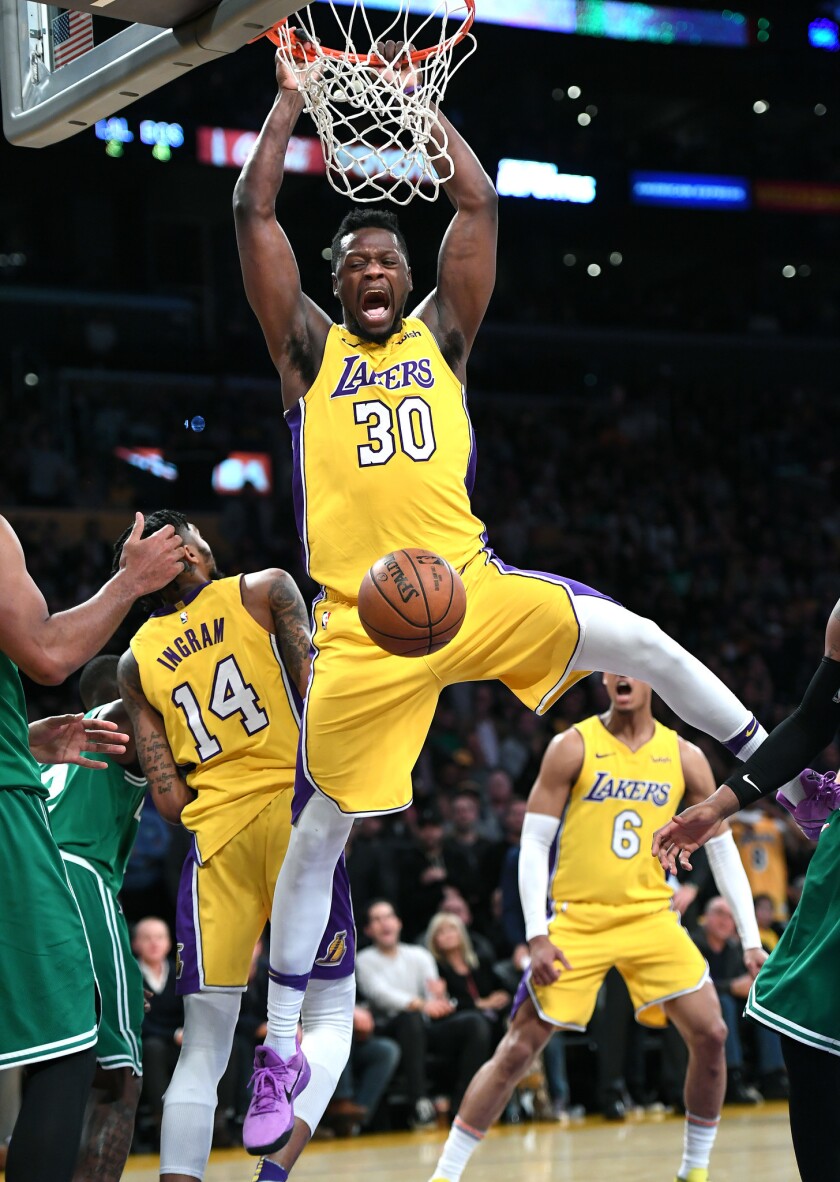 Hi, this is Tania Ganguli, Lakers beat writer for the L.A. Times, here with your Lakers newsletter.
The Lakers are in the final stretch of the season and will do most of it at home. They have only one true road game left, in Utah. Six of their remaining games are at home and the other is the season finale on the "road" against the Clippers.
I asked around the Lakers locker room if it would be difficult to stay focused with so few games left and nothing tangible to play for. They were eliminated from the playoffs for the fifth straight year last week. Brook Lopez said it can be, but he doesn't see this group reacting that way. Kyle Kuzma said he wasn't worried. Brandon Ingram said it can be tough, but the Lakers' coaches have made sure the players don't relax during their last set of games. He said those instructions were written on the white board before the game.
Coach Luke Walton had a similar, but slightly different thought: "It gets more challenging this time of year, but we're going to be on them, and if they want to take nights off we're going to sit them on the bench and let them take the night off that way."
Well, OK.
On Nick Young's relationship with Julius Randle
In the course of reporting a story about Julius Randle last week, I spent some time with Randle, his wife and son, I spoke with his mother and I came across a tidbit I didn't expect.
He and Nick Young grew close during their time as teammates. The two have very different personalities and lifestyles. Young has dated recording artists (one of whom recently detailed burning his expensive clothes on the show "Watch What Happens Live With Andy Cohen" on Bravo). Randle met his wife at college and they've been inseparable since. While Young reveled in being the NBA's goofball, Randle carries a more serious demeanor.
That, actually, was the subject of Young's toast at Randle's wedding. Oh, yes, Young gave a toast at Randle's wedding. No, he wasn't a scheduled speaker.
But what really struck me was how much Young seemed to care about and empathize with Randle. After all, both know what it's like to play for a team that's trying to trade them. Young said he was proud of Randle.
"When you know what somebody's been going through and you see the adversity he's going through, he's a good dude," Young said. "When you overcome all that, can't help but cheer for him. When you hear the talks of being traded, they want somebody else, you don't feel like you're part of the team. He stayed focused.
"He was getting ready. He lost a lot of weight. He was in the weight room. He stayed with it. You can't knock the man. They gotta pay him. Somebody's gotta pay him. He's gotta get billboards. Nobody's that dedicated to the program like he is."
The Lakers have some control over where Randle winds up. He will be a restricted free agent next season, which means the Lakers can match any offer sheet he signs. The number they would be willing to match was lower at the start of the season than it is now. It'd be easy to argue that over the past two months, Randle has been the Lakers' best player.
Of course his future, like so many others', depends on the movement of other free agents this summer.
Since last we spoke
— Isaiah Thomas is having surgery Thursday on his hip. There is more than one way to treat a torn labrum, and in Thomas' case, a hip impingement. Arthroscopic surgery is relatively minor, with a recovery time of only a few weeks. Other surgical options could have had a recovery time of months.
— Lonzo Ball got his first tattoos. He actually got them a few weeks ago, but it took me some time to determine that they were, in fact, new tattoos. He had been one of the few players in the locker room without any tats. Part of the reason? His dad was very opposed to them. So why now? It's all in this story.
— Ball does a pretty good job of being stoic when he speaks to reporters, but I thought his 1-for-12 from three-point-range performance against the Pelicans shook him a little bit. Still, he reacted well. The next game, Ball made one of six three-pointers. The game after that he attempted only one three-pointer. During the course of the Lakers' road trip, Ball showed some growth in that area.
— Travis Wear becomes the second player in two years to earn a real contract from the Lakers out of a pair of 10-day contracts. It worked out pretty well for David Nwaba. Despite being waived by the Lakers, he found a place with the Chicago Bulls.
— A piece of art at the Getty Museum has sometimes helped Brook Lopez clear his mind this season.
We'll end with a question from a reader
Ron, writes: What is the reason [Luol] Deng is not playing?
I find it hard to believe he is a useless NBA player.
I read awhile back he is not allowed to sit on the bench during games. Hard to be a Lakers fan when they treat Deng like that unless he is useless in the NBA.
Thanks for writing, Ron. A few things here. Whether Deng is on the bench depends on whether he is active or inactive, and that depends on the Lakers' numbers. They have a minimum number of players who must be active, and when there aren't enough healthy players, as has happened a few times recently, they make Deng active.
Deng is 32 and not far removed from All-Star seasons. He's the type of player who does better in more structured systems, and the Lakers play a style with very little structure. That means they don't call many plays and they weren't calling any for Deng. He also expected to be playing power forward more, and the fit at small forward with the Lakers wasn't great. None of that should have meant he didn't play at all, but that's where the two sides wound up after floating the idea of playing Deng for only a few minutes each game.
Deng wants to be elsewhere. He's made that clear. The Lakers would love to move him, but doing so likely would cost draft picks or a young player. If they don't need the cap space, they might not waive and stretch him either, which would lead to another season of awkwardness.
Schedule
All times Pacific
Friday vs. Milwaukee, 7:30 p.m.
Sunday vs. Sacramento, 6:30 p.m. NBATV
Tuesday at Utah, 6 p.m.
Wednesday vs. San Antonio, 7:30 p.m. ESPN
Until next time
Stay tuned for future newsletters. Subscribe here, and I'll come right to your inbox. Something else you'd like to see? Email me. Or follow me on Twitter @taniaganguli.
---
All things Lakers, all the time.
Get all the Lakers news you need in Dan Woike's weekly newsletter.
You may occasionally receive promotional content from the Los Angeles Times.