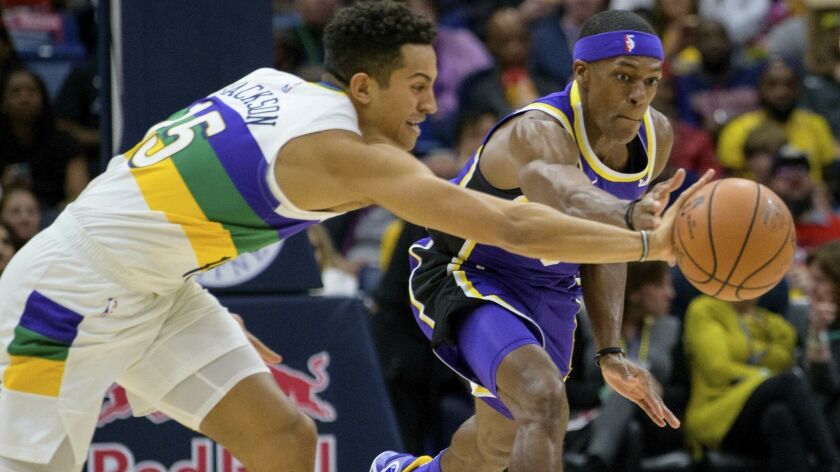 The Lakers fell 128-115 to the New Orleans Pelicans on Saturday night with All-Star forward Anthony Davis out of the lineup.
Here are five takeaways from the Lakers' loss in New Orleans:
1. When the Lakers surrendered 42 points in the first quarter, it was a clear sign that none of them were going to offer much resistance on defense.
The Lakers gave up 128 points and saw the Pelicans make 52.1% of their shots.
It seemed as if the Lakers had no interest in trying to stop any of the Pelicans, often leaving them open enough to knock down 37.5% of their three-pointers.
"I think it was our defensive intensity," Brandon Ingram said. "To me, I think it could have been way better on the defensive end, especially just contesting shots, on the help side and defensive rotations were all pretty bad. I think just on the defensive end we played bad."
2. The Lakers turned the ball over 23 times, leading to 23 points for the Pelicans.
Sign up for our Lakers newsletter »
Ingram had five turnovers while LeBron James and Rajon Rondo each had four.
Those three were the Lakers' primary ball handlers.
3. After a slow start in which he picked up two quick fouls in the first quarter and another foul in the second that limited him to five minutes and 58 seconds of playing time in the first half, Ingram recovered quite nicely.
Ingram scored 23 of his 29 points in the second half. He was efficient, making 10 of 18 shots, including three of four three-pointers.
4. It really didn't come as a surprise that the Lakers were bad at the free-throw line, because they have been bad free-throw shooters all season long.
They made just 65.4% (17 of 26) of their free throws.
5. The Lakers didn't get any kind of pickup from their bench against the Pelicans. The Lakers' reserves scored a combined 24 points.
Rondo and Kentavious Caldwell-Pope both had seven points off the bench for the Lakers.
Twitter: @BA_Turner
---