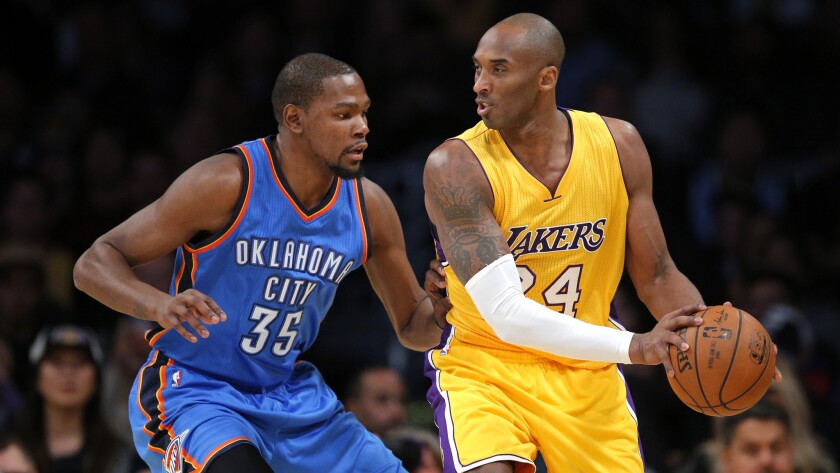 The best way to deal with Kobe Bryant's sore right Achilles' tendon injury has become an interesting case study for the Lakers.
Bryant wants to play in the final road games of his 20-year career, telling Coach Byron Scott that he was "feeling better" before practice Wednesday. Bryant hopes to play in his last visit to Golden State on Thursday night.
Scott listed Bryant as questionable, probable and a game-time decision for the game.
"Yeah, all those things," Scott said, jokingly.
On the other hand, Lakers athletic trainer Gary Vitti recommended Bryant shut it down for a week or two to rest the injury. Scott smiled while telling the story, saying Bryant would oppose Vitti's idea.
Bryant didn't practice Wednesday, but he got treatment and flew with the team to Oakland.
"I know he wants to play," Scott said. "I'll wait until tomorrow to see how he feels. Then if he says, 'Coach, I want to play,' then we have to have another discussion on how long he can play, how many minutes. I'm just going to wait until tomorrow and see how he feels and go from there."
Bryant played 15 minutes Tuesday night in the Lakers' 95-91 victory over New Orleans at Staples Center, but left in the second quarter because of the sore Achilles' tendon and did not return.
Bryant first felt the Achilles' tendon tighten up Friday night in the fourth quarter against Oklahoma City. He sat out Sunday night's home game against Utah.
"[Vitti] would love to shut him down," Scott said. "But that ain't probably going to happen. He [Bryant] doesn't want to shut it down."
Bryant, who was getting a haircut in the media room Wednesday, was asked about Vitti's recommendation.
He just laughed before walking away.
"He feels a certain responsibility to play in these arenas, which is admirable of him," Scott said. "But my responsibility is to make sure he can play this season. … At the end of the day, myself, him, Gary Vitti and probably [General Manager] Mitch Kupchak, we'll sit down and try to figure out what's the best way for him to finish out this season."
Etc.
Forward Brandon Bass, who left the New Orleans game because of a sore right foot, is doubtful against the Warriors, Scott said.
Up next for Lakers:
AT GOLDEN STATE
When: 7:30 p.m Thursday.
Where: Oracle Arena.
On the air: TV: TNT; Radio: 710, 1330.
Records: Lakers 9-31; Warriors
Record vs. Warriors: 0-2.
Update: The Lakers lost twice to the Warriors this season by an average of 27.5 points. Warriors guard Stephen Curry leads the NBA in scoring (29.5) and the Warriors lead the league in scoring (114.4) and are second in field-goal percentage defense (42.6%). Warriors forward Draymond Green may not play because of a sprained right ankle. Green leads the NBA in triple-doubles with eight.
---