Lakers' Julius Randle continues on upswing as a starter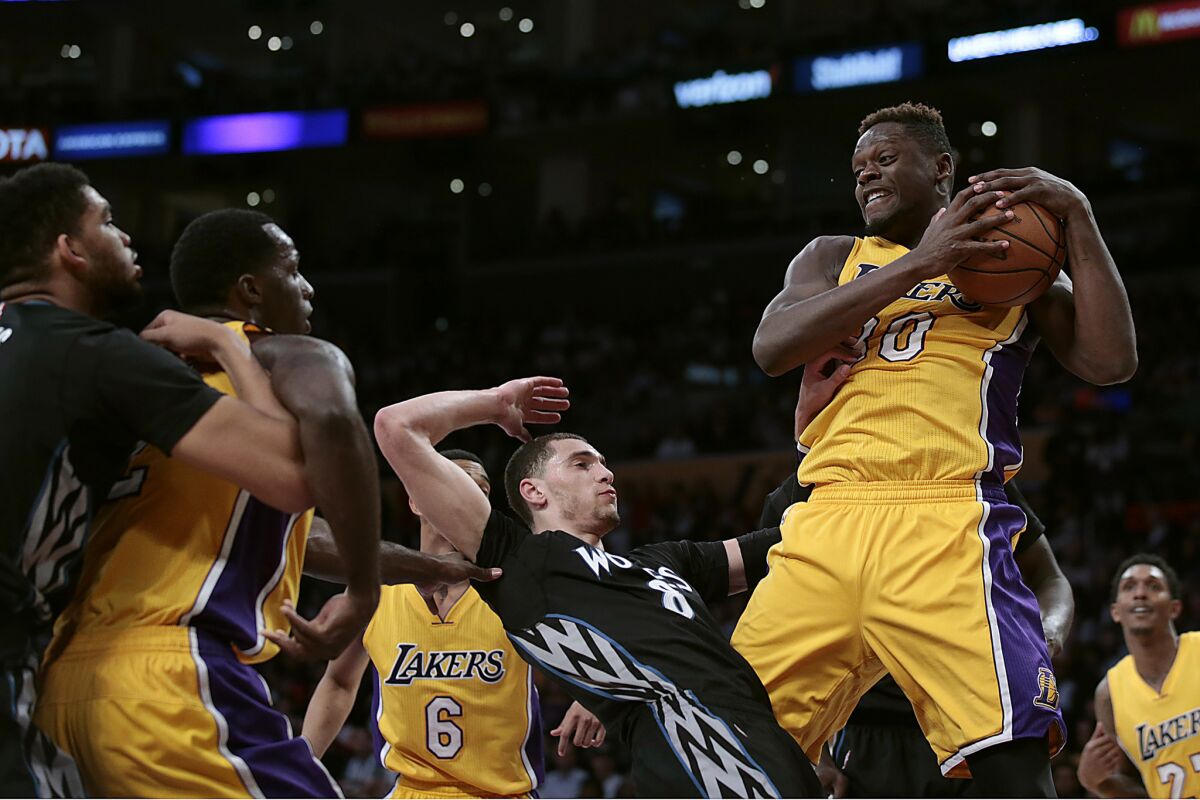 REPORTING FROM CLEVELAND —
Someone had to try to grab all the wacky caroms off the Lakers' many misses. Julius Randle was up for it.
The 19 rebounds he took Monday in a duck-and-cover loss to Indiana were emblematic of a young career bouncing the right way lately.
He has 21 double-doubles, more than any second-year player, and is showing increased confidence in his midrange game as his accuracy improves.
See more of our top stories on Facebook >>
"He's been pretty locked in lately and that's a great thing," Lakers Coach Byron Scott said. "He's maturing. He's really starting to understand this game and understand some of the things that he can do on a night-to-night basis. I love where he is right now."
Randle is shooting 49.1% over the last 10 games, almost 10 percentage points better than he was beforehand. It's still not where he wants, but the work on his outside touch and on using his right hand is making a difference.
Randle returned by default to the starting lineup 12 games ago because rookie Larry Nance Jr. was dealing with a sore right knee. Scott, however, isn't necessarily ready to keep Randle with the starters when Nance returns at some point after the All-Star break.
"I've got two young power forwards that I love," Scott said neutrally.
The seventh pick in the 2014 draft, Randle is averaging 13.3 points and 12.1 rebounds since regaining his starting spot.
LeBron and Kobe
There's not much of a backdrop for Kobe Bryant's final game in Cleveland on Wednesday.
Bryant never faced the Cavaliers in the NBA Finals, didn't create meaningful memories here other than a 47-point game in January 2001 with both shoulders ailing and a sore right elbow.
Cleveland was just another stop on the regular-season road while he vacuumed up championships with Shaquille O'Neal and then Pau Gasol.
LeBron James, though, had some kind words for Bryant even though it won't be the last time they face each other.
"Any time I even watch his games, even when I'm not playing him, it's always, like, very emotional just knowing it's his last hurrah," James told reporters Monday. "And he's done so much, not only for the Lakers' organization, but for me as a kid growing up watching Kobe and things of that nature and also competing against him.
"So it's going to be really cool to see him on Wednesday, for sure, and hopefully, I know our fans, they're going to give him a great reception."
The Lakers play the Cavaliers again March 10 at Staples Center.
LAKERS AT CLEVELAND
When: 5 PST.
Where: Quicken Loans Arena.
On the air: TV: ESPN, TWC SportsNet, TWC Deportes; Radio: 710, 1330.
Records: Lakers 11-43; Cavaliers 37-14.
Record vs. Cavaliers (2014-15): 0-2.
Update: Cleveland is 7-2 since firing Coach David Blatt and replacing him with former Lakers guard Tyronn Lue. The Cavaliers lost peculiar games to Charlotte and Boston last week and beat sub.-500 teams New Orleans and Sacramento since then. Cleveland is fourth in the league defensively, giving up only 96.7 points a game.
Follow Mike Bresnahan on Facebook Twitter @Mike_Bresnahan
MORE ON LAKERS
Preview: Lakers visit Cleveland Cavaliers before All-Star break
Lakers co-owner Jim Buss is asking $8.8 million for penthouse at L.A Live
Lakers, among NBA cellar-dwellers, have 19.9% chance of winning the lottery
---
All things Lakers, all the time.
Get all the Lakers news you need in Dan Woike's weekly newsletter.
You may occasionally receive promotional content from the Los Angeles Times.