Lakers' Ingram says knee issue is 'nothing really serious'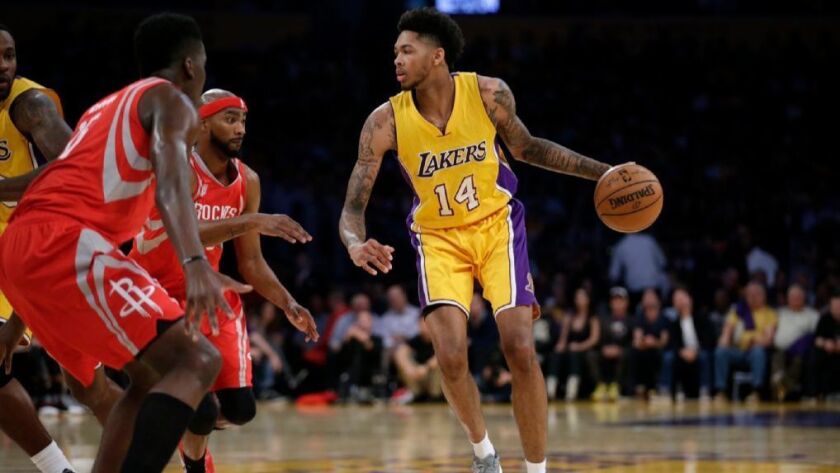 OKLAHOMA CITY —
Veteran point guard Jose Calderon is expected to make his regular-season debut with the Lakers on Sunday against the Oklahoma City Thunder, Lakers Coach Luke Walton said. The team also is optimistic about rookie forward Brandon Ingram, who is probable to play Sunday after leaving Friday's game at Utah because of knee pain.
Both players participated in the Lakers' Saturday practice at Chesapeake Energy Arena in Oklahoma City.
"Once he cools down, it might be different, but he said he feels good," Walton said of Ingram. "If the trainers and doctors tell you he's fine, you can play him. If he's out there limping around, it goes back on me to take him out of the game. If he's clear, said to be healthy, there's no reason to keep him out."
Ingram entered Friday night's game against the Utah Jazz with 4:41 left in the first quarter. He briefly left the game 51 seconds later. Ingram was examined, fitted with a sleeve over his right knee and cleared to return, which he did with 9:16 left in the second quarter. Just slightly longer than three minutes later, Ingram left the game for good.
An MRI exam Saturday on Ingram's knee found no structural damage.
On Friday night he described the issue as tendinitis and "nothing really serious."
"I think it was better to be cautious about it and just come back and try to run on it again," Ingram said. "I just felt like I needed to be out."
As for Calderon, he missed the Lakers' first two games despite returning to practice Thursday.
"It wasn't really that hard of a practice," Walton said. "So we wanted to get a more up-and-down type of practice in. A day or two more. He said he felt good again today."
The Westbrook challenge
The Lakers guards will face a stiff challenge Sunday in Oklahoma City guard Russell Westbrook.
In his last game, Westbrook scored 51 point as part of a triple double in an overtime win against the New Orleans Pelicans. The Thunder said it was the first triple-double in which the player scored 50 or more points since Kareem Abdul-Jabbar had one in 1975.
"Russell's one of the guys that holds his league together," Lakers guard Lou Williams said. "He's a superstar caliber guy. It's not a surprise to us. … We just gotta come in here and put our best effort forward."
Lakers starting shooting guard Nick Young chuckled when he heard the stat line from his fellow Los Angeles native.
"Russ is Russ," Young said. "He's going to take a lot of shots. … That's my dog. We worked out little bit this summer. I'm just going to try my best, man, see what goes on. I see he was working out with Kobe and it's showing."
Something missing
After reviewing film of D'Angelo Russell's performance Friday night, Walton thought his three-for-14 shooting affected other parts of his game.
"I think his missing shots kind of got him disconnected a little bit," Walton said. "… I felt like he was still trying to do the right thing, which I'm fine with, but … when the shot's not going individually, especially for a point guard, [he's got to find] other ways to stay really locked in."
Russell finished with five assists, four turnovers, two steals and three rebounds. This followed the season opener in which he made seven of 16 shots and scored 20 points.
"The Houston game, he was great," Walton said. "He was making plays for people, knocking down his shot. Just because the shot's not falling you still have to find other ways, whether it's drawing charges, assists, whatever it is. At the same time it felt like he was trying to find it [on Friday against the Jazz]. He just couldn't find the same level of intensity that he had on opening night."
Up next for Lakers: at Oklahoma City on Sunday
Lakers tonight
AT OKLAHOMA CITY
When: 4 p.m. PDT.
Where: Chesapeake Energy Arena.
On the air: TV: Spectrum SportsNet, Spectrum Deportes; Radio: 710, 1330.
Records: Lakers 1-1; Thunder 2-0.
Record vs. Thunder (2015-16): 0-4.
Update: The Lakers dropped their first road game of the season in Utah, and are facing another hostile environment — this time against a better team. Kevin Durant might be gone, but Russell Westbrook carried his team to an overtime victory against the Phoenix Suns on Friday night. In the process, he became the first player in 41 years to score more than 50 points and have a triple-double. He scored 51 points with 13 rebounds and 10 assists.
Follow Tania Ganguli on Twitter @taniaganguli
---
All things Lakers, all the time.
Get all the Lakers news you need in Tania Ganguli's weekly newsletter.
You may occasionally receive promotional content from the Los Angeles Times.