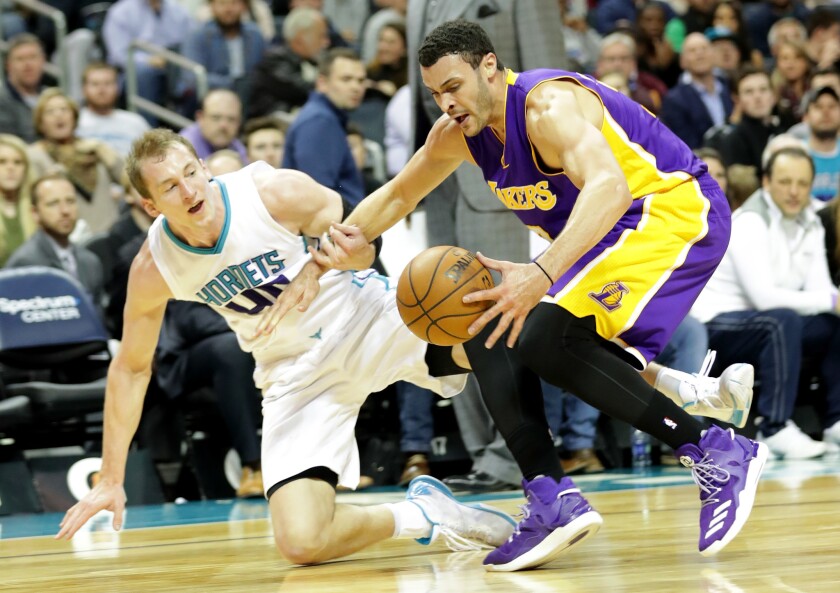 Lakers forward Larry Nance Jr. hit a minor milestone Tuesday in his recovery from a bone bruise he sustained in the Lakers' Dec. 20 game against the Charlotte Hornets.
"I'm off crutches," Nance said. "So, good day."
The Lakers said Nance will be out for approximately four weeks, but Nance is hoping his recovery will be a little bit quicker. With no structural damage in his left knee, the timetable is just a matter of how quickly Nance heals. A bone bruise earlier in the season kept Nance out only a few days.
Having a history of knee injuries, Nance did worry at first that this injury was more significant. Nance tore the ACL in his right knee while in college at Wyoming in February 2014.
He suffered this injury while racing down the court and fighting for a loose ball with Charlotte center Cody Zeller.
"He kind of bumped me, all in fair game, just running after the ball," Nance said. "I went to push back with him. He wasn't there. I don't know what happened. When I went to push and didn't feel anybody there, I felt a little tweak in my knee and pulled up and stopped and couldn't put too much pressure on it so that's when I asked those guys to get me off the court."
Two of Nance's teammates helped him off the court so that he didn't have to put pressure on his left leg.
"I mean, it's hard not to go through all the possible scenarios," Nance said of his first thoughts about the injury. "Being that I already had one major injury on my right knee, that was definitely something I was hoping it wasn't. But we got the best news we could've possibly gotten."
The Lakers flew to Miami right after finishing their game in Charlotte and Nance had an MRI exam in Florida. While his MRI exam was inconclusive, the doctor in Miami told Nance that there likely wasn't any ligament damage.
"There's no structural damage," Nance said. "No ligament damage. On the MRI there were two lit up spots that was the bone bruise on the tibial plateau."
The first order of business for Nance was to get the swelling down in his knee. The Lakers took three flights after Nance was injured, including a five-hour flight from Orlando to Los Angeles, which likely didn't help the swelling in that knee.
Now he's working to rehab and heal.
No positions needed
Lakers Coach Luke Walton has often used wacky lineups either to start or during games as injuries and the flow of the game dictates.
On Sunday against the Clippers, for example, Walton played shooting guard Nick Young at the power forward position. It's not something you'll see often, but it was a nod toward Walton's belief that traditional positions don't mean much.
"I like basketball players," Walton said. "I think a point guard is very important. I think a center is pretty darn important. Besides that, twos, threes and fours, I want basketball players who can guard multiple positions, have talent, can score. I don't need a big man at my four.
"I think some of that probably came from playing with Phil [Jackson] in the triangle, where it's more of a mirror offense where depending on what side of the floor you were on, we had rules. The first person in the post became the center at that position. That's why Kobe used to run down to the post so much. If he did that, the center would fill in from the weak side and turn into traditionally what the small forward or power forward would be doing."
Etc.
Lakers assistant coach Mark Madsen had an emergency appendectomy on Tuesday. He missed Tuesday's game and will be out for several days, the Lakers said. … The Lakers' Jan. 5 game in Portland has been moved to a national television slot. It will air on TNT and begin at 7:30 p.m. … The Lakers are 5-2 in nationally televised games this season, having beat the Warriors, Rockets, Clippers, Kings and 76ers.
Follow Tania Ganguli on Twitter @taniaganguli
---