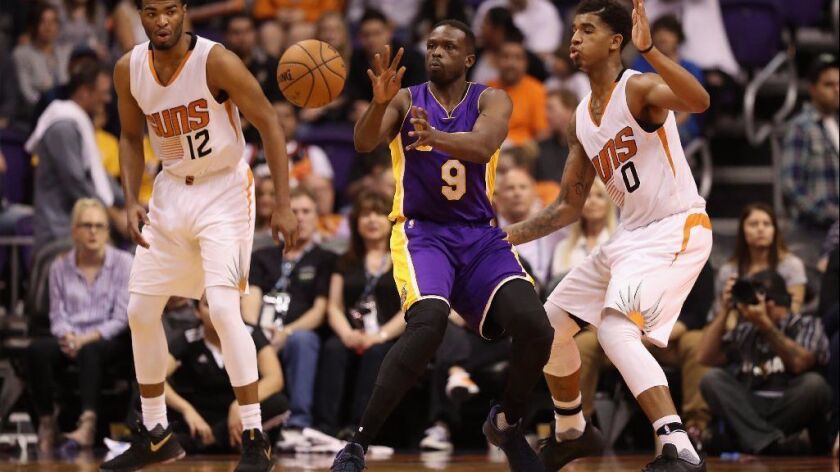 Even after the Lakers decided to remove their highest-paid player from the starting lineup, Luol Deng had a place in Coach Luke Walton's rotation.
That changed Friday night against the Boston Celtics.
For the first time all season, Deng was a healthy scratch. Before the game, Walton approached Deng to explain his reasoning. The Lakers wanted more playing time for young players like Development League call-up David Nwaba, trade acquisition Tyler Ennis, guard Jordan Clarkson and rookie forward Brandon Ingram.
"We're trying to get looks at all the young guys that we can," Walton said. "… He was OK with it and it was just a way to keep all the young guys active and be able to play them all."
Symbolically, it was a major step for the Lakers. Mitch Kupchak, then the team's general manager, signed Deng to a four-year contract worth $72 million last summer, and center Timofey Mozgov to a four-year, $64 million deal.
Even after both players were removed from the starting lineup, Kupchak maintained it was too soon to draw conclusions about the quality of those signings.
"This is not something that's evaluated in a half-season," Kupchak said last month during the week before Lakers President Jeanie Buss fired him, ending his 17-year tenure as GM. "Let's wait five or six years ... and look back on it and then we can say how our drafts went and how trades went and how free agency went."
Walton and Kupchak discussed removing Deng and Mozgov from the starting lineup before Walton made the decision. Kupchak said in mid-February that he found it important to support Walton's instincts and back his decisions.
"The two players, they both signed four year-deals, so you can't evaluate it until the four years are up," Kupchak said at the time. "You may have an opinion six months in, a year in, a year and a half in. Ultimately, when all is said and done, you just don't know."
While neither player has complained publicly, their changing roles have caused some frustration. Mozgov's playing time has all but disappeared. He has played in only one game since being benched on Feb. 6. Deng, meanwhile, had regularly seen minutes in the 20s and 30s until the last few games.
But with only 20 games left this season, and with a 19-43 record, the Lakers are going all in on evaluation.
Local guy impresses
In his first NBA game, Nwaba felt the scale of an accomplishment.
In his second one, he acted like he'd been there before.
"I felt good out there," Nwaba said Friday night after playing 20 minutes against the Celtics. "Little bit more confidence. I know what it feels like after the first game. Felt a lot better. Less nerves."
Nwaba, who attended University High in Los Angeles and played college basketball at Cal Poly in San Luis Obispo, scored seven points and had a plus/minus of plus-five. Four of his points came at the start of the fourth quarter, as the Lakers cut the Celtics' lead to 13 in what would become a 115-95 Boston victory. He was one of only four Lakers with a positive plus/minus rating. He impressed Walton most with his defense.
"I thought he was awesome," Walton said. "He was a big part of that spark that got us back in the game. He was fighting over screens, he was disrupting their offense, he was getting his hands on passes, contesting every shot. . . . I thought he was really good tonight."
The Lakers sent Nwaba to their Development League affiliate, the D-Fenders, on Saturday. He is expected to be called back up Sunday to play in the Lakers' game against the New Orleans Pelicans. Nwaba signed a 10-day contract with the Lakers on Feb. 28.
UP NEXT
VS. NEW ORLEANS
When: 6:30 p.m., Sunday.
Where: Staples Center.
On the air: TV: Spectrum SportsNet, Spectrum Deportes; Radio: 710, 1330.
Records: Lakers 19-43, Pelicans 24-38.
Record vs. Pelicans: 1-1.
Update: Last month's All-Star game wasn't very interesting, but there was drama afterward when the Sacramento Kings traded DeMarcus Cousins to New Orleans . The long-term returns will likely be better than the short-term results. Since acquiring Cousins, the Pelicans are 1-4, and the only win was in a game he sat out due to a suspension. The Lakers faced Cousins three times this season when he was with the Kings.
Follow Tania Ganguli on Twitter @taniaganguli
---