Kyle Kuzma gets first start for Lakers after injury to Larry Nance Jr.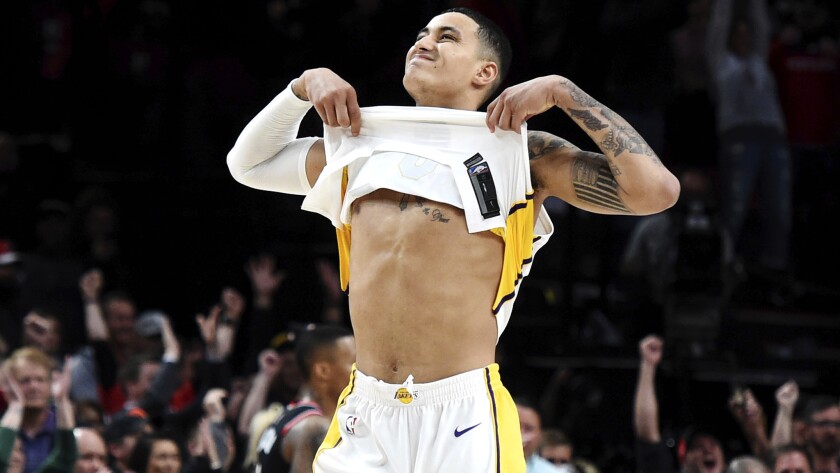 To replace Larry Nance Jr. in the starting lineup, the Lakers went with the people's choice.
Rookie forward Kyle Kuzma made the first start of his career against the Brooklyn Nets on Friday, following his best game as a pro. Kuzma notched 21 points and 13 rebounds. He joined Lonzo Ball and Philadelphia's Ben Simmons as the only rookies to have at least 20 points and 10 rebounds this season.
Nance broke a bone in his hand on Thursday night and had surgery on Friday. He is expected to miss four to six weeks.
Kuzma scored a career high 22 points in Portland on Thursday night. The Lakers returned home early Friday morning for the second night of their road-and-home back to back.
It fits with Kuzma's season. Among NBA rookies, only two players are scoring more than Kuzma's 15 points per game — Simmons (17.5) and Chicago's Lauri Markkanen (17).
There is some poetry to Kuzma making his first start against the Nets.
The Lakers acquired the 27th pick in this year's draft from Brooklyn as part of the trade that sent D'Angelo Russell and Timofey Mozgov to Brooklyn. They selected Kuzma, out of Utah, with that pick.
Kuzma's breakout came during Las Vegas summer league, when Lakers fans grew accustomed to chanting "Kuuuuuz" whenever he touched the ball. Kuzma was named the most valuable player of league's title game, which the Lakers won.
He continued his strong play during the Lakers' preseason, forcing himself into the conversation about who would be the Lakers' starting power forward. Lakers coach Luke Walton chose Nance for the role with Kuzma getting heavy minutes off the bench.
When Nance suffered the fracture in the third quarter of Thursday's game, Kuzma effectively took his place. The group that closed the game included the four remaining starters — Ball, Brook Lopez, Brandon Ingram and Kentavious Caldwell-Pope — with Kuzma joining them.
Aggression sought
Ball attempted only two shots on Thursday and missed both of them. After the game, Walton said he thought Ball was a little passive in the game.
After watching the film, Walton felt that Ball was being unselfish but needed to learn the balance between that and being aggressive.
"I thought defensively he was competing his tail off and engaged in the fight," Walton said. "It definitely wasn't like he wasn't interested or he was tired. We got that energy and desire on the defensive end. And offensively, he was passing the ball but we need more, to be successful, we need him to be aggressive looking to score and everything as well as getting his teammates involved."
Keeping it cool
On Friday, Lopez faced the team with which he spent the first nine years of his career. He said he was treating the game like any other. But he did have some nostalgia surface as he faced the Nets. Lopez would have loved to play his entire career with one team, he said.
"I always wanted to see a great foundation built there and be a part of that," Lopez said. "It is tough not being a part of that. I wanted to see something great built there and that didn't exactly happen. I loved my time there."
Follow Tania Ganguli on Twitter @taniaganguli
---
All things Lakers, all the time.
Get all the Lakers news you need in Tania Ganguli's weekly newsletter.
You may occasionally receive promotional content from the Los Angeles Times.