Lakers coach Luke Walton is confident of brass' support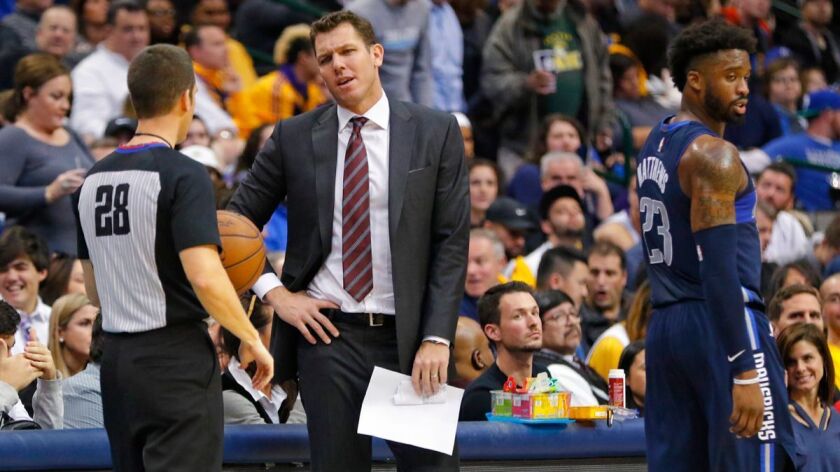 Reporting from Dallas —
Luke Walton doesn't have Twitter. He dislikes social media so much that he recently encouraged an assistant coach to quit it cold turkey.
It's why messages sent out Saturday by Lakers brass probably weren't so much intended for the team's coach as they were definitely meant to be seen by others.
Owner Jeanie Buss and president of basketball operations Magic Johnson sent out tweets supporting Walton, the first statements of support for Walton since LaVar Ball told ESPN a week ago that the coach "doesn't have control of the team" and that the players "don't want to play for him."
During the Lakers' 107-101 overtime victory in Dallas on Saturday, Buss tweeted a photo of her with general manager Rob Pelinka and Walton.
"On my way to Memphis for Lakers game," she wrote. "Dinner with Rob and Luke tomorrow night. Barbecue!! Lakers InLukeWeTrust"
Buss also used the hashtag in a tweet on New Year's Eve.
After the victory, Johnson sent two tweets.
"So proud of my Lakers players and Coach Walton for winning their 4th game in a row against the Mavericks," he said before tweeting. "Coach Luke Walton has the Lakers playing some of their best basketball of the season right now."
Walton said the tweets didn't change what he already knew.
"There's no doubt that they support me," Walton said. "I haven't seen the tweet but, again, I don't have Twitter. So if you want to send it to me later I'll take a look but I know they support me."
The support comes after two events.
First, according to ESPN's Brian Windhorst, executives and agents around the league began speculating about the "next" Lakers coach after the team didn't publicly denounce Ball's comments immediately, with former Memphis coach David Fizdale's name being mentioned.
Second, since the comments, the Lakers have played their most consistent basketball of the season, winning four straight games.
Dallas coach Rick Carlisle, an outspoken critic of ESPN for publishing Ball's comments, said he felt a responsibility to speak up.
"I think it's pretty obvious," Carlisle, president of the NBA Coaches Assn., said. "There's a sanctity to the coaching profession that's important. Our association has been around a long time. And we're a group that needs to protect each other."
Brandon Ingram injures ankle
Brandon Ingram was on his way to a triple-double Saturday, making his first two shots, grabbing six rebounds and dishing out five assists in less than 14 minutes.
But just as the Lakers and Ingram were playing some of their best basketball, the second-year forward couldn't play anymore.
Ingram injured his left ankle after he got tangled up with Dallas guard Devin Harris. He went to the locker room to get it retaped and tried to return, but couldn't stay on the court.
"I couldn't really push off of it when I went out of the game. … I'll see how it feels tomorrow," Ingram said.
Ingram had an X-ray and the results were negative.
The team is calling the injury a "mild sprain." He's considered day to day.
"I hate being out so I am not sure how long I will be out or if I even will be out," he said.
In the four games before Saturday, Ingram averaged 20.8 points, 5.8 rebounds and 4.3 assists.
Twitter: @DanWoikeSports
---
All things Lakers, all the time.
Get all the Lakers news you need in Tania Ganguli's weekly newsletter.
You may occasionally receive promotional content from the Los Angeles Times.