Brandon Ingram and Rajon Rondo address fight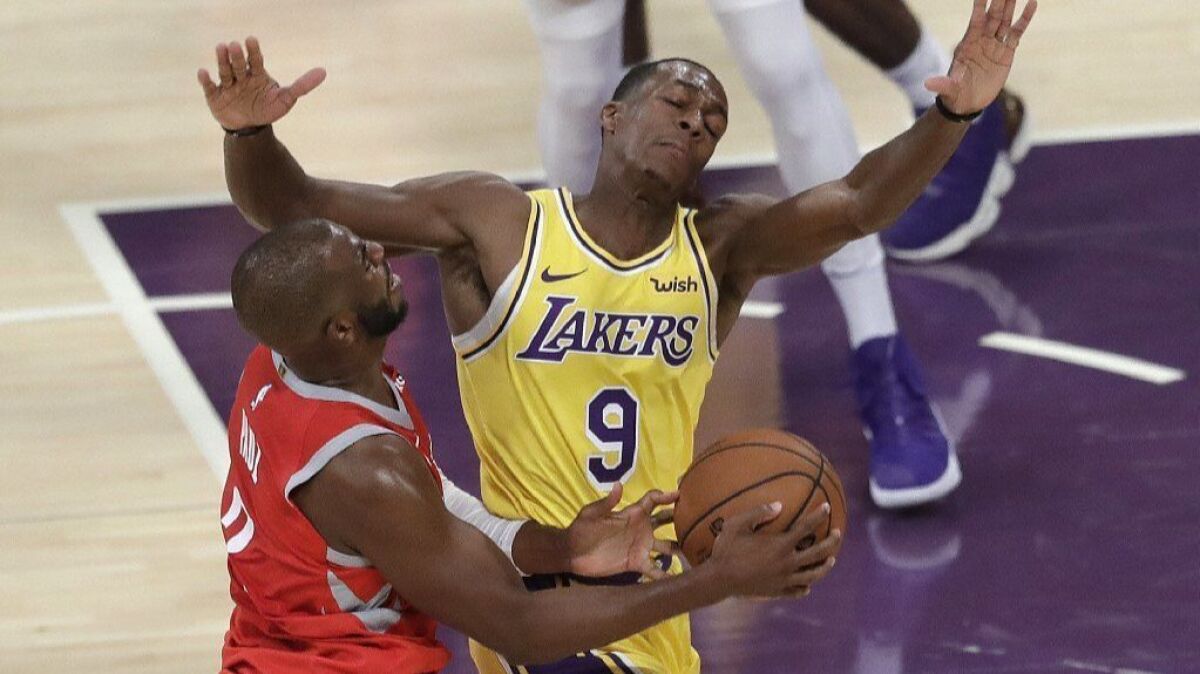 Brandon Ingram doesn't know what he was thinking when he ran back toward the fight that erupted Saturday night when the Lakers played the Houston Rockets. All he remembers is that he saw two Lakers and five Rockets in the scrum and thought his teammates needed some backup.
For that, Ingram isn't sorry. But he regrets having begun the fracas, which started when Ingram pushed James Harden in the back after a play ended.
"It's my full responsibility," said Ingram, speaking for the first time since Saturday's game. "I think I'm the one that caused [the] action and I'm going to take full responsibility for every action that I did. ... But I also stepped up for my teammates and that is what I'm going to do 10 times out of 10."
The league suspended Ingram for four games, the heaviest suspension given any of the three players involved in the fight. Rajon Rondo received a three-game suspension and Houston's Chris Paul is suspended for two games.
The NBA gave Ingram the longest suspension because he acted aggressively with a referee and returned to the fight to throw a punch.
"It was better than we expected," Ingram said. "I'm happy it's only four but I know I got to control my emotions a little better."
Saturday night's fight began after Ingram was called for a personal foul on Harden. It was Ingram's fourth foul of the game and one to which he objected, so he pushed Harden, drawing a technical foul. Ingram then yelled at referee Jason Phillips and a fight broke out during that stoppage of play.
Harden tends to draw fouls that many opponents don't believe are legitimate. Ingram was asked about the experience of guarding Harden and if it can be frustrating.
"Absolutely not," Ingram said. "You look back and you learn from it, learn different things from the basketball floor that you can get away with."
Rondo less chatty
While the NBA announced that Rondo's suspension was in part because he spat at Paul, Kiki VanDeWeghe, the league's executive vice president of basketball operations said Rondo had a different interpretation of the situation.
On Monday morning, Rondo declined to share that interpretation. "It's best for me not to talk about the situation," Rondo said. "It is what it is. You guys see I have three games. I look forward to getting back and helping my team this weekend."
When asked if he had addressed the incident with his teammates, Rondo said, "No."
"Everyone knows who I am, my team, and I think they still respect me for what I do and what I bring to this team," he said.
When asked what started the confrontation with Paul, the 33-year-old point guard said: "Basketball. The game."
LeBron scares Pop
On Monday morning LeBron James was asked about how the San Antonio Spurs had changed.
"Pop's still there, ain't he?" James said. "They're not different at all."
Spurs coach Gregg Popovich is used to seeing James only twice a year unless their teams meet in the Finals. Now with James in his conference, he'll see him at least four times a year. That's OKwith Popovich, but he could've done without one big reminder overnight. The window of his hotel looked out over an extra large James billboard.
"It was horrifying seeing LeBron's face outside my hotel room," Popovich said. "... He's already big and now he's monstrous. I was scared to death."
Follow Tania Ganguli on Twitter @taniaganguli
---
All things Lakers, all the time.
Get all the Lakers news you need in Dan Woike's weekly newsletter.
You may occasionally receive promotional content from the Los Angeles Times.