Physical and mental maturation of Lonzo Ball is apparent to Lakers coach Luke Walton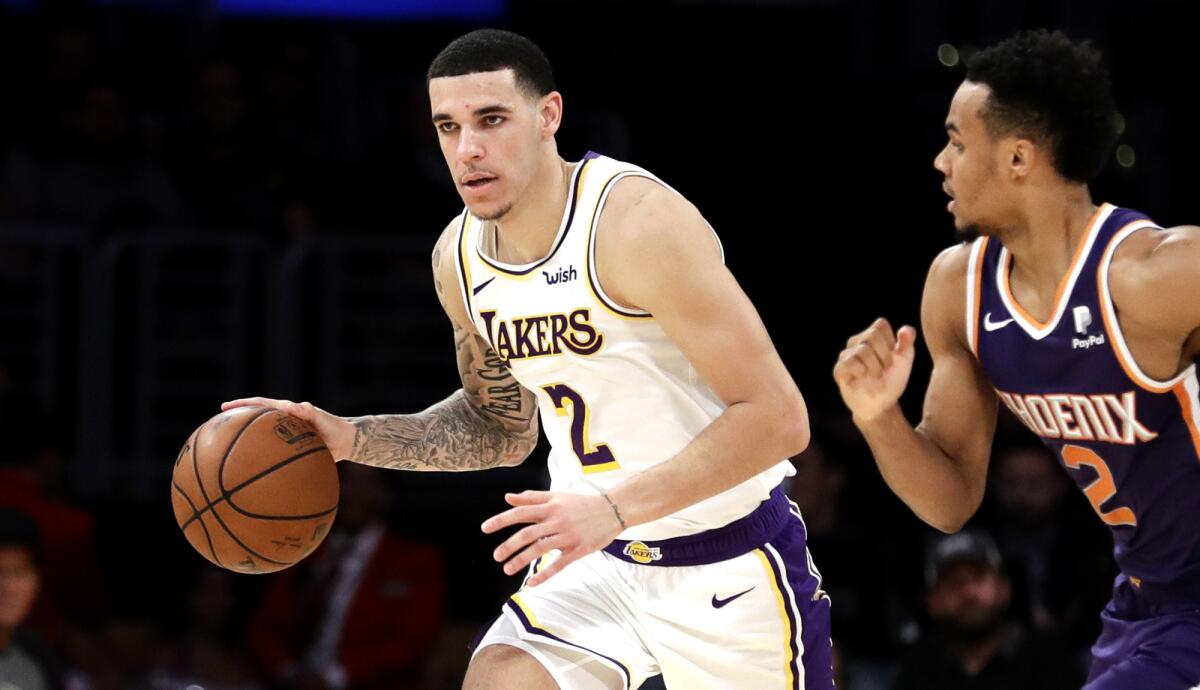 It was fair to meet with skepticism Lonzo Ball's declaration in Denver that despite his ankle injury he could have kept playing and that he would not miss any games.
Ball's history didn't support his insistence that night. Ball has been more prone to missing weeks or even months because of injuries that didn't seem bad at first.
"Last season, I probably would've been out for a couple weeks," Ball said. "Definitely paid off this summer being in the gym and getting my body ready."
Ball's assessment was correct. He got back onto the court for the next game against Indiana and didn't seem hampered by the injury.
To Lakers coach Luke Walton, that is a sign of Ball's physical and mental maturation.
"As you get older and mature more you understand your body and understand what you can play through," Walton said. "I think missing half a game and coming back and being physically and mentally ready to play a night later shows he's growing as a player."
Ball missed 30 games during his rookie season, some because of knee injuries and some because of a shoulder sprain. After the season ended, he set a goal of playing in all 82 games this season. So far, Ball has not missed a regular-season game.
Like father, like son
LeBron James smiled Tuesday afternoon as he recalled his sons showing him their basketball jerseys. Bronny, James' oldest child, planned to wear his father's No. 23 when playing for Santa Monica Crossroads Middle School. Bryce, his younger son, planned to wear No. 6, which James wore with the Miami Heat.
"I don't know how long it's going to last," he said of Bronny picking No. 23. "But it definitely made me feel proud."
Bronny scored 27 points in his first game as Crossroads beat Culver City 61-48.
"They laid their uniforms out the night before, they laid their shoes out like it was the first day of school," James said. "So it's a good start for us being in a new school, new community, a new neighborhood."
James' family factored into his decision to join the Lakers. With each of his moves, his wife and children have relocated with him. This was the first move where they were old enough to have their voices heard in the matter.
"That's the best part about it, seeing my kids grow and seeing my boys play sports and my daughter being in dance classes and swimming lessons and things of that nature and being in gymnastics and being able to just go support them," James said. "The tough part is when I'm on the road and they're doing those things as well, so that's a tough part, but the availability when I'm here and they're working, I get to relax — a little bit."
When asked if he's the type of father who yells at referees during his kids' games, James said that depends on the game.
"I get a little stressed sometimes when I'm at their games, but for the most part me being there just supporting them is really cool," he said.
Rondo on the mend
The Lakers upgraded point guard Rajon Rondo's injury status. He was able to participate in most of practice Tuesday as the Lakers cleared him for contact. He is recovering from a broken right hand he sustained on Nov. 14.
"He's still holding back a little bit," Walton said. "Like you can see on a loose ball, he'll reach for it with the other hand, and if he gets into contact, he'll kind of protect it, but he says it's not from pain. Any time you're coming back from any type of injury, you have to kinda retrain your brain to kinda react to what's happening on the court. But his team won a lot of the drills today, and he was darn good out there."
UP NEXT
VS SAN ANTONIO
When: 7:30 p.m., Wednesday
On air: TV: Spectrum SportsNet, ESPN; Radio: 710, 1330
Update: The Spurs will be on the second night of back-to-back games. Heading into their Tuesday game against the Jazz, San Antonio was 11-12 as they worked to integrate DeMar DeRozan into their lineup. The Lakers are 0-2 against the Spurs this season.
Follow Tania Ganguli on Twitter @taniaganguli
All things Lakers, all the time.
Get all the Lakers news you need in Dan Woike's weekly newsletter.
You may occasionally receive promotional content from the Los Angeles Times.