Kyle Kuzma has a special lineup in mind for the Lakers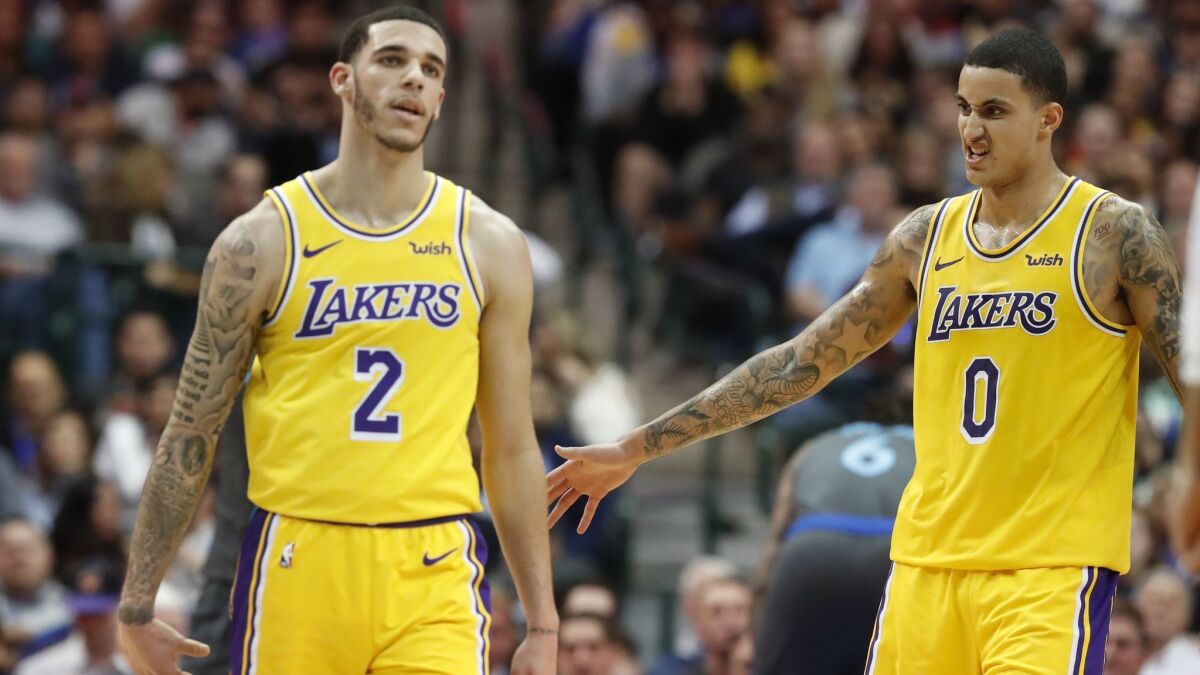 When LeBron James, who remains out with a strained left groin, and Rajon Rondo, who is out recovering from right ring surgery, both return from their injuries, Kyle Kuzma has visions of them, along with Lonzo Ball and Brandon Ingram, forming their own "death lineup" with the Lakers.
"Honestly think our small-ball unit can be really good," Kuzma said. "I think we can have a 'death lineup,' whether that's Rondo and Lonzo on the floor at the same time and me and BI and Bron or substituting guys. I think as we get better defensively and get more continuity, that small-ball lineup is going to be huge for us, especially in the playoffs when everybody's going to be going small."
The Golden State Warriors were the first team to use the "death lineup" during the 2014-15 season, using guards Stephen Curry and Klay Thompson and forwards Draymond Green, Andre Iguodala and Harrison Barnes together instead of a center.
Kuzma said the Lakers haven't practiced the lineup yet.
"Rondo's always on the second unit. He's always leading that team," Kuzma said. "We never really get to it in games because those guys kind of flip-flop. From a small-ball standpoint, we go to it when we're kind of desperate. I think that can be an advantage when we can go to it regularly."
The Lakers will have to wait for James to return anyway before they can use that lineup.
James will be re-evaluated Friday. The Lakers are flying to Salt Lake City on Thursday and playing the Jazz on Friday night, but coach Luke Walton said James wasn't traveling with the team.
Walton said Rondo wants to get back out on the court, but the point guard is expected to be out at least three more weeks.
Casey happy James in West
Dwane Casey has experienced much pain at the hands of James, his Toronto Raptors teams Casey coached having lost to a James team the last three postseasons.
Casey got fired by the Raptors after James and the Cavaliers beat Toronto in the Eastern Conference semifinals last season. Casey's Raptors also lost to the Cavaliers in the 2017 and 2016 playoffs.
Now that Casey is coach of the Detroit Pistons, he's happy James is no longer in the East.
"He's a great player," Casey said. "We had a lot of success in Toronto and one person that we couldn't get by was Cleveland. And anybody that says any different…then they tell me that's why I was let go. I have no shame in that. I'm proud of what we did in Toronto. But thank goodness he is out of the East."
Casey said he has seen the influence James has had on his young Lakers teammates.
"He's playing at a very high level and I think he raised all the young guys around to that level and they understand what it takes to win at a high level because he certainly does," Casey said.
Twitter: @BA_Turner
---
All things Lakers, all the time.
Get all the Lakers news you need in Dan Woike's weekly newsletter.
You may occasionally receive promotional content from the Los Angeles Times.