LeBron James continues to lead All-Star voting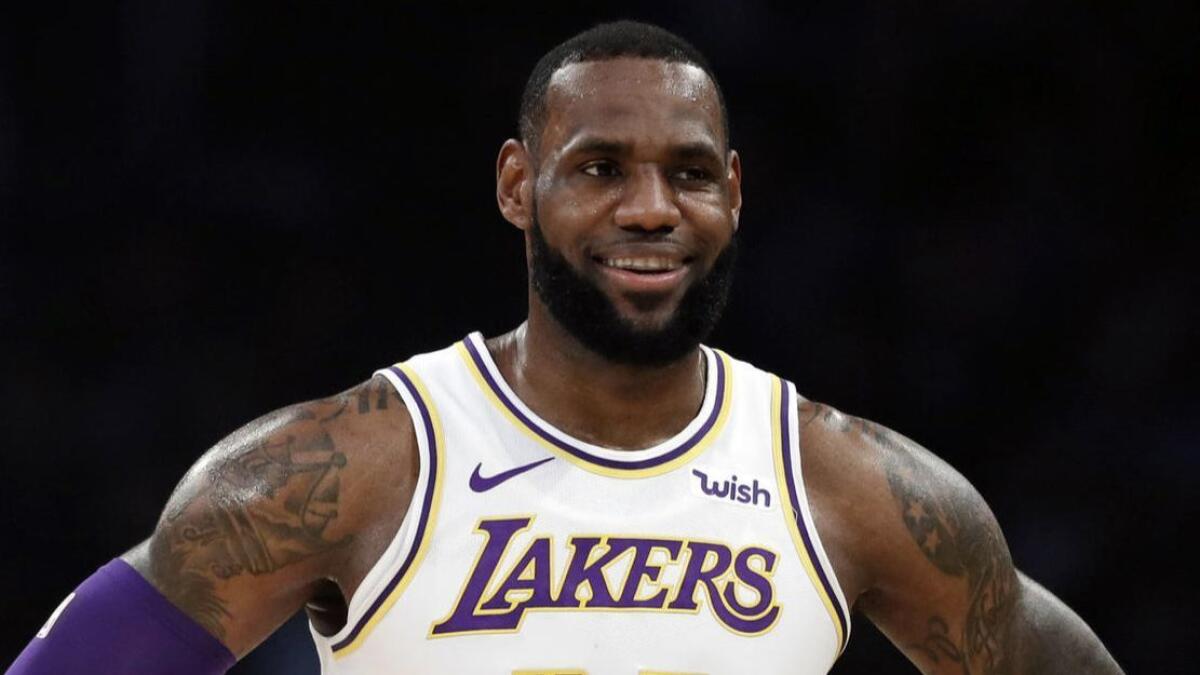 Reporting from OKLAHOMA CITY —
As LeBron James continues to rehab from a groin injury, fans are making sure it has no bearing on the Laker star's fate as an All-Star captain.
The NBA announced Thursday that the All-Star draft will be televised Feb. 7 and that James and Milwaukee Bucks forward Giannis Antetokounmpo continue to lead their conferences in voting.
The top vote-getter in each conference is slated to be an All-Star captain who will draft a team from a pre-selected pool of starters and reserves. The captains can choose players regardless of conference.
James, who is headed to his 15th All-Star selection in 16 seasons, leads all players with 3,770,807 votes, while Antetokounmpo has 3,626,909.
Second in the West is Dallas Mavericks rookie Luka Doncic, followed by Golden State Warriors guard Stephen Curry. Boston Celtics guard Kyrie Irving has the second-most votes among Eastern Conference players, while Toronto Raptors forward Kawhi Leonard is third.
Sign up for our Lakers newsletter »
Last season, James was the Eastern Conference's leading vote-getter while Curry had the most in the West. The two stars selected their teams during a phone conversation that was intended to be private. Not long after, though, ESPN reported that LaMarcus Aldridge and Al Horford were the last picks by each captain.
James did not travel with the Lakers for a two-game trip to Oklahoma City and Houston. The Lakers return to Staples Center for a game against Golden State on Monday night.
NBA ALL-STAR VOTING
Western Conference
Frontcourt
1. LeBron James (LAL) 3,770,807; 2. Luka Doncic (DAL) 3,301,825; 3. Paul George (OKC) 2,583,342; 4. Kevin Durant (GSW) 2,432,134; 5. Anthony Davis (NOP) 2,091,770; 6. Steven Adams (OKC) 1,483,223; 7. Nikola Jokic (DEN) 1,128,766; 8. Kyle Kuzma (LAL) 899,237; 9. Draymond Green (GSW) 660,276; 10. DeMarcus Cousins (GSW) 450,480.
Guards
1. Stephen Curry (GSW) 2,979,080; 2. Derrick Rose (MIN) 2,712,938; 3. James Harden (HOU) 2,315,093; 4. Russell Westbrook (OKC) 2,090,432; 5. Klay Thompson (GSW) 1,120,675; 6. Damian Lillard (POR) 851,125; 7. DeMar DeRozan (SAS) 850,415; 8. Lonzo Ball (LAL) 764,892; 9. Chris Paul (HOU) 419,410; 10. Devin Booker (PHO) 405,432.
Eastern Conference
Frontcourt
1. Giannis Antetokounmpo (MIL) 3,626,909; 2. Kawhi Leonard (TOR) 2,882,227; 3. Joel Embiid (PHI) 2,292,511; 4. Jayson Tatum (BOS) 826,177; 5. Jimmy Butler (PHI) 740,778; 6. Blake Griffin (DET) 677,472; 7. Vince Carter (ATL) 423,795; 8. Pascal Siakam (TOR) 338,716; 9. Gordon Hayward (BOS) 336,47610; 10. Al Horford (BOS) 291,722.
Guards
1. Kyrie Irving (BOS) 3,187,015; 2. Dwyane Wade (MIA) 1,738,043; 3. Kemba Walker (CHA) 1,156,040; 4. Ben Simmons (PHI) 941,368; 5. Victor Oladipo (IND) 778,983; 6. Kyle Lowry (TOR) 708,071; 7. Zach LaVine (CHI) 440,568; 8. Jeremy Lin (ATL) 341,024; 9. Goran Dragić (MIA) 335,899; 10. Bradley Beal (WAS) 251,170.
Taking it slow
James did not travel with the Lakers for a two-game trip to Oklahoma City and Houston. The Lakers return to Staples Center for a game against Golden State on Monday night.
Although he was cleared to practice after being examined on Wednesday, the Lakers don't plan to rush him back.
"We'll see how this weekend goes," Lakers coach Luke Walton said. "He stayed back so that he could obviously get more work in, more treatment, not have to travel, hotel rooms. Just 100% focus on what he needs to do. And depending on how that goes and how he feels after this weekend will determine how much he can practice. With him, his health is top priority, so it's gonna be one of those things. Until he is healthy-healthy, he won't play."
James has missed 12 games with a left groin strain that he suffered on Dec. 25. The Lakers are 5-7 in his absence after starting 1-5.
Free-throw turnaround
After a season full of free throw problems, the Lakers solved that puzzle, at least for one night, making 19 out of 21 of their free throw attempts.
Heading into the game, the Lakers had shot better than 80% in only five games. As a whole this season, the Lakers had been shooting 68.3%.
On Thursday night in Oklahoma City, they made all of their first 11 free throw attempts, and hit critical free-throws late in the game. The Thunder, meanwhile, struggled from the line, making only 66.7% of their free throws.
Follow Tania Ganguli on Twitter @taniaganguli
All things Lakers, all the time.
Get all the Lakers news you need in Dan Woike's weekly newsletter.
You may occasionally receive promotional content from the Los Angeles Times.