Nets' D'Angelo Russell to face Lakers after a career-best 44-point performance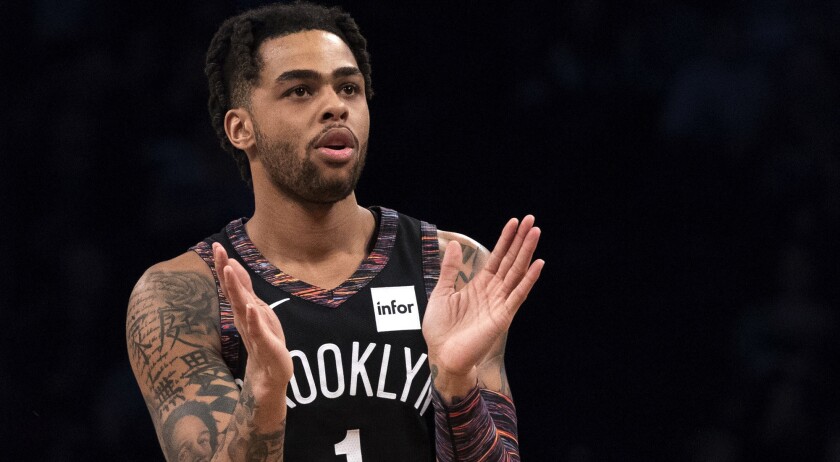 There was a time when D'Angelo Russell was the future of the Lakers, the second overall draft pick with a bright future, but his immaturity and still-developing game led to him being traded to Brooklyn.
Now Russell is an NBA All-Star, his game having evolved and his growth as a 23-year-old catalyst a big reason why the Nets have become one of the surprise teams in the league.
Russell has come a long way since his days with the Lakers, the team he and the Nets will face Friday night at Staples Center. He leads Brooklyn in scoring (20.7), assists (6.9) and steals (1.2). He's shooting career bests of 43.2% from the field and 36.6% from three-point range.
Luke Walton, who coached Russell for one season, 2016-17, said he never tried to define how the 6-foot-5 guard would improve.
"No, you don't want to say that a young player isn't going to be able to do things," Walton said Thursday after the Lakers' practice. "I think D'Angelo was the No. 2 pick because he's got an incredible skill set when it comes to playing this game. So, he's definitely sharpened those skills.
"He looks like he's really getting comfortable with the angles and whether it's finishing at the rim or finding his big man roaming, feels like in watching him — like I talk about with Brandon [Ingram] a lot — the game is starting to slow down for him a little bit. It feels like the same thing is going on for D'Angelo right now."
The Lakers felt it was better to ship Russell out to Brooklyn with Timofey Mozgov after the then 20-year-old had recorded Lakers teammate Nick Young talking about cheating on fiancée Iggy Azalea during the 2015-16 season.
Sign up for our Lakers newsletter »
But the only talk about Russell these days is how to slow him down. He just scored a career-high 44 points against the Sacramento Kings on Tuesday night, 27 of those came in the fourth quarter.
"He's playing at a very high level, coming off that huge fourth quarter in Sacramento, so our defense is going to have to be keyed in on him," Walton said.
"But Brooklyn does a great job moving the ball and keeping shooters spaced around. So if you key too much on one guy, they'll make you pay elsewhere. So, it always starts with us on our individual defensive job we do. So, whoever is matched on him is going to have to really give a great effort."
James practices
Walton said LeBron James, who missed Tuesday night's game at Milwaukee because of soreness in his groin, participated in about half of Thursday's practice and he anticipates the All-Star forward will play against the Nets.
"Yeah, we'll see how he feels tomorrow," Walton said, "but I think he'll go tomorrow."
Walton said Josh Hart didn't practice Thursday. He played 17 minutes in a 115-101 loss to the Milwaukee Bucks on Thursday.
Etc.
The Lakers signed guard Scott Machado to a 10-day contract. Machado was second in the NBA's development league with 8.0 assists a game. He also averaged 16.4 points, 3.4 rebounds and 1.1 steals for the South Bay Lakers this season.
UP NEXT
VS. BROOKLYN
When: 7:30 p.m., Friday.
On Air. TV: Spectrum SportsNet; Radio: 710, 1330.
Update: The Lakers will try to end a four-game losing streak. The Nets are fifth in the NBA in three-point field-goal attempts (35.6 per game) and sixth in makes (12.5). The Nets have lost three of their last four games.
Twitter: @BA_Turner
---
All things Lakers, all the time.
Get all the Lakers news you need in Dan Woike's weekly newsletter.
You may occasionally receive promotional content from the Los Angeles Times.