Column: Lakers rookie D'Angelo Russell is still learning about basketball for grown-ups, but he's starting to get it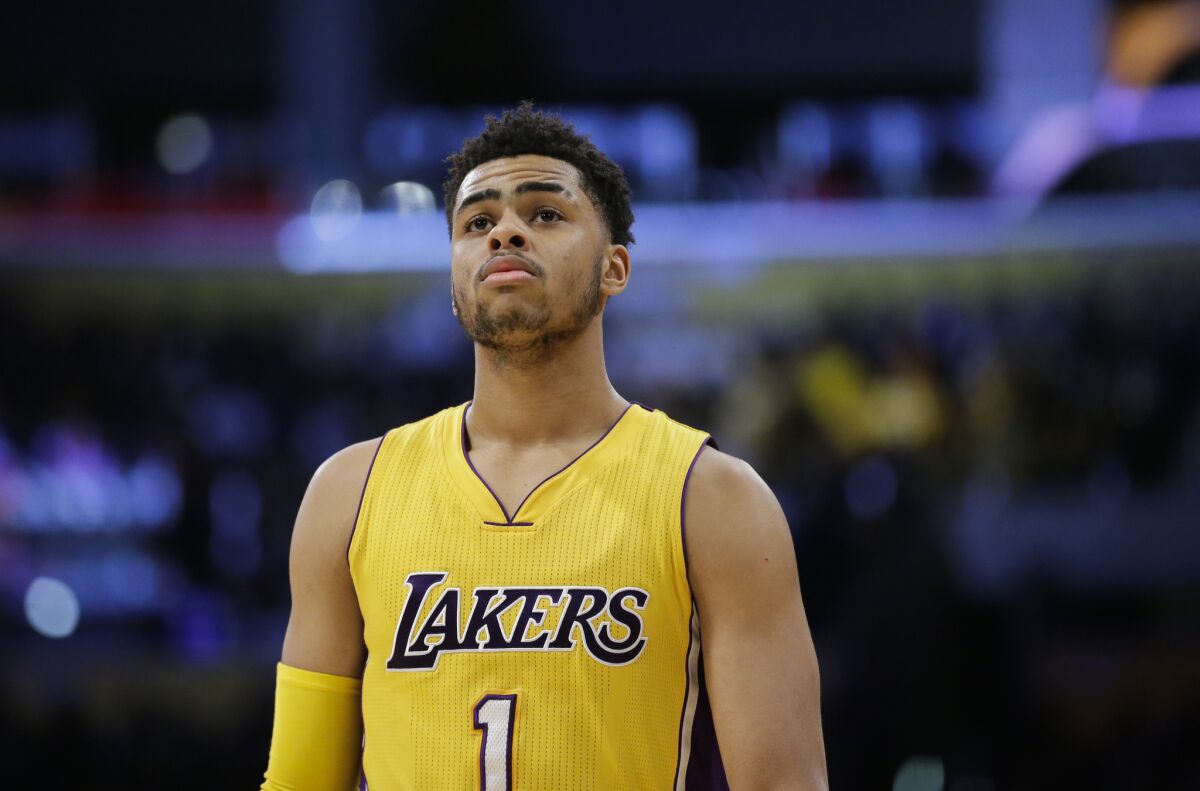 All this fuss over a child.
Hang around D'Angelo Russell for five minutes and realize that the last five months of heated discourse and polarizing debate about the Lakers' draft king are really sort of silly.
He's a skinny kid not yet even old enough to legally drink, and already he can be called either blessing or bust?
See the most-read stories in Sports this hour>>
He throws up his hands at his own mistakes like a headstrong prep star, he does celebration dances like a cocky college kid, and yet the destination of his professional career already can be predicted?
It's too early. He's too young. He's too immature. He could be a superstar. He could be a mess. So far this season he's hinted at both, sometimes in a span of four days.
On Tuesday against the Brooklyn Nets, Russell's 39 points were the most by an NBA rookie in three years, his eight three-pointers were the most by a rookie in five years, and his celebration was the most outlandish by any rookie this season.
"Ice in my veins!" he screamed as he ran down the court pointing to his forearm.
Four days later against the Atlanta Hawks, that ice had formed into a glacier and floated down to his hands. He missed 13 of 16 shots. He accumulated more turnovers than baskets. He threw up quick threes, crazy layups, and was a step slow on defense. He ended the game not dancing at midcourt, but looking lost on the bench.
"I wish it wasn't one of those nights for me," he said afterward in the locker room. "I wish we were clicking more and making more shots. I wish it was a great night. But tonight was a bad night."
He sounded like a teen speaking wistfully about his lousy day in chemistry class. He pulled on torn jeans, a Nas concert T-shirt and a black baseball cap turned backward, and headed out the door.
Look at him and remember, he's 20. Look around town and see exactly what that number means.
That fresh-faced guard at UCLA named Bryce Alford? He's 21. That green rookie shortstop for the Dodgers named Corey Seager? He'll soon be 22. Josh Rosen is only one year younger at 19, and UCLA was so protective of their child quarterback last season that he was barely allowed to speak in public.
"He's 20, he's played one year of college basketball, fresh out of high school, guys look at him like he's supposed to come in and light the world on fire," Coach Byron Scott said. "That's not the case. It takes time."
He could be the next Russell Westbrook. He also could be the next Brandon Knight. He probably won't be the next Smush Parker. At times this season he's been all three.
Hang around D'Angelo Russell for five minutes and realize that maybe Scott was right. Maybe, just maybe, Scott knew what he was doing earlier this season when he benched the kid while the sports world howled in protest.
Maybe it never was about Russell's ability. Maybe it was about Russell's maturity. And maybe it's working, witness his numbers since he returned to the starting lineup after the All-Star break, during which time he's averaged nearly 20 points and five assists.
"It helped him kind of grow up, when he had a chance to come back to the starting lineup he showed some humility," Scott said. "I think he starts to understand this isn't just going to be given to you . . . you have to work and earn it."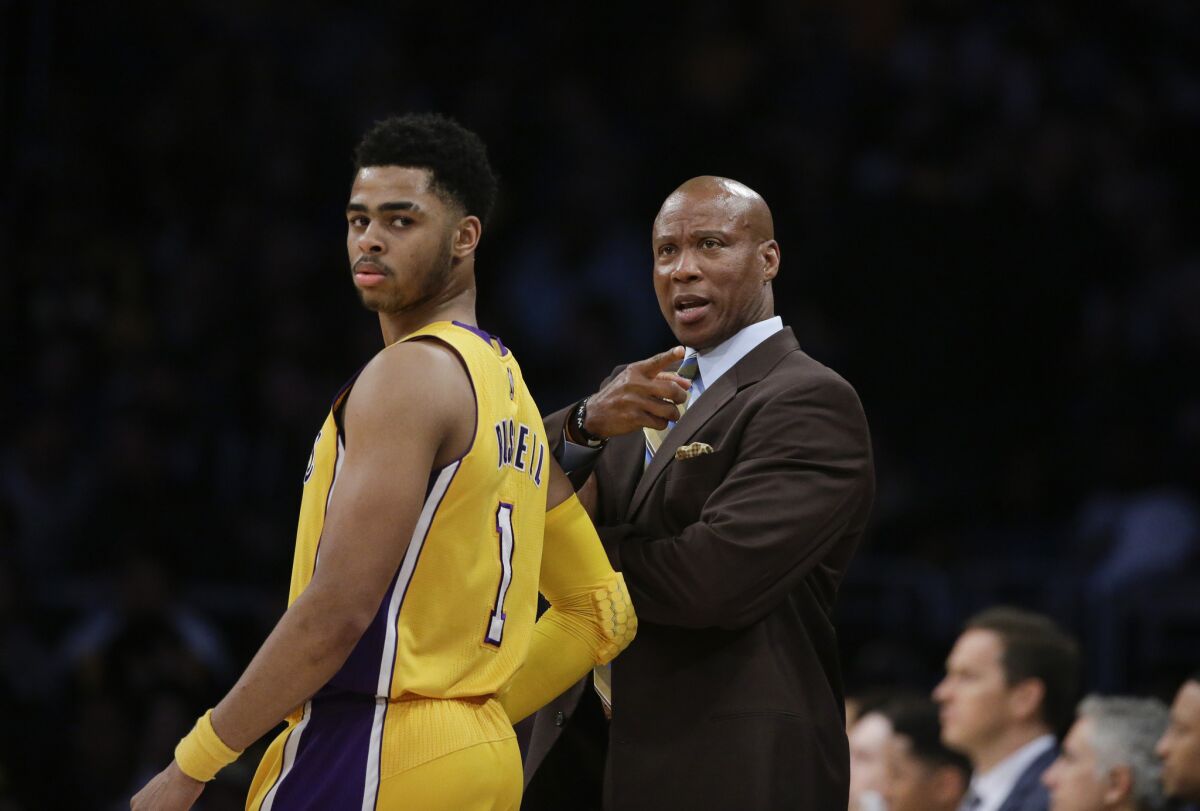 He's slowly earning it, even when he's seemingly not earning it.
Watch him on Friday, with teammate Jordan Clarkson sidelined, and see thoughtful and instinctive Russell passes wasted, landing in the hands of bricklaying teammates. What happens this summer when the Lakers get a couple of guys who can actually shoot?
He clanked a bunch of shots, but nifty moves enabled him to be open for those shots. What happens when he spends a summer getting bigger and tougher?
"I still have a lot of work to do," he said.
At this point, the Lakers probably don't regret taking him ahead of Jahlil Okafor, but certainly wish they had instead taken Kristaps Porzingis, but those questions grow more muddled by the day.
"He's starting to live up to what everyone on the outside thinks he should be," Scott said. "He's still nowhere near where we think he can be, but he's definitely headed in the right direction."
It seems the kid is growing on the Lakers, and maybe even growing on Scott, who is actually now stifling his instincts to criticize him. When the Lakers' ruler-wielding principal was asked Friday about Russell's icy celebration, Scott paused.
"No comment," he said. "New school, I guess. I'm old school and this is new school. I'll talk to him the next time it comes up. When he has a chance again. I'm sure he'll have something else in store. I'm OK with it as long as you can back it up, that's the main thing."
What one must love about Russell is that not only did he not back down from the celebration, but he actually corrected me when I wrongly asked about his "ice-water-in-the-veins comment."
"I said, 'ice,' not 'ice water,'" he said with a grin. "It's a new day, it's not the old day. And I do what I do."
Which is, what exactly? After five months of heated discourse and polarizing debate, the only thing certain is that the show is just beginning.
Follow Bill Plaschke on Twitter @billplaschke
---
All things Lakers, all the time.
Get all the Lakers news you need in Dan Woike's weekly newsletter.
You may occasionally receive promotional content from the Los Angeles Times.