Column: Lakers Coach Byron Scott earns right to stay as hope overtakes despair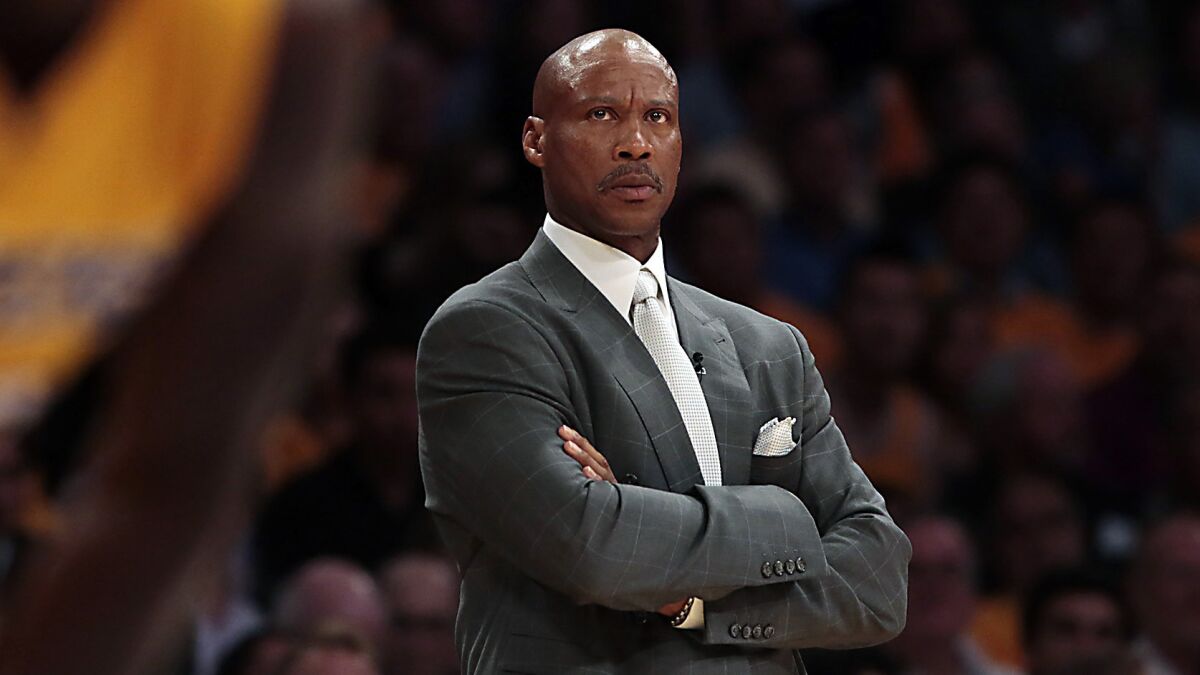 Byron Scott flew home from New York with the Lakers' No. 2 draft pick stuffed in his luggage and visions of rebirth filling his head. The nightmare was over. He would finally be coaching a team with a chance.
The next morning he woke up and looked at his phone. His mailbox contained a Google Alert. The trending topic was him.
"I look down and see where Tom Thibodeau was going to be the next coach of the Lakers," Scott recalled.
To appreciate Scott's solid value to this unsettled organization, one must appreciate what he did next.
He did nothing. He didn't call his bosses to question. He didn't call the media to complain. He shrugged, stuck the phone in the pocket of his sweatpants, and drove to the gym to work out.
"I can't go around worrying if I'm going to get fired, I'm not going to do that, I'm not going to coach like that," Scott said in an interview this week. "I just keep doing the best job I can."
Sure enough, what happened was, the Lakers called him. Mitch Kupchak left him a voice mail message confirming the report was just an unsubstantiated rumor and the Lakers were "incredibly happy" with their guy. Jim Buss then called and endorsed Scott personally.
Upon which Scott just smiled and went back to work.
"I know how this league is," he said of the incident from a couple of weeks ago. "I'm not going to sweat things that are out of my control."
Throughout the most pitted season in Lakers basketball, Scott was always the coolest guy in the room, and is worthy of remaining there as the Lakers evolve. Thibodeau was fired last week by the Chicago Bulls, and Scott is still here, and should be — his work in last season's darkness has earned him the right to keep coaching under the cracks of new light, the new draft pick, a new free agent, the recovered Julius Randle, the revived Kobe Bryant, all of it.
"The gleam in our eyes is back," Scott said. "The hope in our eyes is back."
He has earned the right to share that vision after spending seven months as the franchise's face of dignity amid historic disillusionment. Somehow, Scott ushered his team through the most losing season in franchise history without ever accepting defeat. The Lakers have lost their place in basketball's elite? He never bought it. The Lakers have mediocre talent, and therefore should be happy with mediocre ambitions? He never allowed it.
"I know what we were, and what we can be, and I'll never back down from that," he said.
The Buss family hired him to be a bridge between the past and the future, a strong and safe pathway over muddied waters, and, man, this time the Buss family got it right. With toughness, humor and a strong sense of history, Scott somehow kept the Lakers from ever falling into the embarrassment that surrounded the likes of the tanking Philadelphia 76ers and chaotic New York Knicks.
And, oh, yeah, he also did it with a lot of ceilings. When we weren't watching, Byron Scott wasn't sleeping.
"It was probably the toughest year of my career," Scott acknowledged. "I would lose sleep thinking about what I could be doing better. I would come home, go to bed, and just lie there looking at the ceiling, thinking things like, 'Did I take him out too early?' "
On those rare nights he would be asleep by midnight, he would sometime awaken again at 4 a.m., always thinking.
"I knew it would be tough, but I didn't know it would be this tough," he said. "Each loss hurt just a little bit differently."
Yet with each loss, the vision never changed, even when those losses became wins that were deliriously celebrated by guys who didn't know any better. Was any coach in the NBA more publicly angry this season then Scott when he witnessed Nick Young, Jordan Hill and Carlos Boozer hamming it up after the Lakers broke a seven-game losing streak and defeated the Boston Celtics in overtime back in February? It would have been easier to give the players a pass for letting off steam in the middle of an endlessly bad season, yet Scott ripped them publicly, then ripped them in the film room, and is still passionate about it today.
"I was disgusted, that's just not how we act," Scott said. "I told my players what I thought about it and how I never wanted to see it again. This is a very prideful organization. You celebrate championships, you don't celebrate victories over the Celtics."
It was with this same historical embrace that Scott supported Kobe Bryant after Bryant was caught on video profanely ripping his teammates at the end of a practice, even comparing them to toilet paper. A coach from outside the organization would have told Bryant to calm down. Scott basically told him to keep it up.
"That was every day at practice in my day, Coop and Magic, me and Mike McGee, every single day," Scott said. "Kobe wanted to see who was tough enough to take the challenge. I loved it, I really did."
On the court, while Scott couldn't do much with the underwhelming roster, he became the perfect coach for the Lakers' surprise prospect, slowing grooming Jordan Clarkson before finally allowing him to run free at the end of January, watching him then become one of the league's top rookie guards.
"We found that diamond in the rough," Scott said. "I had to make him understand he had to stay hungry and humble, and he did, he was so diligent, he worked so hard, and then he was ready."
Lakers fans are anxious to see not only how Clarkson will adjust to next season's new expectations-heavy environment, but also Scott. He coached so well through failure, how will he do with impending success? Can he coax the same development out of the draft pick and Randle as he did with Clarkson? How will he control the potential combustion when Bryant's potentially last Lakers season mixes with some hotshot free agent's first Lakers season? And if he has more shooters, will he finally scheme for more three-point attempts?
Those are all fair questions, with only one thing certain. Byron Scott deserves a chance to figure it out. He was the Laker jutting out his chin when everyone was laughing at them, he was the Laker winking at the lottery desk when everyone was cheering them, and it's only fitting that he'll be a Laker when they have a chance to make it all better.
Even when asked about something as innocuous as the Clippers' postseason buzz, Scott is forever a Laker.
"That's fine, keep talking about them right now," Scott said. "We'll be back."
Thanks to him, part of them never left.
Twitter: @billplaschke
---
All things Lakers, all the time.
Get all the Lakers news you need in Dan Woike's weekly newsletter.
You may occasionally receive promotional content from the Los Angeles Times.