Tyson Chandler secures buyout from Suns and plans to sign with Lakers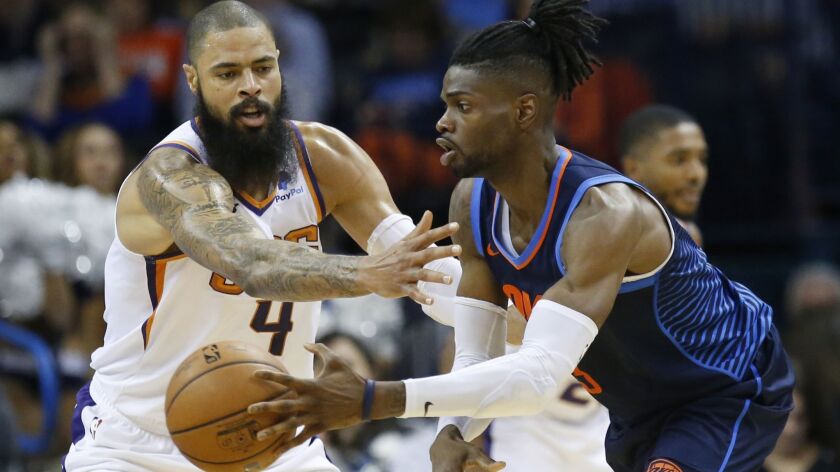 The Lakers are close to getting the backup center they desperately need after Tyson Chandler secured a buyout from the Phoenix Suns on Saturday. Chandler plans to sign a deal with Los Angeles after he clears waivers, according to sources who were not authorized to speak publicly on the matter.
At 7-foot-1, Chandler would give the Lakers a savvy veteran with size who can rebound and play solid defense behind starting center JaVale McGee.
Chandler, who attended Dominquez High in Compton, wanted to "go in the direction" of joining the Lakers after he and the Suns agreed to a buyout of the $13.6 million left on the final year of a four-year contract he had signed with Phoenix, one source said.
Chandler, 36, who won an NBA championship with the Dallas Mavericks in 2011, has developed a reputation as a strong and positive leader in locker rooms over his 18 seasons in the NBA.
"The coaches that I had talked to about JaVale kind of said you got to just watch his minutes because he's really good for five straight, but you got to just get him some rest type of thing," Coach Luke Walton said. "And he played 36 for us last game and was one of our best players, if not our best player on the court, as far as the way he protected our rim and rebounded the ball. So, he's been as valuable as anyone on this team so far."
McGee came up big Saturday with 12 points, nine rebounds and six blocks in a 114-110 win at Portland.
After McGee, the Lakers have used more unorthodox players at center. Kyle Kuzma, LeBron James and Johnathan Williams, who is on a two-way deal, all have filled in the backup center role.
"Today's game isn't your traditional game where you have this big bruiser," Walton said. "Some teams do, most teams don't. They space the floor. The center position is, depending on who we play, it's going to be a different person. We've had nice efforts from all these guys at different times."
Chandler averaged 3.7 points and 5.6 rebounds in 12.7 minutes for the Suns this season.
James shrugs off noise around team
The Lakers are a team that garners attention even when drama isn't swirling. Last week when news broke about a tense meeting in which President of Basketball Operations Magic Johnson yelled at Walton, Walton spoke to the team about handling "noise."
James has dealt with such attention since high school. When asked how the younger Lakers handle distractions, James said he could speak only of his own experience.
"It doesn't bother me at all because I don't pay attention to it, I don't listen to it," James said. "It actually never even gets to me really, so it's not a big deal for us. We need to figure out how we can string together some great games or even good games and bring our win total from where it is now. Because that's the business we're in. That's the only thing we wanna do. We want to be as good a team as we can be and win ballgames."
Beasley still gone
Forward Michael Beasley had not rejoined the team before Saturday's game after leaving it in Minnesota last weekend to handle a family illness.
The Lakers also were without rookie center/forward Moe Wagner, who is with team's developmental affiliate, the South Bay Lakers. Wagner scored 17 points on eight-of-18 shooting in his G League debut.
Walton made Wagner active for the first time Wednesday when the Lakers hosted Dallas.
Twitter: @BA_Turner
---
All things Lakers, all the time.
Get all the Lakers news you need in Dan Woike's weekly newsletter.
You may occasionally receive promotional content from the Los Angeles Times.