LeBron James sits as Lakers lose at Golden State Warriors; tempers flare in locker room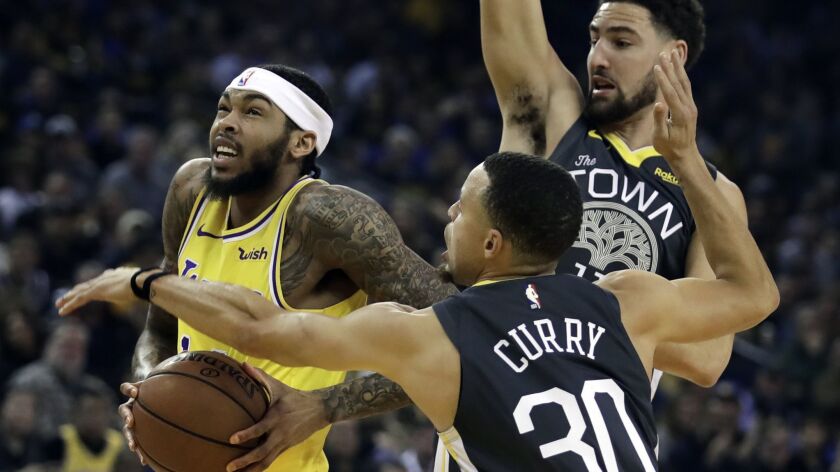 LeBron James acknowledged he didn't feel great physically after playing 40 minutes in his first game back from a groin injury that sidelined him for five weeks. Those minutes took a toll.
James sat out Saturday's game against the Golden State Warriors because of what the Lakers called "load management."
As they did for the first 17 games he sat out, his teammates missed him.
The Lakers lost to the Warriors 115-101, falling to 1-2 against the defending NBA champions. They are 6-12 without James.
Klay Thompson scored a game-high 28 points, 23 in the first half, to lead the Warriors.
Stephen Curry missed his first eight shots but made five of seven in the fourth quarter, helping the Warriors stretch their lead.
Brandon Ingram led the Lakers with 20 points. Rajon Rondo had 12 points, 11 assists and eight rebounds.
James flew with the team to San Francisco on Friday and did a workout before the game to see how he felt. The Lakers don't play again until Tuesday in Indianapolis. It's the start of a four-game trip to Indiana, Boston, Philadelphia and Atlanta.
Coach Luke Walton said James could be rested at various times during the season.
"A lot of it will be dependent on how he's feeling and what the schedule's like a lot of those times," Walton said. "It's more just him being sore after five weeks of him not playing basketball. It is a few days from our last game 'til our next one in Indy, so when me and him spoke, it's 'As much as you want to play, let's make sure you're making the smart decision.' So he came over early, and the decision was made."
Privately in the locker room after the game, Walton addressed the players on the subject of unselfish play. Michael Beasley, Josh Hart and JaVale McGee had a heated exchange with the coach. According to two sources not authorized to speak publicly, the incident never escalated to a troubling level or came close to becoming physical.
Because James was a late scratch, the Lakers had to change their game plan just before the game. It might have been part of what allowed the Warriors to get off to a quick start. They led 7-0 before the Lakers scored and took a 14-point lead in the first quarter.
The Lakers recovered in the second quarter, cutting the Warriors' lead to one point. They even took a 10-point lead early in the third quarter, usually the period when the Warriors are at their best.
"We started taking care of the ball and we got stops defensively," Rondo said. "We shared the ball on the other end offensively and then once we got away from that, things turned."
The game shifted back in the Warriors' direction midway through the third quarter.
DeMarcus Cousins drove at Kyle Kuzma, put his arm down into the Lakers' second-year forward and dunked the ball thunderously as Kuzma fell. Cousins stood over Kuzma until his teammate Andre Iguodala pulled him away and the crowd at Oracle Arena went bonkers.
"I thought I [drew a charge] but it's going to happen," Kuzma said. "When you play defense you're going to get dunked on sometimes. I got a tip-dunk on him, too, so that counts."
Until then, the Lakers were outworking the Warriors for loose balls and open shots.
The energy in the building, both for the Warriors and their fans, completely changed after Cousins' dunk.
"At that point we were kind of playing with a lot of frustration in the game," Cousins said. "I feel like that kind of helped or was a turning point for us in the game."
Said Rondo: "The crowd got into it and then we started to play a little bit selfish. But things happen like that."
Cousins went on a 5-0 run to cut the Lakers lead to five points, and from there the Warriors took the game back.
"It seemed like we ran out of gas a little bit down the stretch there," Walton said. "Obviously, they are the defending champions. Steph had a pretty poor shooting game and he comes in and knocks down huge threes. Andre steps up and makes plays. They have a lot of really good players that made plays as we kind of fizzled out a little bit. We could've been better, but overall I am pleased with how our guys competed."
Sign up for our Lakers newsletter »
Follow Tania Ganguli on Twitter @taniaganguli
---
All things Lakers, all the time.
Get all the Lakers news you need in Tania Ganguli's weekly newsletter.
You may occasionally receive promotional content from the Los Angeles Times.