Five takeaways from the Lakers' 115-101 loss to the Golden State Warriors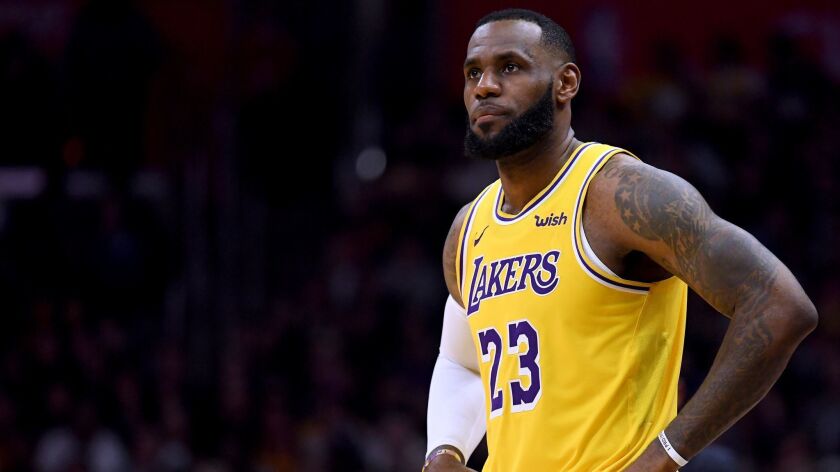 There's rarely a dull moment for the Lakers, and right now everything they do is under a great deal of scrutiny. It's a tense time for several players and losing doesn't help soothe those emotions.
The tense exchange that occurred in the locker room between Luke Walton and some players after the game Saturday was described by a source who was present as regular "NBA stuff."
Here are five takeaways from the Lakers' 115-101 loss to the Golden State Warriors.
1. The Lakers are going to monitor LeBron James as the season goes on and he could miss more games for rest. The term the Lakers chose to use Saturday to explain James' absence was "load management" after he played 40 minutes against the Clippers on Thursday. Walton said there could be times during the season when James doesn't play for maintenance reasons. They'll simply monitor him as the season continues.
2. The decision for James not to play came late and seemed to throw off the Lakers. Walton said they went through their pregame walk through with one plan in mind and then found out that James wouldn't be available. "It's tough to play at this level when you're thinking," Walton said. "I think our guys had to kind of, it took us time to adjust to what the new game plan was."
3. Moe Wagner was one of the more vocal people on the floor for the Lakers. He played only 10 minutes, but he scored 10 points and grabbed three rebounds. Walton was amused that Wagner speaks up so much despite being a rookie. Wagner said it did take him some time to be comfortable with that. "Look around who's in the locker room," Wagner said. "I've been watching these guys since I was a little kid. … Obviously you have respect for them, and you're kinda trying to find your place first."
Sign up for our Lakers newsletter »
4. For a while, the Lakers took advantage of Stephen Curry's off night. Curry missed his first eight shots and didn't score a field goal until midway through the fourth quarter. Once he awakened, though, he helped the Warriors pull away. Curry scored 13 points, all of them in the fourth.
5. Brandon Ingram was less efficient Saturday night than he had been recently, but he still led the team in scoring. Asked how losing James changes things, Ingram had this to say: "Just another opportunity to have the ball in my hands a little bit more, get to the basket, playmake for my teammates, push the basketball in transition. Just gotta be better at that."
Twitter: @taniaganguli
---
All things Lakers, all the time.
Get all the Lakers news you need in Tania Ganguli's weekly newsletter.
You may occasionally receive promotional content from the Los Angeles Times.