Kentucky's Willie Cauley-Stein poses double threat of defense and dunks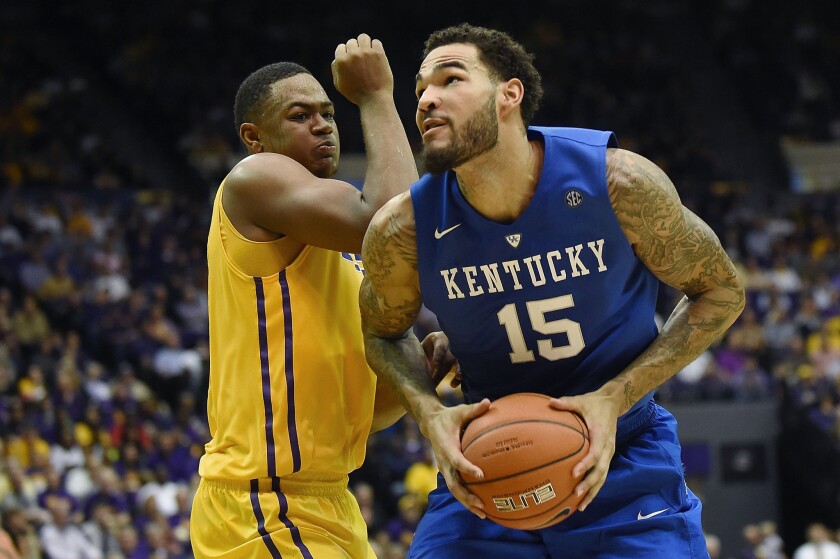 Reporting from Lexington, Ky. —
First there was The Dunk, quickly christened by people as the best of the year even though it was only a week into February.
Then came The Dunk To End All Dunks, again labeled the best of 2015 and also a slight sign of progress because we were within reasonable distance of March.
That they were both delivered by Willie Cauley-Stein was almost an anomaly, something as rare as a junior at Kentucky, which Cauley-Stein happened to be.
He's slotted as a high pick in this year's NBA draft because he plays great defense. The dunks are a sideshow.
If the Lakers keep their top-five protected pick after the May 19 lottery, Cauley-Stein will probably be there for their turn. He's not polished on offense like presumed top picks Jahlil Okafor and Karl-Anthony Towns but NBA front-office types compare him favorably to defensive stopper Tyson Chandler.
Or as one said, he's "a 7-foot Dennis Rodman," only touching the surface of a 21-year-old whose confidence has come slowly, part of a complex makeup traced to his younger years.
They call Spearville the "City of Windmills" and it's hard to disagree. Dozens of large wind turbines dot the plains in the western Kansas town, spinning and spinning and spinning.
Time is measured in farmer's almanacs, not rush-hour traffic, and twitter still refers to the peaceful sound of birds.
Cauley-Stein was a tree without a forest while being raised by his grandparents, towering over a population of 806 that often congregated at the Windmill Restaurant.
His mother and father played basketball at nearby small colleges but split when he was young, leaving him in limbo if not for Norma and Valen "Val" Stein.
His older brother, Bryce, was interested in the wheat farm owned by the Steins, but Willie avoided the tractors and combine harvesters.
"He was shy and pretty much a homebody," Norma Stein said. "He's had to work hard to get where he's at."
His grandparents kept him in check, guiding him as best they could, but his high school was small. Very small. He might not have had enough NCAA-approved classes to be eligible to play college ball down the road, according to people familiar with his situation.
That's when a future Hall of Famer entered his life.
Cauley-Stein played AAU basketball with the son of former NFL offensive lineman Will Shields and ended up becoming friends with Shavon Shields, who now plays basketball at Nebraska. Cauley-Stein transferred to a much larger high school near Kansas City and lived with the Shields family by the end of his sophomore year.
The transition was mostly seamless. Mostly.
"He's one of those kids that is just used to doing what he wants to do when he wants to do it," said Shields, who played 14 years with the Kansas City Chiefs and was elected into the Hall of Fame this year. "He struggled with the fact that, hey, you've got to make those phone calls and tell us where you're going to be, when you're going to be there, when you're going to be home. And leave us phone numbers so we can find out who you're with."
Cauley-Stein realized during an orientation session it would take time to adapt to the teeming hallways of Olathe Northwest High. His entire town of Spearville could fit into the school's main building, he muttered to himself.
"We always thought he would do very well but I don't know if he always thought he would do really well," said athletic director Jay Novacek, whose cousin of the same name played tight end for the Dallas Cowboys. "He's one of those guys who has to really do something before he believes it."
Football played a surprising role for Cauley-Stein, who became one of the state's best wide receivers thanks to 4.6 speed in the 40, Novacek said. A coach from Kansas University even offered him a football scholarship on the spot while watching him play in a seven-on-seven tournament.
Kentucky basketball Coach John Calipari once came to watch Cauley-Stein play football against rival Olathe North. Basketball coaches have a time-tested battle with football coaches because they don't want their star player getting hurt. Not Calipari. Not that night, anyway.
"I stood on the sideline with Coach Calipari the whole game and of course he loved watching Willie catch passes and run with the ball but he was more excited to watch him just knock people out on catch-and-run plays," Novacek said.
Of greater importance to Cauley-Stein's existence in the athletic universe was basketball. He had plenty of dunks back then, but his defense was what attracted coaches.
Calipari signed him to a letter of intent even though Cauley-Stein's competition was mainly undersized centers. Kentucky would be different, though.
It wasn't surprising to see Cauley-Stein return to college after his freshman season. He's not of the same scoring mold as Julius Randle and current-day teammate Towns, past and future members of the one-and-done Kentucky club.
Going pro after his sophomore year was more sensible but Cauley-Stein sustained a broken ankle injury during the Wildcats' Sweet 16 game last year against Louisville. He would have been a first-round pick but not nearly as coveted as now.
He has become college basketball's most versatile defender, an active shot-blocker who can also cover guards.
"Any time you have a 7-foot kid start the game defensively on your point guard, that's pretty unique," Tennessee Coach Donnie Tyndall said.
He also has those dunks. Oh, those dunks.
Search for one against Florida in early February and you'll find these phrases in various online headlines: "Annihilated" (in ALL CAPS), "lays waste" and "posterized" (also in capital letters).
His more recent dunk achieved instant Internet immortality, a fast-break windmill effort against Auburn.
"I make a highlight dunk or something, I'm getting head-butted, dudes' faces are looking crazy," Cauley-Stein told reporters. "Seeing my teammates happy is more fun than me actually doing something."
Calipari, though, wants more from him. Cauley-Stein's outside shot has improved but still needs work. His confidence wavers there.
"I want Willie to risk more. Risk! Go make a play!" Calipari said after Cauley-Stein scored four points in Kentucky's 74-56 victory Wednesday at Mississippi State. "He shot an air ball [near] the foul line so then he stopped playing offensively. That's crazy. You're the best player on the floor."
NBA teams will try to answer a simple question: Who is Willie?
The one with the thoughtfulness to add Stein to his given last name of Cauley, a nod to his grandparents and his mother, with whom he has since forged a bond? Or the one with the "hellacious" dunks, to quote his grandmother, a soon-to-be-pro trying to make it in a world that isn't Kansas anymore. Or, shortly, Kentucky.
Shields thinks he knows, remembering the increased discipline in the latter part of Cauley-Stein's high-school days.
"At any point, he could have said, 'I'm going home, I'm not going to come back if you do it this way or that way,' " Shields said. "He persevered. He worked through it."
Twitter: Mike_Bresnahan
---
All things Lakers, all the time.
Get all the Lakers news you need in Tania Ganguli's weekly newsletter.
You may occasionally receive promotional content from the Los Angeles Times.