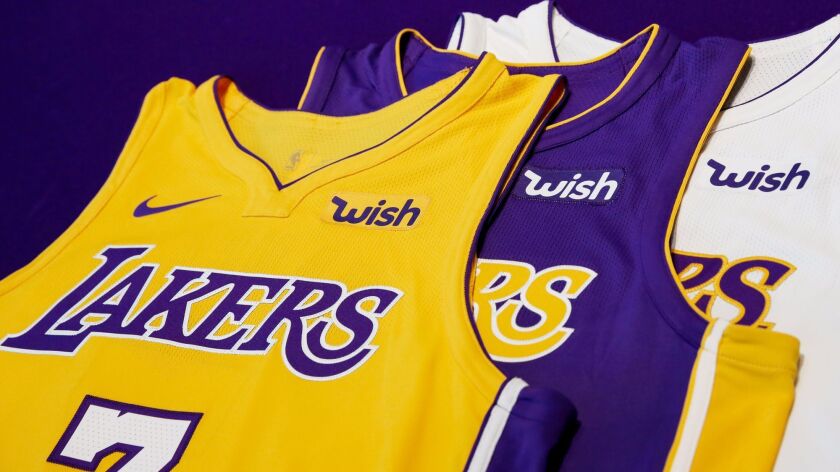 Tim Harris will be honest with you. Like many who heard the news on Thursday, the Lakers chief operating officer hadn't heard of Wish either — until the company approached the team about a sponsorship deal.
Harris said Wish, a San Francisco-based mobile shopping app, reached out to the Lakers, then he did some research before flying to San Francisco for a meeting with Peter Szulczewski, the company's CEO. Not long afterward, they struck a deal.
For the first time in the franchise's history, the Lakers will have advertising on their jerseys as part of the NBA's new sponsorship deal. Wish will pay the organization between $12 million and $14 million a year for the length of the three-year contract, according to a source who wasn't authorized to share the numbers publicly. The Lakers become the 16th NBA team to announce a jersey sponsorship deal in the first year teams are allowed to do so.
"We clicked as companies, we clicked as people," Harris said. "Peter's a super impressive guy. It just started making a lot of sense. We liked the notion that they're a mobile-leaning company. We weren't opposed to brick-and-mortar. We just liked that they really aren't brick-and-mortar.
"Our industry is going to a place where fans are going to be communicating with us through mobile, entering the building through mobile."
The Lakers' deal ranks second among those for which figures are known, behind the Golden State Warriors' $20- million-per-year agreement with Rakuten.
The NBA Board of Governors approved sponsor patches in the top left corner of game jerseys beginning in the 2017-18 season.
The Lakers engaged with several companies for potential sponsorship deals, but Harris said they weren't close with any other group.
Earlier this week, Forbes magazine valued Wish at $8.5 billion. The app offers budget shopping options and quirky products. Though the company's global reach appealed to Harris, he said he recognizes that it is not as well known as other potential sponsors. The Boston Celtics' jerseys, for example, have a GE patch. Disney, the parent company of ESPN, will be the sponsor on the Orlando Magic jerseys.
Although Harris indicated that he thoughts jersey sponsorships are part of a natural evolution for the NBA, he hopes they're embraced with respect for the Lakers' brand. The logo's colors will match the Lakers' jersey colors.
"They're blue," Harris said of Wish's standard logo. "They're sort of a Bruin blue. [But] Wish didn't come in and say, 'We don't care, we want our blue.' Wish was very appreciative and understanding of our brand. [Szulczewski] was very mindful of … 'I appreciate the fact that the Lakers have been around for 70 years, I don't want to come in and be thought of as the outsider coming in to upset things.' We looked to match it almost with the purple and the gold and the white."
Twitter: @taniaganguli
---