LeBron James' historic night came with a meme-able moment for Alex Caruso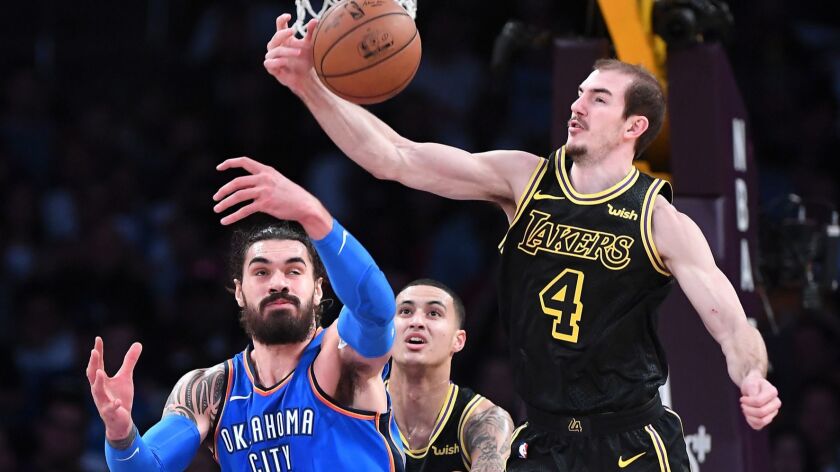 The cameras and the microphones and the recorders found Alex Caruso in the locker room Wednesday night.
What was it like, the TV reporter wanted to know, to be on the bench and watch one all-time great in LeBron James pass another, Michael Jordan, on the NBA's all-time scoring list?
It was surreal for Caruso, a grinder who is living on the fringes of an NBA roster. It was incredible to see the sport's biggest star accomplish something so special. And it was an honor to be James' teammate while he moved up to No. 4 on the league's all-time scoring list. Just to be in the building, that would be awesome.
And he might have said all of that — except for one thing.
"Yeah," he answered, "for the actual basket, I was on the court."
You can be forgiven if you were surprised to see him out there too. He really doesn't look the part. Caruso is a skinny white guard that has noticeably thinning brown hair despite just turning 25. He's usually on the bench or in the NBA's G League. Before Wednesday, he'd played five minutes with James this season.
Injuries opened the door for Caruso to become part of a major moment in the history of the game.
When James made the big basket in the second quarter, Caruso was one of the Lakers waiting to greet him after the milestone. The Ringer's Twitter feed almost immediately posted a video of Caruso "mic'd up" for the play, dubbing in his voice, making it seem like he said to James, "Hey, what's up man. I'm Alex."
About 17 hours later, early Thursday afternoon, the video had been viewed 1.2 million times. A link was waiting for Caruso on his phone after the game — possibly the best he's ever played in the NBA — from one of his friends.
"I'm very meme-able," he said with a chuckle. "I'm easy. I'm a meme-able person."
Caruso knows the jokes, the stereotypes, how some are true and how others are off base. But it was cool to be on the court to congratulate James. It was cool to help the Lakers get back into a game Wednesday night. It was cool to remind people who don't know him that he's more than a punchline.
"There's always the thought that the skinny white guy that is playing and people … they underestimate me," Caruso said. "It's part of the reason that I play so hard because I know if I go out there and play hard, I know they're not going to be ready.… I'm going to take advantage of it. And eventually, my skill caught up with my heart and my competitiveness."
He grew up in College Station, Texas, where his father worked in the Texas A&M athletic department running on-campus sporting events. Caruso was a ball boy for the Aggies, getting to games more than two hours early to beat the players onto the court for some extra jumpers.
By the time he was a freshman in high school, he was a 6-foot guard who could graze the rim while dunking. He worked himself into a major college recruit and played four seasons at Texas A&M, where he made his name as a strong passer and defender.
Now? His spot in the NBA is as tenuous as it gets.
Sign up for our daily sports newsletter »
Caruso is on a "two-way" contract. Each NBA team can have a pair of two-way players, with no more than 45 days allowed with the big club and the rest in the G League, if they have less than five seasons of experience.
He's a free agent after this season.
"I've had steak and lobster mac 'n' cheese on a charter flight and I've had a six-inch sandwich that I got in the airport to go with the window seat on a two-by-two plane. It's humbling. I appreciate this," he said from Staples Center, "a lot more."
He was one of the best players on the court for the Lakers on Wednesday, making 6 of 11 shots from the field for 15 points, which tied a career high he set last season. He grabbed six rebounds and had three assists while putting his body in front of Denver guards Jamal Murray and Gary Harris on the defensive end.
Caruso played 29 minutes against Denver — he'd only played 26 total in his seven other NBA games this season. But in a testament to professionalism and work ethic, Caruso was able to play more than 17 consecutive minutes in the second half despite not playing in an NBA or G League game in the last three weeks.
"He's just tough," Lakers coach Luke Walton said.
After the game, Caruso was still sweating after his post-game shower.
"I feel like [I can play] all the time," he said. "There's not a day where I'm like, 'I can't actually play in the NBA.'"
Rajon Rondo agrees. On a night when he wasn't in the mood to say a ton, the veteran point guard offered detailed praise about Caruso's defensive aggression, his basketball IQ and his execution before offering an endorsement.
"I definitely agree that he's a NBA player," Rondo said. "It's about the right fit, opportunity.… Nights like tonight show why he should probably be in the league."
Wednesday was his moment too. Just because James might be the greatest to ever pick up a basketball, just because Caruso is roughly 32,000 career points away from catching Jordan on the all-time list, it doesn't mean he loves the game any less.
It doesn't matter if you look like James, shoulders wide, muscles everywhere.
"Caruso," JaVale McGee said, "looks like a basketball player to me."
Caruso earned his moments on the court because of a lifetime of love, work and dedication to basketball. The same traits that enabled James to run his career scoring total to 32,311 points Wednesday helped Caruso push his career total to 155.
"The crazy thing about the game is that it's not like football, where you kind of get lost in the shuffle," Caruso said. "If you're playing basketball and you're on the court, you can't really hide. You have to be ready to go. You have to have an edge. You have to be a competitor.
"If I listened to everyone else, I'd have a regular job working construction or something like that."
Twitter: @DanWoikeSports
---
All things Lakers, all the time.
Get all the Lakers news you need in Dan Woike's weekly newsletter.
You may occasionally receive promotional content from the Los Angeles Times.