Letters: Pointed criticism of Lakers continues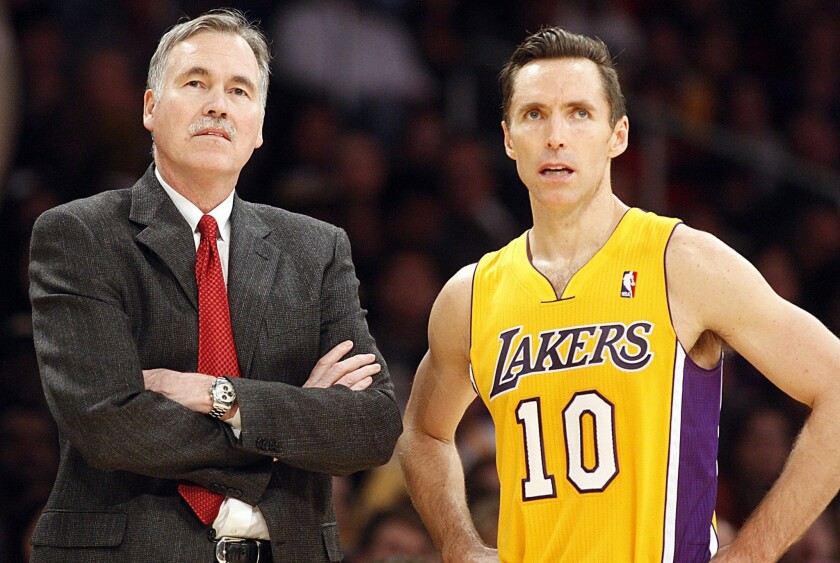 Smush Parker was the Lakers' point guard the last time the Timberwolves beat them? I've got news for you. Smush would start for this year's edition too. And he'd look so good next to the rest of the turkeys they've got playing that Bill Plaschke would be touting him for the All-Star game.
Harry Turtledove
Chatsworth
::
Getting Steve Nash for two firsts and two seconds while paying him $18 million is the worst signing in the history of the franchise. In actuality, Nash cost them three first-round picks because the Lakers did not sign Ramon Sessions, who cost them one.
Nash needs to do the right thing and either retire or accept a buyout. I don't blame him for accepting a trade to the Lakers and signing the contract, but Mitch Kupchak and Jim Buss should accept full responsibility for the damage the signing has done. If the Lakers had their picks and had the money that Nash has cost them, this team would be set for the future. Instead, the trade has set them back at least three years, and maybe up to five.
Geno Apicella
Placentia
::
Just a thought: Maybe Mike D'Antoni should sit out back-to-back games with Steve Nash.
Joseph Kereta
Temecula
::
We can talk until we're blue in the face, but the hard truth is that the Lakers need to unload anyone and everyone, Kobe too, hit bottom, win the lotto, get a game-changing superstar and put an end to all this Clippers nonsense.
Marty Foster
Ventura
::
A heavily favored horse named Kobe's Back came in a distant second on Sunday at Betfair Hollywood Park. I hope this doesn't bode badly for the Lakers, but judging by their performance against the Timberwolves on Sunday, maybe it did.
Vaughn Hardenberg
Westwood
::
I wholeheartedly agree with last week's letter writer Dave Moore that Kobe might just answer the phone in five rings, but if you are calling to talk to another family member, will he pass them the phone?
George Sands
Torrance
::
Perhaps the Lakers would have the best overall league record if The Times cut back to one reporter at each home game and also stopped covering their road games altogether.
Silly, you say? It seems to be working for the Ducks.
Libby Macmin
Los Angeles
Special Ks
Sandy Koufax's and Clayton Kershaw's side-by-side three-year stats offer a perspective of how great and dominant a pitcher Koufax was. Arguably, Kershaw is currently the premier pitcher in baseball, Koufax arguably the premier pitcher in baseball history. Sadly, Koufax's brief but brilliant career was abbreviated by injury.
As a Dodgers fan I hope Kershaw many years of success, Cy Young Awards and no-hitters, to allow today's comparison between the two lefties to transcend beyond the first letter of their last names.
Paul Shubunka Sr.
Santa Clarita
::
It occurred to me that the lone writer who placed Clayton Kershaw second with his Cy Young vote must be the same guy who left Willie Mays off his Hall of Fame ballot.
Bud Chapman
Northridge
::
I wonder if Matt Kemp would have run into the wall if he had not gotten his big contract? I doubt it. Andre Ethier has only warning-track power; gee, I wonder why? Carl Crawford has what to offer? I did not see anything that would get me cheering this past season. Overrated? Absolutely! Let's see which teams are interested in getting damaged goods.
Imelda Carranza
Corona
He disagrees
I can't think of a Dodgers play-by-play announcer less deserving of induction into the Radio Hall of Fame than Charley Steiner except, perhaps, the late Jerry Doggett. Steiner's a blatant homer, can't distinguish between a high pop fly and a deep drive to the outfield, is incapable of describing what's happening on the field with any pacing or rhythm, laughs at his own tired jokes and frequently has to correct himself. His presence on the air is a distraction when it should be an enhancement. This is Hall of Fame material?
I'll take Rick Monday over Steiner any day. Steiner going into the Radio Hall of Fame makes a mockery of such an honor.
Bob Moody
Thousand Oaks
That's enough
Since my freshman year at UCLA in 1971 I've attended basketball games and have been a season-ticket buyer for a quarter of a century. After this year, no more. Exorbitant ticket prices, ridiculous starting times and a suspect new coach make it a losing proposition. What a waste of money!
S.R. Fischer
Los Angeles
Tough loss
It is somewhat ironic in this period when it seems Richie Incognito confirms our worst suspicions about football player mentality that we lose a former player of eloquence. Todd Christensen was a man to whom words meant a great deal. This was the hallmark of his education, his career in football and later as a broadcaster.
There has long been this image of the dumb jock, and Todd Christensen proved intelligence and sports were not mutually exclusive. The paradox of his passing at this juncture, when the very culture of the football locker room has come into question, is that one of the top college teams in this country represents one of the top academic institutions, Stanford.
This is the standard to which we should aspire and current turmoil in pro football should perhaps bring into question the concept of drafting students before graduation, perhaps giving them more time to mature as players and as individuals.
Todd Christensen's death is a sad loss but a reminder that not all pro football players are mindless brutes and many bring thoughtful intelligence to the game, their lives and ours.
Michael Solomon
Canoga Park
Not sweet tweet
Bill Plaschke's condemnation of Matt Barnes "...for tweeting the most despicable of racial epithets..." was way over the top. A black person calling black teammates the N- word in the context of a heated moment is hardly the egregious infraction he tries to make it out to be.
Barnes was fined a token amount precisely because the NBA needed to issue some response while also recognizing this "crime" barely moved the PC needle.
Social media does a good enough job of blowing these things out of proportion. I would expect a good journalist to offer some balance rather than adding fuel to the fire.
Ron Ovadia
Irvine
::
Matt Barnes, take some time this weekend and go see the movie "12 Years a Slave." It will help you appreciate how far our society has come, and that your recent Twitter tirade was shameful, and not a step in the right direction.
Virginia Conrad
Torrance
Beyond belief
I'm sorry to report an error in your otherwise excellent coverage of the two local college football teams. We all know that UCLA lost to Stanford and Oregon on consecutive weeks on the road. However, you have USC listed as playing Stanford at home and not playing Oregon at all.
Obviously such an imbalance in scheduling could not possibly be the case in a year when the Trojans are at home to take on the Bruins. I would respectfully ask that you correct future editions. Thank you and keep up your overall great work.
Ron Reeve
Glendora
::
The Los Angeles Times welcomes expressions of all views. Letters should be brief and become the property of The Times. They may be edited and republished in any format. Each must include a valid mailing address and telephone number. Pseudonyms will not be used.
Mail: Sports Viewpoint
Los Angeles Times
202 W. 1st St.
Los Angeles, CA 90012
Fax: (213) 237-4322
Email:
---
All things Lakers, all the time.
Get all the Lakers news you need in Dan Woike's weekly newsletter.
You may occasionally receive promotional content from the Los Angeles Times.