Mitch Kupchak talks about why the Lakers hired Luke Walton as coach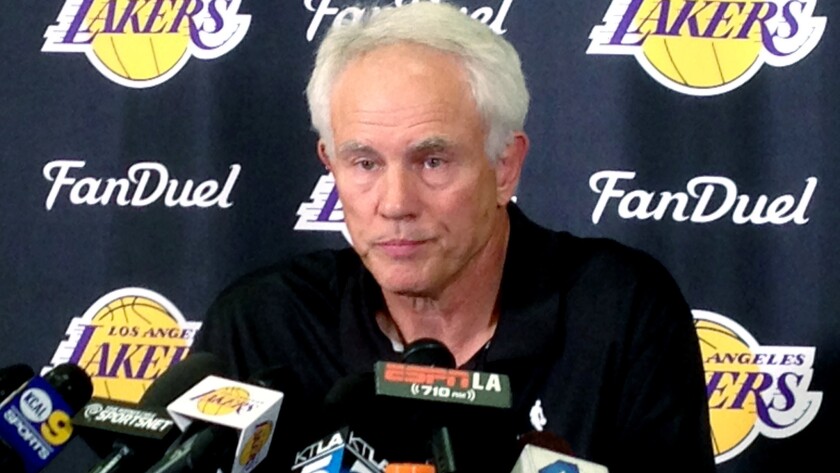 Mitch Kupchak eased his way down the steps from his office and paused.
"We're having a press conference and no coach," the Lakers' general manager said, shaking his head and smiling, at his news conference Friday about the hiring of Luke Walton as coach.
Kupchak walked to his seat at a table set up with a slew of microphones and began to extol the virtues of Walton, who will continue in his current job as assistant coach with the Golden State Warriors until the end of the playoffs.
Walton and the Lakers completed their deal Thursday night, paving the way for him to replace Byron Scott, who was fired April 24.
Walton, 36, agreed to a five-year deal worth about $25 million, with the first four years guaranteed.
Walton played for the Lakers and won championships with them in 2009 and 2010, and that didn't hurt his chances of becoming their coach. He was also popular with Lakers fans.
Walton showed his potential to be a head coach when he directed the Warriors to a 39-4 record this season when Coach Steve Kerr was out recovering from back surgery.
Walton kept the NBA champion Warriors moving in the right direction, leading them to an NBA-best 24-0 start as the interim head coach.
"Although his body of work is limited to about a half of a season, the fact that he actually has already done it is a big plus going forward in his coaching career," Kupchak said. "He knows what it takes and he knows the decisions and he's familiar with the decisions to be made during the game."
On April 28, Kupchak and Jim Buss, the Lakers' executive vice president, met with Walton in Oakland for about "six or seven" hours, Kupchak said. The next day, Walton was offered the job.
Kupchak and Buss were impressed with Walton's take on the Lakers' offense, defense, their roster and what the team will need in the draft and in free agency.
Kupchak said the Lakers had several interviews set up for their coaching job, but that Walton was the easy pick.
"With the [coaching] openings in the NBA at that time and then other openings that we thought might come about, once we finished the interview, we decided quickly that he was our first choice," Kupchak said. "Why wait? Just get it done. And that's what we did."
Kupchak likes the idea that Walton wants to play up-tempo, similar to the way the Warriors play.
"We don't have the players that Golden State has right now," Kupchak noted.
Walton is taking over a Lakers team that suffered a franchise-worst 17-65 season under Scott, following a 21-61 record last season.
"There's not one thing that we can point to," Kupchak said. "Byron did a wonderful job under very adverse circumstances the last two years," Kupchak said.
Kupchak said some of his players have been at the facility in El Segundo, but that he hasn't talked to them about Walton.
"I would guess that they're happy with Luke as a coach," Kupchak said. "But that's really not a factor."
According to NBA officials, who were not authorized to speak publicly on the matter, two candidates to be on Walton's staff are ex-Laker Brian Shaw, a former head coach in Denver, and J.B. Bickerstaff, who coached the Houston Rockets this season after Kevin McHale was fired.
"I think more than ever, the front office will be more involved with development of a young coach," Kupchak said. "I expect to be more involved day to day than we've ever been, in terms of the front office and what takes place down in the locker room."
Follow Broderick Turner on Twitter: @BA_Turner.
ALSO
Luke Walton says Lakers' job was an opportunity he couldn't pass up
Lakers' firing of Byron Scott shows how the business of sports entertainment works
Lakers felt an urgency to part ways with Byron Scott while top coaching candidates were still available
---
All things Lakers, all the time.
Get all the Lakers news you need in Dan Woike's weekly newsletter.
You may occasionally receive promotional content from the Los Angeles Times.