Lakers felt an urgency to part ways with Byron Scott while top coaching candidates were still available
The Lakers wanted to ease into their decision on Byron Scott, let the emotions subside from a scarred season before plunging into whether he would stay or leave as their coach.
Then Tom Thibodeau was hired by the Minnesota Timberwolves, Scott Brooks was snapped up by the Washington Wizards and the Lakers realized they needed to act quickly if they wanted to fill a potential coaching vacancy.
Sacramento is actively seeking a coach and Houston also might look for one after its season ends.
So Lakers executives Mitch Kupchak and Jim Buss told Scott on Sunday night he wouldn't be retained, thrusting the Lakers into their fourth coaching search since Phil Jackson retired in 2011.
It's going to take some time, and the initial list shows about a dozen candidates.
"It's a no-stone-left-unturned philosophy," said a person familiar with the situation.
The Lakers' list includes three distinct tiers — former NBA head coaches, current NBA assistant coaches and college head coaches.
Jeff Van Gundy, Lionel Hollins and Mark Jackson are headliners for the first tier.
Luke Walton and Ettore Messina are current NBA assistants in a tier that represents a compromise of sorts.
Walton won two championships as a Lakers forward and guided Golden State to a 39-4 record while Coach Steve Kerr recovered from back surgery this season. Messina was a Lakers coaching consultant during Mike Brown's only full season, has vast international experience and has studied at the side of Gregg Popovich in recent seasons.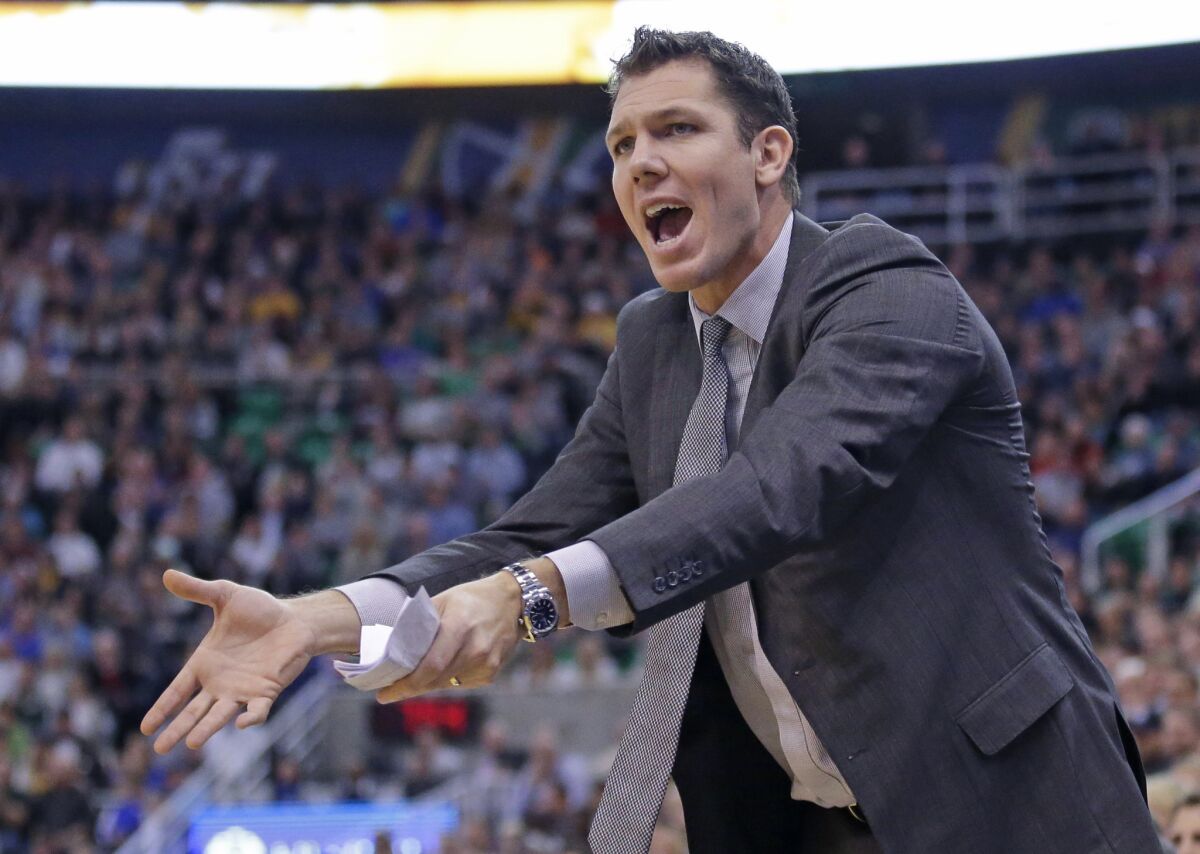 At the college level, Kentucky's John Calipari and Connecticut's Kevin Ollie will be considered.
In hindsight, the Lakers privately claim they weren't that interested in Thibodeau because he would want authority to make personnel decisions and that wasn't going to happen. Brooks would have been better-suited for them, even if he wasn't necessarily their main choice.
There remain so many variables in play, so much left to determine with a few key dates only creating more uncertainty for a team coming off its worst season ever (17-65).
The NBA draft lottery is May 17 and the Lakers have a 55.8% chance of retaining their top-three-protected pick. If they lose the pick, as per terms of the Steve Nash trade, their vacancy becomes less desirable. If they keep it, however, it's an attractive chip.
The draft is June 23, and if the Lakers manage to get a top-two pick, they probably would take one of two gifted forwards — Louisiana State's Ben Simmons or Duke's Brandon Ingram. The third pick is far less certain; a glut of players have yet to distinguish themselves at the level of Simmons and Ingram. The Lakers might even try to trade the pick if they end up third on lottery night.
"It would be nice to have our staff in place during the draft," Kupchak told TWC SportsNet on Monday, adding that he didn't expect to make a hire over the next two weeks.
Free agency begins June 30, and the Lakers will have about $55 million to spend.
Will they want a coach in place before free agency, someone who can help attract players such as Kevin Durant from other teams? Or might they keep the position open so Durant could hypothetically have a say in picking their next coach?
The latter scenario has "zero chance" of happening, according to a person familiar with the situation, but the Lakers will take into account whether their new coach can connect with Durant, who might or might not leave Oklahoma City.
In a sea of question marks, one thing is for sure — the Lakers are hoping for clarity as they start interviewing candidates. Another coaching search is about to begin.
Twitter: @Mike_Bresnahan
Times staff writer Broderick Turner contributed to this report.
ALSO
Byron Scott out as Lakers' coach
The Lakers fired Byron Scott for doing his job, and, strangely, it all makes sense
Byron Scott has done 'excellent job' as Lakers coach under the circumstances, Mitch Kupchak says
---
Get our high school sports newsletter
Prep Rally is devoted to the SoCal high school sports experience, bringing you scores, stories and a behind-the-scenes look at what makes prep sports so popular.
You may occasionally receive promotional content from the Los Angeles Times.