Lakers draft Moritz Wagner with No. 25 pick; acquire two guards in second round in Act 1 of potentially critical offseason
As the Lakers try to build their next championship team, general manager Rob Pelinka is learning something about opponents' willingness to help him accomplish that.
"It's not like teams are saying, 'Oh, I'm not going to do a deal with the Lakers,' but I do think when you have 16 banners there's going to be a natural envy from your competitors because you're sitting at the top of the food chain," Pelinka said. "But that's just life in general. If you have success in any walk of life you're going to face that."
This will be a pivotal offseason for the Lakers, with or without the help of other teams. On Thursday, they took their first steps into it during the NBA draft. Call it an appetizer for what's to come.
They selected German former Michigan forward Moe Wagner with the 25th pick, a pick acquired in the trade that sent Jordan Clarkson and Larry Nance Jr. to the Cleveland Cavaliers. They took German Isaac Bonga with the 39th pick, which they will officially acquire after the moratorium ends on free agency next month, and they drafted Svi Mykhailiuk of Kansas with the 47th pick.
Mykhailiuk, a 6-foot-8 guard from Ukraine, made 44.4% of his three-point shots in his senior year at Kansas and set a school record by making 115.
Wagner, who grew up in Germany, made 39.5% of his three-point shots during his sophomore and junior seasons at Michigan.
"Growing up I was a huge NBA fan," Wagner said. "I remember getting up at 3 a.m. watching the games. … I'm just a skinny kid from Germany. The dream is very, very far away from over there."
Bonga, 18, is expected to be a project, but the Lakers are excited about his potential. Pelinka and director of scouting Jesse Buss got a close look at Bonga during a trip to Europe this spring. The Lakers acquired the pick in a deal with the Philadelphia 76ers, giving up cash and a 2019 second-round pick.
This year also marked the end of the Lakers' debt for the trade that netted them Steve Nash in 2012. The 76ers took Mikal Bridges with the 10th pick, acquired from the Lakers, and traded him to the Phoenix Suns.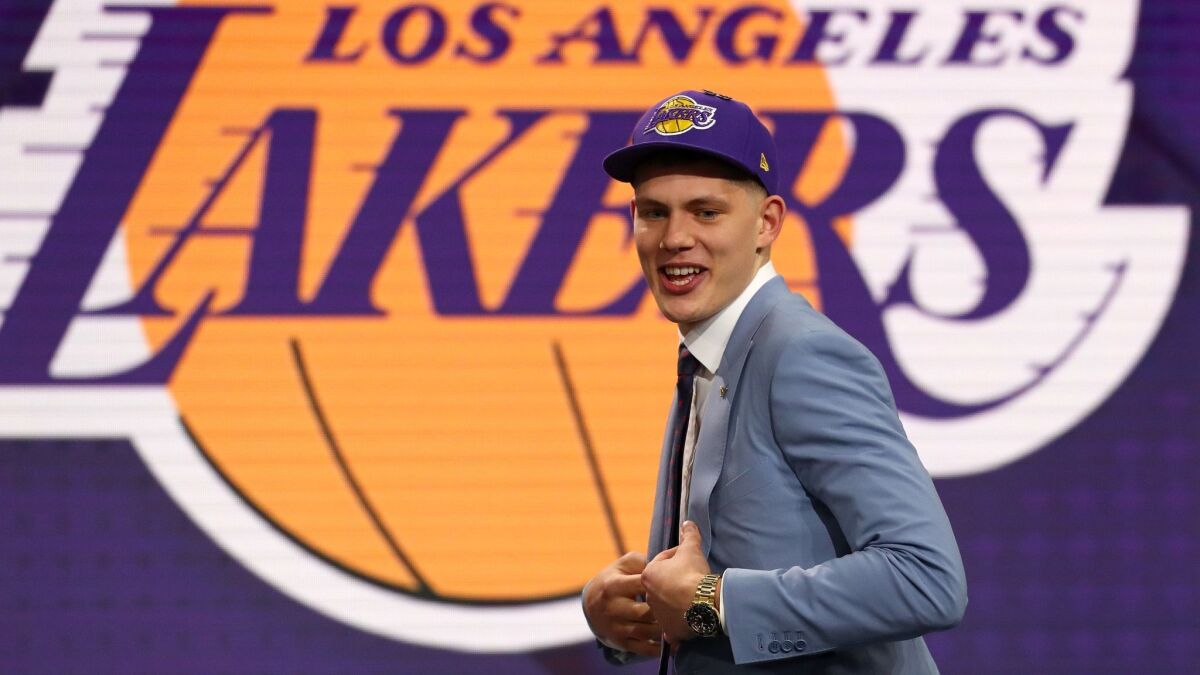 For the Lakers, this year's draft felt dramatically different than last year's, when they took Lonzo Ball with the second pick and called him the face of the franchise.
They didn't want to make a splash in free agency, preferring to sign one-year deals and wait.
This year, the offseason's main course is free agency, which opens July 1.
"It feels like the last several weeks have just been a constant planning session, moving the chess board around with all the different options," Pelinka said, "and we won't rest until we get it right. ... There's an incredible excitement to get to July 1 and to see what the options are."
They could include several big names.
The Lakers had a preliminary conversation with the San Antonio Spurs about their disgruntled star Kawhi Leonard recently, but no true negotiations followed. That the Spurs aren't interested in trading Leonard to the Lakers has been widely reported.
Last summer, the Lakers faced similar resistance when Paul George made clear his interest in playing for the Lakers. The Indiana Pacers instead traded him to the Oklahoma City Thunder.
"We don't really see that as a challenge, we just see it as a reality," Pelinka said of the envy that he believes other teams might feel about the Lakers' past success. "But we also feel like because of the DNA shift here and because of the energy around our team and our young core and our cap flexibility, that players want to be here."
As Pelinka finished his post-draft news conference, Isaiah Thomas appeared on the Lakers' practice court and began shooting three-pointers with no teammates on the court. It has been his habit to come to the Lakers practice facility for late-night workouts this offseason. Other players such as Lonzo Ball, Kyle Kuzma and Julius Randle also have frequented the facility, working to build their bodies as team executives have asked.
The players' responsibilities haven't changed despite all else swirling around the organization. Any of them could wind up with another team through trades or free agency.
The decision-makers, including Pelinka and president of basketball operations Magic Johnson, have split their focus the last few weeks. With the draft finished, they'll turn fully to the big names that could dramatically change the franchise, and quickly.
"We feel like we can be really, really good right away but also build sustainably," Pelinka said. "I don't think that leveraging success of the future is the right thing to do. I think sustainable success is really our goal."
Follow Tania Ganguli on Twitter @taniaganguli
All things Lakers, all the time.
Get all the Lakers news you need in Dan Woike's weekly newsletter.
You may occasionally receive promotional content from the Los Angeles Times.