Lakers' Roy Hibbert must face his feelings when playing Pacers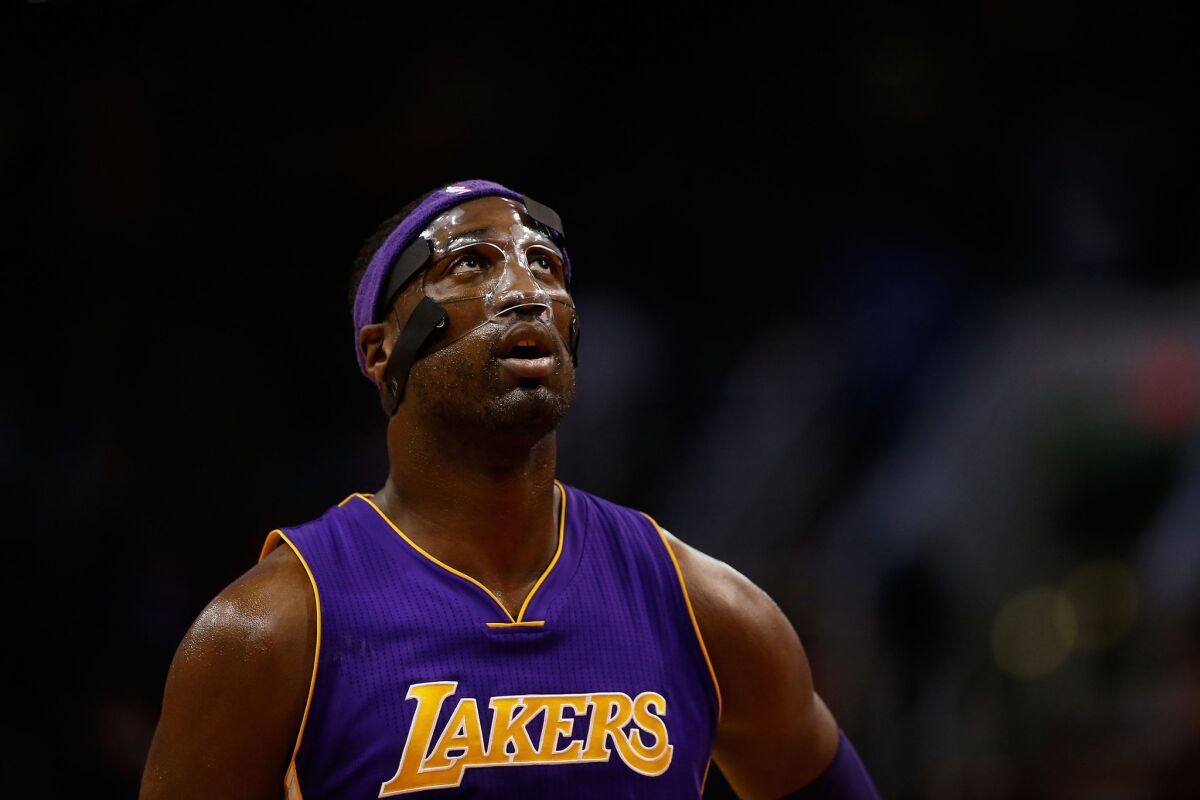 This will be the easy game for Roy Hibbert, the one in which he sees former teammates without having to return to the state of Indiana.
The Lakers play host to the Indiana Pacers on Sunday, setting up a training-wheels experience for Hibbert of sorts.
Hibbert won't hear from the fans that didn't appreciate him. He won't face the media that criticized him toward the end of his seven-year Pacers run.
The real test will be Feb. 8, Lakers at Indiana. For now, there's only a screen test at Staples Center.
"I'm not going to lie — I'm going to feel something [Sunday] but I don't know what that something is going to be," Hibbert said Saturday. "I didn't mark this down on a calendar but I knew this day was going to come so I figured the questions were going to come. All in all, I wish those guys the best, just not against us."
Hibbert, who turns 29 in two weeks, was averaging 8.6 points and 6.8 rebounds before Saturday's game against Portland. Both stats represent slight dips from last season, when he was all but evicted from Indiana because of his inconsistent game.
Pacers President Larry Bird and Coach Frank Vogel strongly hinted in end-of-season interviews the Pacers couldn't even guarantee him a starting spot going forward.
Then the Pacers drafted center Myles Turner from Texas in late June. That same day, Hibbert exercised a player option for $15.6 million for this season. His days in Indiana were officially numbered.
Hibbert has been fine defensively for the Lakers, averaging 2.3 blocked shots a game, but his scoring and rebounding are down. He often gets lost in the shuffle when the Lakers' offense impatiently breaks down into a series of boring, and typically unsuccessful, isolation plays.
Nobody really looks for him, a reason why his shots are down from 9.3 a game last season to a mere 5.3 before the Lakers played Portland. That game ended too late for this edition of The Times.
"I've made a point to our guards, if you see both numbers on his chest, throw him the ball," Lakers Coach Byron Scott said. "It's not that difficult."
How badly did Hibbert want out of Indiana? He forfeited $2.2 million, almost all of his trade kicker, to join the Lakers for the small cost of a 2019 second-round draft pick.
He took the high road Saturday when asked about the Pacers, who are off to a surprising 10-5 start behind the successful return of Paul George from a broken leg.
"I try not to think about it. We're 2-12, 2-13, I don't even know what we are right now," he said before Saturday's game. "I have bigger things to worry about than how I'm going to feel. I'm a professional and I'm just going to go out there trying to help us win."
Hibbert isn't the only one facing a unique game Sunday. A smaller story line could be taken by Jordan Hill, who, if healthy, would play the team that declined to pick up a $9-million option on him last season.
Hill, 28, signed a one-year, $4-million contract with Indiana after averaging 12 points and 7.9 rebounds for the Lakers. The reserve forward-center did not play Friday against Chicago because of a sore back and was considered questionable for Sunday's game.
"That was my dog, me and J-Hill," Nick Young said of his friend and former teammate, who was averaging 9.2 points and 8.3 rebounds. "For sure, they're a playoff team. That's a good spot for him."
All things Lakers, all the time.
Get all the Lakers news you need in Dan Woike's weekly newsletter.
You may occasionally receive promotional content from the Los Angeles Times.