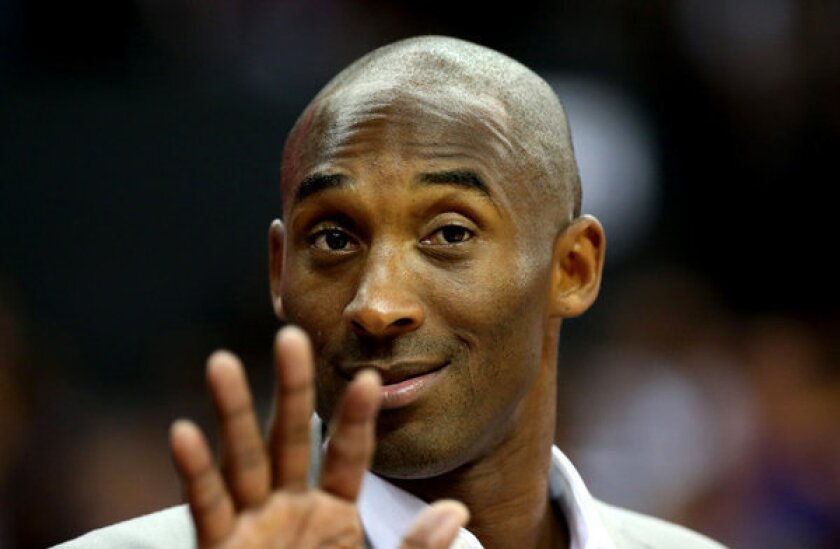 Kobe Bryant did not practice Monday, leaving his status up in the air for the Lakers' season opener Tuesday against Dallas.
Bryant has not played or practiced since sustaining a strained right foot in an exhibition game Oct. 21.
He did not talk to reporters Monday, and opinions within the Lakers' organization were divided on whether he would play against Dallas. Some think he'll suit up, others think he will sit out.
Bryant was injured when he tripped over Sacramento forward Thomas Robinson while cutting into the lane. He continued to play that night, finishing with 21 points and making six of 12 shots.
Jodie Meeks took Bryant's spot with the first team at Monday's practice. Meeks averaged 5.9 points and shot 26.7% in exhibition play. He was signed by the Lakers last August after spending last season as a part-time starter with Philadelphia.
Bryant averaged 20.4 points, 4.8 rebounds and 3.4 assists in five exhibition games.
He was in a dour mood when he last spoke with reporters almost a week ago, saying he was "pretty sore."
"It's always frustrating to have these freak accidents," he said at the time. "It always upsets me."
[Updated, 4:30 p.m. October 29: "If there is one guy that is capable of sitting out and playing a game, it's Kobe," Lakers Coach Mike Brown said. "He's extremely intelligent and he's been around the block. Him sitting might be better than him being out there every day getting banged up in practice."
Bryant has been watching practices from the side of the court, sometimes while getting therapy on a training table from Lakers staff members. Bryant will then make the hissing noise he uses on the court to get teammates' attention.
"Everybody knows that's Kobe's way of calling anybody," Brown said. "So you've got 30 heads turning to look. He's watching what's going on in practice. He'll start coaching from the training table. He may coach an individual or he may have something that may help the team.
"Right now I just look at him as an assistant coach. He may not like to hear that because he because he doesn't want to take a big pay cut, but he's been in tune, involved with practice every day."
Update: Mike Brown quotes about Kobe Bryant have been added.
ALSO:
Sacre may earn minutes for Lakers
Will Kobe Bryant be ready for the Lakers' season opener?
The good, the bad and the ugly for the Lakers in exhibition games
---