Mitch Kupchak says Lakers 'not running on all cylinders'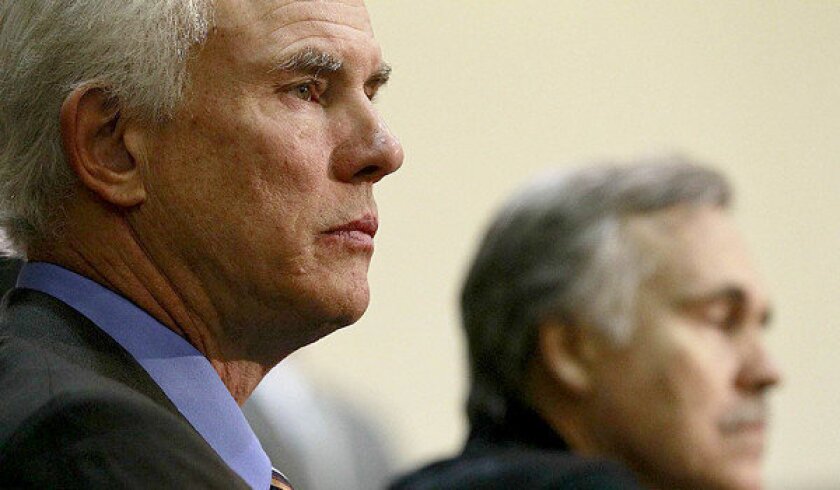 The Lakers have struggled to climb above .500 despite tremendous expectations and a $130-million payroll (including luxury taxes).
General Manager Mitch Kupchak told a select group of season-ticket holders Sunday at Staples Center that he was "disappointed" with the Lakers' performance this season.
"If you have a bunch of cylinders, we're not running on all cylinders right now," said Kupchak.
The major question for the organization seems to be the integration of the play of Pau Gasol and Dwight Howard, under the guidance of Coach Mike D'Antoni.
"I think Pau continues to struggle to figure out how he's going to play with his group," said Kupchak. "Our coaches are struggling as well. We're not going to succeed as a team until we figure that out."
Kupchak noted the Lakers also need to improve defensively.
"The players that we have on this team are certainly capable of playing lockdown defense," said the general manager. "Everybody has to look to look at the defense ... just like the offensive side of the ball. Most guys really, really want to score. In order to be a good defensive team, everybody has to really, really want to play defense and defend."
While Kupchak acknowledged that D'Antoni didn't get a training camp with the roster, he also said it's not an excuse for a team that should be playing better basketball, especially defensively.
"If everybody buys in, everybody is committed and everybody works as hard on defense as they do on offense, we can be an excellent defensive team going into the second half of the year and the playoffs," he said.
Kupchak also said he didn't think his roster was too old.
"I don't think age is a factor, no. That's an excuse. I don't think that's a factor at all when you look at our team," said Kupchak. "Young teams don't win championships. You have to have a good mix of experience and some legs in this business."
"Great experience with very little athletic ability and great skill set, you'll win a lot of games but you're not going to win a championship," he continued. "So you have to have a good mix, but I don't think for a second this team is too old to win a championship."
Kupchak also noted Bryant's performance on the court has improved with age.
"I believe Kobe just turned 34 and he's probably as efficient as I've ever seen him. His shooting percentage is way up," said Kupchak. "We're hoping that we can get on a roll, offensively get more players involved [so] Kobe can do less and play less minutes."
The Lakers still have a significant schedule ahead and thus the opportunity to climb into the top eight in the West. To do so, they'll need to dramatically improve defensively while figuring out how get the most out of the Howard-Gasol combination on offense.
Kupchak didn't address any potential roster changes but if the Lakers continue to struggle, it's worth noting the trade deadline is Feb. 21.
ALSO:
Lakers' rotation continues to shuffle
Kobe Bryant expresses self-doubt about end of career
Robert Sacre scores 22 for D-Fenders
Email Eric Pincus at eric.pincus@gmail.com and follow him on Twitter @EricPincus.
---
All things Lakers, all the time.
Get all the Lakers news you need in Dan Woike's weekly newsletter.
You may occasionally receive promotional content from the Los Angeles Times.