Lakers GM Mitch Kupchak says Dwight Howard is 'our future'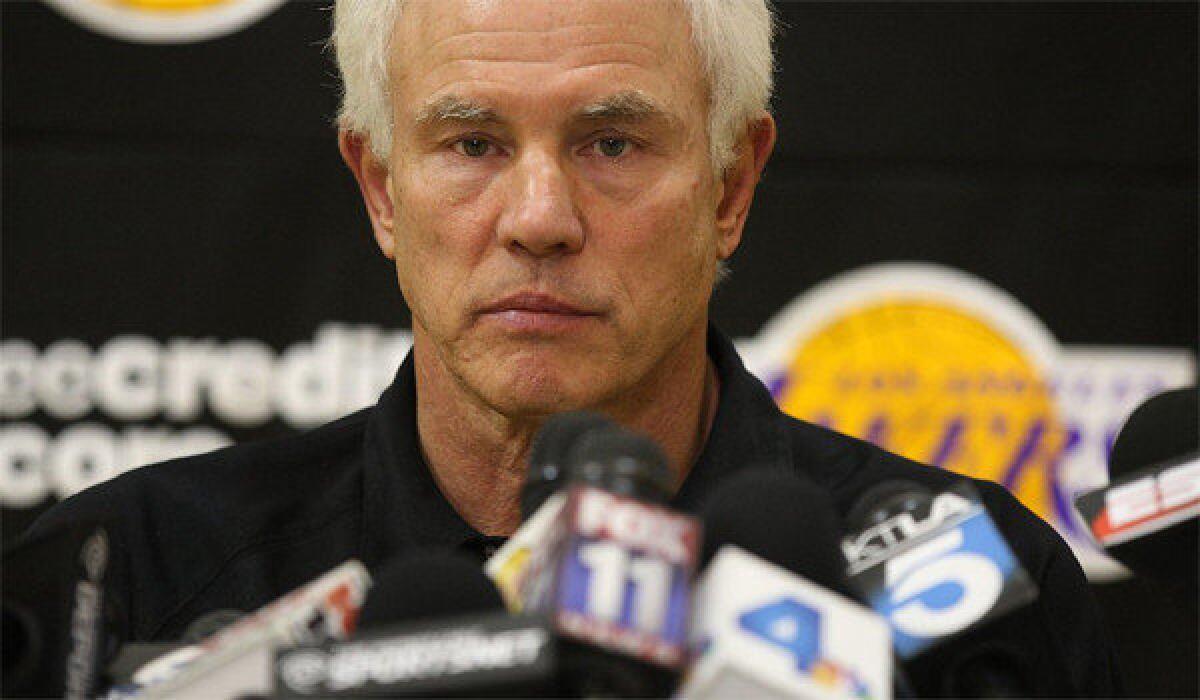 Bringing back free agent center Dwight Howard is the Lakers' top priority this off-season.
"He's our future," said General Manager Mitch Kupchak in a video interview with Lakers.com's Mike Trudell.
"Dwight is in the category of the great of the great," Kupchak said. "He's over his back injury and there's no reason he can't play seven, eight more years at that position. There's no doubt in my mind if he does, he's in the Hall of Fame. Those players are just hard to come by."
Howard struggled through the first half of the season as he tried to return early from back surgery.
"I don't think he got as much credit for the season as he should have gotten," Kupchak said. "Big men are different. They can't bring the ball up the court. They really rely on their teammates to make them look good."
The Lakers can sign Howard for a $118-million, five-year deal in July -- if he chooses to stay. Other teams can offer just four years (up to $88 million), but tax advantages in Texas (Houston, Dallas or San Antonio) would help offset some of the lost wages.
The Lakers struggled with injuries throughout the season, especially in the playoffs when they were forced to face the San Antonio Spurs without a healthy Kobe Bryant, Steve Nash, Steve Blake, Metta World Peace and Jodie Meeks.
Bryant is recovering from surgery on his left Achilles' tendon, torn April 12. He's expected to return in November or December. Kupchak said the Lakers have to start thinking past Bryant, noting the team's potential spending power after this coming season.
"We're closer to the end of that era than we are to the beginning of it," Kupchak said. "We know with Jerry West, Wilt [Chamberlain], Kareem [Abdul-Jabbar] and Magic [Johnson] -- everything at some point and time comes to an end. We're trying to plan for that."
"Don't get me wrong, Kobe went down with a devastating injury, but I expect him back next year," he continued. "I just don't know how much more beyond next year."
The Lakers hope Howard chooses to return, although the Houston Rockets may have a strong case to make with young talent such as James Harden, Chandler Parsons, Jeremy Lin and Omer Asik.
"We're looking a year or two down the road when we have the transition into another era, which is why the Dwight [decision] is very, very important," Kupchak said.
Teams can start negotiating with free agents July 1. They can come to verbal agreements but aren't permitted to sign contracts until July 10.
ALSO:
Phil Jackson would like to see Dwight Howard back with Lakers
Metta World Peace opts into contract, but will Lakers keep him?
Watch: Jeanie Buss accepts TWC Media award in late father's behalf
Email Eric Pincus at eric.pincus@gmail.com and follow him on Twitter @EricPincus.
All things Lakers, all the time.
Get all the Lakers news you need in Dan Woike's weekly newsletter.
You may occasionally receive promotional content from the Los Angeles Times.