Lakers have improved but still have many of the same areas of weakness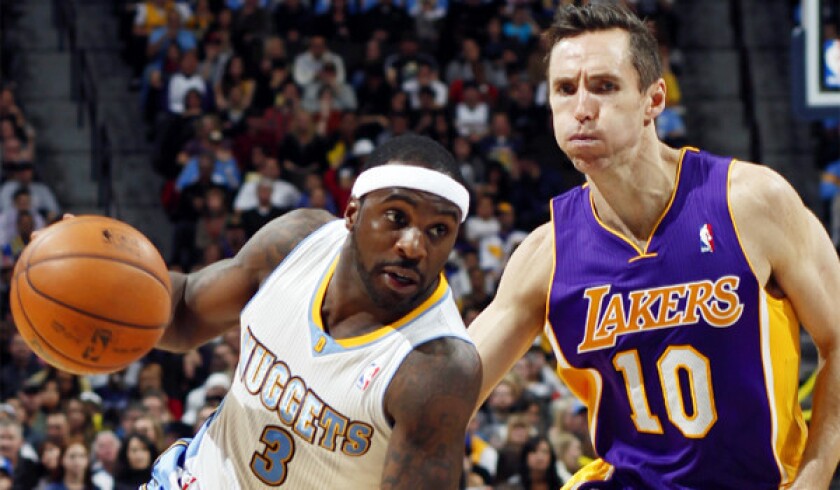 Prior to Friday night's games, the Lakers were the sixth-highest scoring team in the league at 102.4 points a game. They're also more efficient than most, with a field goal percentage of 46.1% from the field (eighth overall).
The Lakers outscore their opponents by 1.2 points a game, the only team in either conference with a positive point differential that isn't seeded in the top eight.
The numbers aren't bad, so why is the team still below .500 at 29-30?
The Lakers have the worst free throw percentage in the NBA at 68.9%. Given the area of weakness, opponents send the Lakers to the line more than any other team (27.4 attempts a game).
Turnovers remain problematic for the Lakers. They have the fifth-highest number of turnovers per game (15.3). Turnovers alone are not crippling; the Houston Rockets, Oklahoma City Thunder and Golden State Warriors all have better records than the Lakers despite a higher turnover average. But the Lakers give up more fast break points than any team in the league (16.3).
Defensively the team has improved but they're still just 17th in opponent's field goal percentage (45.5%).
Are free throw misses contagious? Opponents shoot a league-worst 72.3% at the line against the Lakers.
The Lakers have improved both offensively and defensively in recent weeks, which has led to a higher winning percentage. Turnovers, free throws and transition defense have been problems since the first day of the season, and they're still a common thread when the Lakers lose.
ALSO:
Metta World Peace retroactively given flagrant foul, near suspension
Steve Nash says time together has made the Lakers better
Antawn Jamison says he and D'Antoni have improved relationship
Email Eric Pincus at eric.pincus@gmail.com and follow him on Twitter @EricPincus.
---
All things Lakers, all the time.
Get all the Lakers news you need in Dan Woike's weekly newsletter.
You may occasionally receive promotional content from the Los Angeles Times.