Forbes says the Lakers are worth $2.7 billion, second in the NBA to the New York Knicks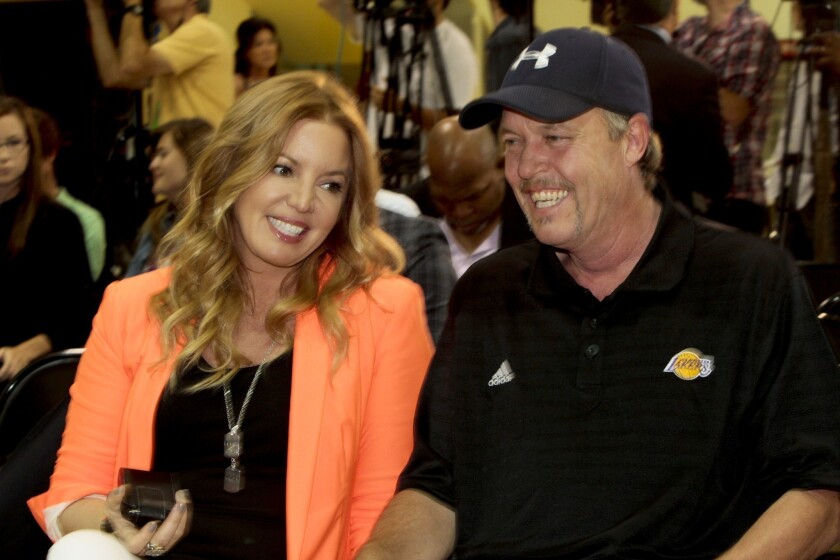 On Wednesday, Forbes.com released its annual NBA franchise valuations, placing the Lakers as the league's second-most valuable franchise, worth $2.7 billion.
The Lakers reportedly have $304 million in annual revenue and an operating income of $133.4 million -- the latter is highest in the league ahead of the Knicks' $108.9 million. New York has slightly higher revenue at $307 million a year.
The Knicks top the list with a $3.0-billion valuation, jumping from $2.5 billion last season to overtake the Lakers. Last season, Forbes estimated the Lakers were worth $2.6 billion.
The Clippers are estimated to be worth $2 billion, matching the price Steve Ballmer paid for the franchise in 2014.
After the Knicks and Lakers, the Chicago Bulls ($2.3 billion), Boston Celtics ($2.1 billion) and Clippers fill out the top five. The Golden State Warriors are sixth at $1.9 billion.
Forbes put the average value of an NBA franchise at $1.25 billion.
The Brooklyn Nets are the only team listed with an operating loss, of $5.7 million.
The Clippers are at $176 million in revenue and an operating income of $20.6 million.
Email Eric Pincus at eric.pincus@gmail.com and follow him on Twitter @EricPincus.
---
All things Lakers, all the time.
Get all the Lakers news you need in Dan Woike's weekly newsletter.
You may occasionally receive promotional content from the Los Angeles Times.