Gambling website predicts Lakers finish with low win count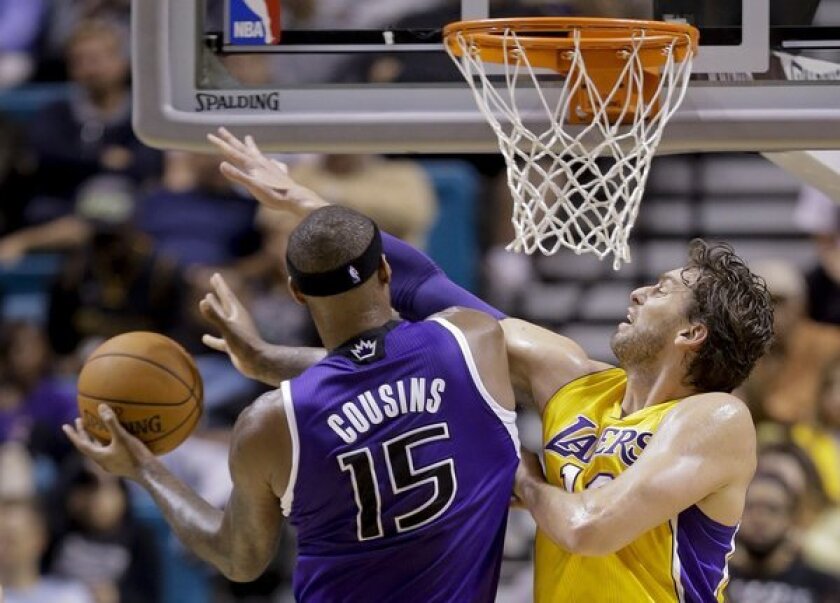 It took 45 wins to make the playoffs last year. The Lakers finished as the seventh-seed last season, ahead of the Houston Rockets, who also ended the regular season at 45-37.
What are the odds the Lakers get to 45 wins this season?
According to gambling website Bovada.lv, the Lakers' over/under for the 2013-14 season is 36.5 wins.
Where does that put the Lakers in the Western Conference?
The top-eight teams include the Clippers (over/under of 57), San Antonio Spurs (55.5), Houston Rockets (54.5), Golden State Warriors (51.5), Oklahoma City Thunder (51.5), Memphis Grizzlies (50.5), Denver Nuggets (46) and Dallas Mavericks (43.5).
The Minnesota Timberwolves (41), New Orleans Pelicans (39) and Portland Trail Blazers (38.5) all have higher over/unders than the Lakers, who edge out the Sacramento Kings (31), Utah Jazz (25) and Phoenix Suns (21).
The Lakers were recently ranked 10th in the West by the Los Angeles Times but within striking distance of the Mavericks and Blazers -- making a playoff spot feasible with a strong year.
The key for the Lakers is getting Kobe Bryant back on the floor quickly and successfully after Achilles surgery in April. The health of veterans Steve Nash and Pau Gasol will also have a direct effect on the final outcome.
The 36-37 win range is certainly possible, but becomes less likely if the Lakers get Bryant back early in the season and have a relatively healthy run.
ALSO:
Former Laker Chris Duhon is struck by car after argument
Dwight Howard believes decision to leave Lakers took 'guts'
Ryan Kelly gets six points in his first exhibition game for Lakers
Twitter: @EricPincus
---
All things Lakers, all the time.
Get all the Lakers news you need in Dan Woike's weekly newsletter.
You may occasionally receive promotional content from the Los Angeles Times.