Kobe Bryant lauds Lakers' aggressive approach in free agency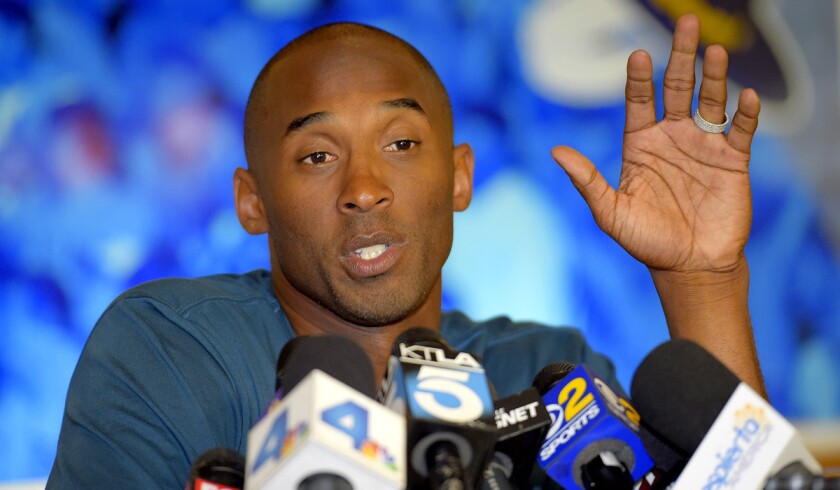 Even as a report suggested that Carmelo Anthony would return to the New York Knicks instead of joining the Lakers, Kobe Bryant firmly supported his team's bid to snag a superstar in free agency.
"Look, they're going for it," Bryant told reporters Wednesday in Santa Barbara at a basketball
camp he hosts each summer. "I mean, there's no ifs, ands or buts about it, man. They're being extremely aggressive and they have solid concepts and plans to be able to get it done and they're pulling out all the stops to ensure that we put a contender on the floor next year, and that's all you can ask for."
The Lakers just slogged through their worst season since moving to Los Angeles and have a roster with only Bryant and a handful of other players under contract for next season, but Bryant outlined three selling points he used last week in his sales pitch to Anthony: the market, the team's 16 championships and financial flexibility that will improve drastically once Bryant's contract expires in two years.
"I just shared with him the experiences that I had playing here in Los Angeles, how I feel like it could be very beneficial to him and his family and his legacy going forward," Bryant said. "I mean, this is a legacy-defining moment. This is the decision."
Bryant said he didn't have any inside information on Anthony's choice a few hours after a New York Daily News report stated that the small forward would re-sign with the Knicks on Thursday.
"Everybody's here to read tea leaves," Bryant said. "I don't really know much to tell you. I don't have any new information, information you guys probably don't know. You guys will probably know before I do."
Bryant acknowledged he had "really clicked" with Anthony since they were teammates at the 2008 Olympics and described Anthony as "very receptive" to his pitch but scoffed at a report that they had played in a pickup game last weekend at UCLA. Bryant said he was in Orange County at the time.
"It seems like if I want to get an accurate sports source now," Bryant quipped, "I have to go to TMZ."
Bryant seemed to suggest he would be OK if the Lakers struck out in their attempts to land a high-end free agent because they had set out to re-establish a championship core.
"The organization, if God forbid we end up with absolutely nothing, it's not for a lack of effort," Bryant said. "That's something that I would be extremely proud of. You put forth the effort, you gave it your best shot … what can you do, right? So you just go from there and then it's on me to go out there and do my best and try to help us win."
Does Bryant have a Plan B if the Lakers' top targets go elsewhere?
"We have several options," he said. "Obviously, depending on the timing of this process, it affects some of those. You have a plan that's flexible, a Plan A and a Plan B, but some of the Plan B is affected by the timing of Plan A. … You wind up seeing these things happen where we're kind of behind a little bit, but it's worth the wait."
What about sitting through another rebuilding year?
"I've never had patience, so why would I start now?" Bryant said. "But you do what you have to do."
Bryant lauded the efforts of team executives Jim and Jeanie Buss, saying they were "on the same page. They're ready to go. They both understand what they need to do individually and how that works together as a unit in turning this organization around. I think you'll see some changes that really fall in line with the history and the culture of the organization — seeing James [Worthy] at the draft and so forth and so on."
The Lakers are still without a coach, but Bryant gave Byron Scott a thumbs-up for the job, calling his former teammate his "rookie mentor" who made Bryant fetch donuts and run other errands as a young player.
"We've had a tremendously close relationship throughout the years," Bryant said. "So obviously I know him extremely well, he knows me extremely well and I've always been a fan of his."
One issue Bryant apparently has put behind him is the injuries that have limited him to six games over the last 15 months. He said he weighed 218 pounds, which is normal for late in a season when he had leaned down.
"Physically, I feel great," Bryant said. "I mean, I don't think about the knee at all when I train. I don't think about the Achilles' at all when I train. I feel sharp, crisp. Now it's just time to add on from there."
---
All things Lakers, all the time.
Get all the Lakers news you need in Dan Woike's weekly newsletter.
You may occasionally receive promotional content from the Los Angeles Times.