Jeremy Lin says relationship with Lakers improved despite benching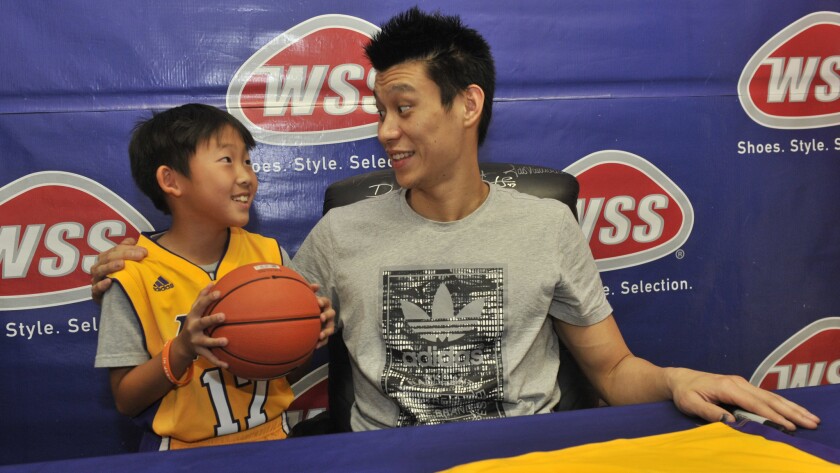 Jeremy Lin met with General Manager Mitch Kupchak and Coach Byron Scott for his exit meeting on Tuesday, after his season ended early with a knee injury.
"I think we made a lot of progress," said Lin. "I feel like they learned a lot about me, and we were able to grow and improve."
Through 74 games (starting 30), Lin averaged 11.2 points and 4.6 assists, shooting 42.4% from the field and 36.9% from three-point range.
Lin said he struggled to accept Scott's decision to move him to the bench, especially on a team that was "setting the wrong kinds of records" in losing.
"It hurt," he acknowledged.
Lin said he had a rough start adjusting to Scott's system, learning what the coach wanted from him. Eventually, with injuries, the way the Lakers played changed to a game that more comfortably fit his style.
"I do think we're headed in the right direction," said Lin, who noted he's open for a return.
"Yeah, that would be great," said Lin, who said the team has to get through the draft lottery, NBA draft and free agency with a number of decisions to make. "There's so much that needs to happen, but that's definitely an option for me."
The Lakers acquired Lin in a trade this last summer with the Houston Rockets. He'll be a free agent this summer after earning $14.9 million for the year.
Lin said he learned a lot from Kobe Bryant about game preparation, film study and work ethic.
"Now that I feel that I've learned from him," said Lin, "I think I'm going to take all that with me."
As for the future, Lin wants to make sure he ends up in the right situation.
"I haven't even spoken with my agent about it," said Lin. "I would say the biggest thing for me in free agency is to make a good decision in terms of where I want to be and where the fit is [right] for me."
"I'm not too worried about the years or a number what I'm getting paid," he continued. "I want to find a good place and hopefully the best place I can fit in."
Lin also said his knee is healthy and won't need surgery -- despite a cartilage abnormality.
Email Eric Pincus at eric.pincus@gmail.com and follow him on Twitter @EricPincus.
---
All things Lakers, all the time.
Get all the Lakers news you need in Dan Woike's weekly newsletter.
You may occasionally receive promotional content from the Los Angeles Times.