Lakers' Julius Randle relieved to have foot questions behind him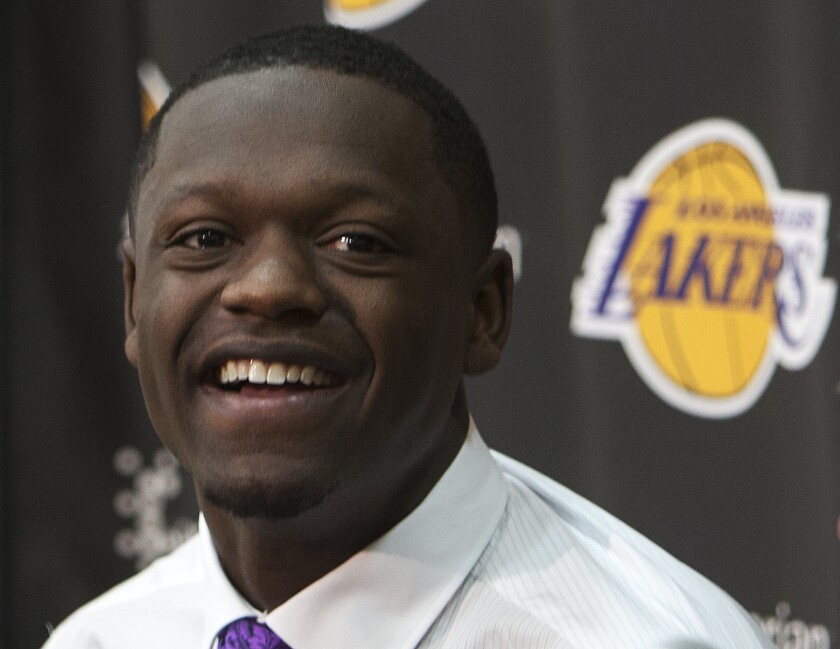 The Lakers weren't the only ones relieved that Julius Randle was cleared to play.
He was too.
The first-round draft pick saw foot specialist David Porter last week in Indiana and got the all-clear signal. No need to replace or remove a screw inserted in his right foot during a surgery more than 18 months earlier.
"I kind of knew what the diagnosis was going to be as far as clearing me to play, but to finally have it over and that whole whirlwind of flying places and all that drama, to finally have that over with is definitely a relief and I can finally play basketball," Randle said Monday.
Randle said he was surprised that his foot became that much of an issue after averaging 15 points and 10.4 rebounds in his only season at Kentucky.
"I didn't have any pain," he said. "It never really gave me any trouble last year whether it was in practice or in a game. It kind of caught me by surprise when that [injury] stuff came out."
When he will play, though, is a good question.
The Lakers begin summer league Friday in Las Vegas but Randle will not be on the court until he signs with the team.
The team is waiting because it can save about $500,000 if his signing is delayed, money that could be used toward free agents such as Carmelo Anthony and Pau Gasol.
With the Lakers already allocating $23.5 million to Kobe Bryant and $9.7 million to Steve Nash next season, every dollar counts.
So Randle waits.
"We'll see," he said. "It's kind of really out of my hands right now. I'm ready to play whenever."
---
All things Lakers, all the time.
Get all the Lakers news you need in Dan Woike's weekly newsletter.
You may occasionally receive promotional content from the Los Angeles Times.