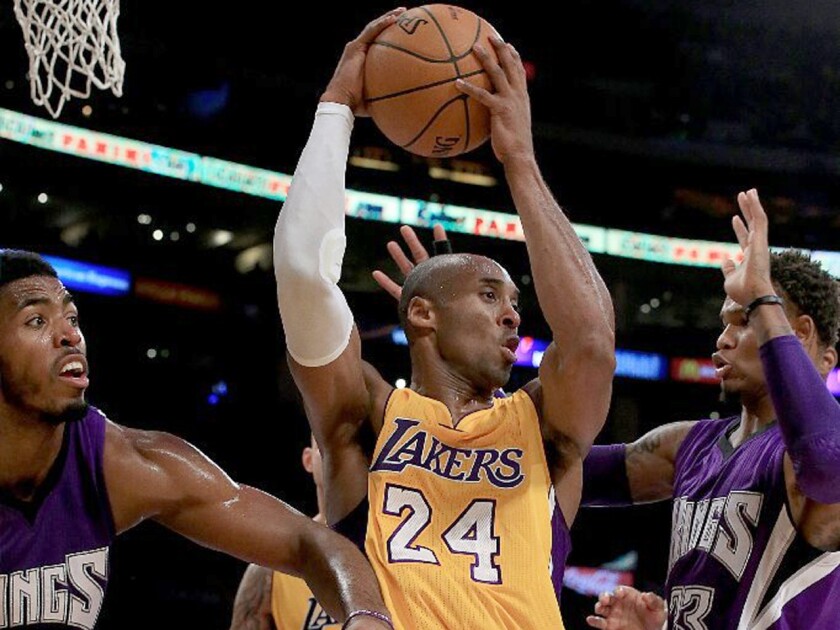 Lakers 98 - Sacramento Kings 95 (end of regulation)
The Lakers ended their three-game losing streak, over-coming a 12-point deficit to defeat the Sacramento Kings.
Rookie Nik Stauskas missed a three-point attempt at the buzzer, after the Lakers pulled ahead on four straight Kobe Bryant free throws.
Bryant finished with 32 points in 36 minutes, dishing six assists while playing point guard during the Lakers' fourth-quarter run. He scored nine points in the final period, with three assists.
The Lakers struggled to contain former Clippers point guard Darren Collison who scored 26 points with six assists on 11-of-18 shooting.
Shooting guard Wayne Ellington was the Lakers' most credible defender against Collison, sharing the backcourt with Bryant at the one.
Ellington only scored three points on one of six shooting, but was quiet key to his team's success.
Rudy Gay scored 23 for the Kings, while Ben McLemore added 15. Reggie Evans pulled down 14 rebounds in 30 minutes.
Carlos Boozer gave the Lakers 15 points and eight rebounds off the bench. Reserve Nick Young scored 12 points but hit just five of 12 shots.
Wesley Johnson converted a crucial three-pointer in the final five minutes, scoring 10.
Jordan Hill finished with just six points and six rebounds but collected an offensive board that led to a Bryant three that tied the game at 92 with 2:16 on the clock. Hill also hit a layup with just over 1 1/2 minutes left in the game.
Ed Davis scored 11 points on a perfect five attempts. The Lakers shot just 39.6% from the field but turned the ball over only five times. They hit five of 25 three-point attempts (20%).
The Kings finished with 16 turnovers, shooting 45.7% from the field and 46.7% from behind the arc. They also missed 13 free throws in 37 attempts.
The Lakers (6-16) are off until Friday, when they'll visit the San Antonio Spurs (15-6). The Kings (11-11) return home to host the Houston Rockets (16-4) on Thursday.
Kings 81 - Lakers 78 (end of third quarter)
Kobe Bryant led a charge to help erase a 12-point deficit, but the Kings were able to maintain a small lead heading into the fourth quarter.
Bryant scored 12 points in the period, hitting five of his nine attempts. The Lakers improved to 43.2% from the field as a team.
Nick Young added 12 points off the bench. Ed Davis scored 11 while Carlos Boozer contributed nine off the bench.
Rudy Gay scored 21 points to lead the Kings, followed by Darren Collison with 18 and Ben McLemore with 15. Reggie Evans collected 14 rebounds in 28 minutes.
The Kings shot 50.9% from the field with 13 turnovers. The Lakers only had five giveaways.
Kings 55 - Lakers 46 (halftime)
The Lakers climbed on top of the Kings early in the second, taking a two-point lead, but couldn't sustain their brief momentum.
Ben McLemore scored 13 points, hitting three of four attempts from three-point range. Darren Collison added 11 points and Rudy Gay 10 as the Kings shot 54.1% from the field and 50% from three-point range (5-10).
The Lakers hit just 37.3% and 8.3% (1-12), respectively, led by Kobe Bryant with 11 points. Ed Davis hit all four of his field goals, but was one-of-four from the free-throw line for nine points. Nick Young scored eight points in 10 minutes.
Sacramento's Reggie Evans collected 10 rebounds in 16 minutes.
Kings 29 - Lakers 24 (end of first quarter)
The Lakers continued to struggle, falling behind by as many as nine points in the first period against the Kings.
Nick Young converted a four-point play in the final minute to help the Lakers close within five. Darren Collison missed a pair of free throws, and a late Kobe Bryant three-point attempt didn't fall to end the quarter at 29-24.
Bryant led all scorers with nine points but the Lakers shot just 36.0% from the field.
Collison scored eight for Sacramento. Rudy Gay added seven in nine minutes before picking up his second foul. The Kings shot 57.9% but missed five free throws in 10 attempts.
The Lakers shot five for eight from the line, without turning the ball over once. The Kings had two miscues.
Pregame
The Lakers (5-16) have lost three in a row, but draw the DeMarcus Cousins-less Sacramento Kings (11-10) on Tuesday night at Staples Center.
Cousins is out indefinitely with viral meningitis.
The Lakers are still down Xavier Henry (Achilles' tendon), Ryan Kelly (hamstring), Steve Nash (back) and Julius Randle (leg).
For an in-depth breakdown, check out Preview: Lakers vs. Sacramento Kings.
Email Eric Pincus at eric.pincus@gmail.com and follow him on Twitter @EricPincus.
---