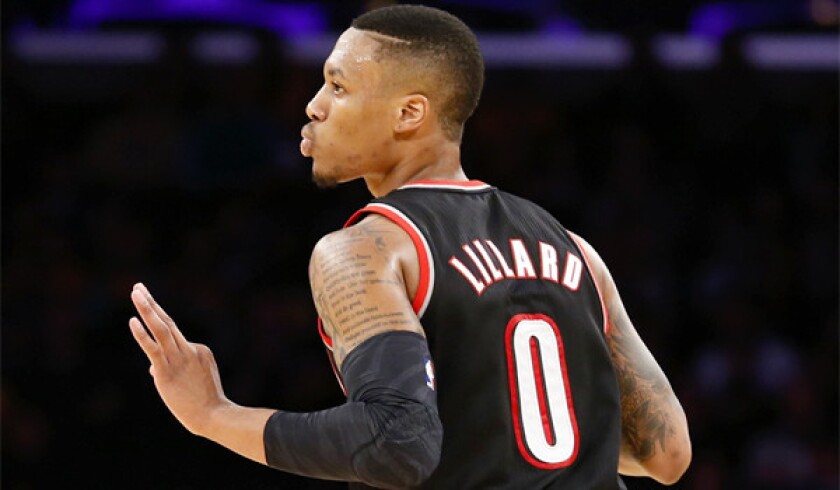 The Lakers (2-10) will try to avoid a three-game losing streak Sunday night when they play the Portland Trail Blazers (5-9) at Staples Center.
The Blazers started the season well but have lost seven of their last 10 games, although they beat the Clippers in Portland, Ore., on Friday.
Forward Meyers Leonard is out for the Blazers because of a shoulder injury. Lakers second-year forward Julius Randle is probable with a sore big toe on his left foot.
Key matchup
The Blazers are similar to the Lakers' last two opponents, the Phoenix Suns and Toronto Raptors, in that they have two primary scorers similar to guards Eric Bledsoe and Brandon Knight as well as Kyle Lowry and DeMar DeRozan.
Portland's pair of Damian Lillard and C.J. McCollum have been difficult for most of the league, scoring 25.2 and 20.1 points a game, respectively.
The Lakers couldn't get it done against the Suns or Raptors, so the Blazers appear to be another formidable challenge.
Rookie guard D'Angelo Russell is still learning the NBA game, especially on defense. Jordan Clarkson has shown signs that he may develop into a capable defender, but isn't there yet.
Lillard, in particular, always seems to torture the Lakers.
X-factor
Both teams struggle in getting consistent production from their reserves.
Lou Williams has been tasked with playing point guard instead of Marcelo Huertas, but it's not Williams' natural position.
Brandon Bass is undersized at center, and not a significant defensive presence.
Portland is also searching for bench help from former Lakers Ed Davis and Chris Kaman, perimeter players Gerald Henderson, Allen Crabbe and Mo Harkless.
On Friday against the Clippers, Noah Vonleh got the start in place of the injured Leonard.
Outlook
The Lakers don't have the track record this season, and the Blazers have been the better team thus far, but put down the home team for the win on Sunday.
Email Eric Pincus at eric.pincus@gmail.com and follow him on Twitter @EricPincus.
---