Lakers still need to cut at least four players before regular season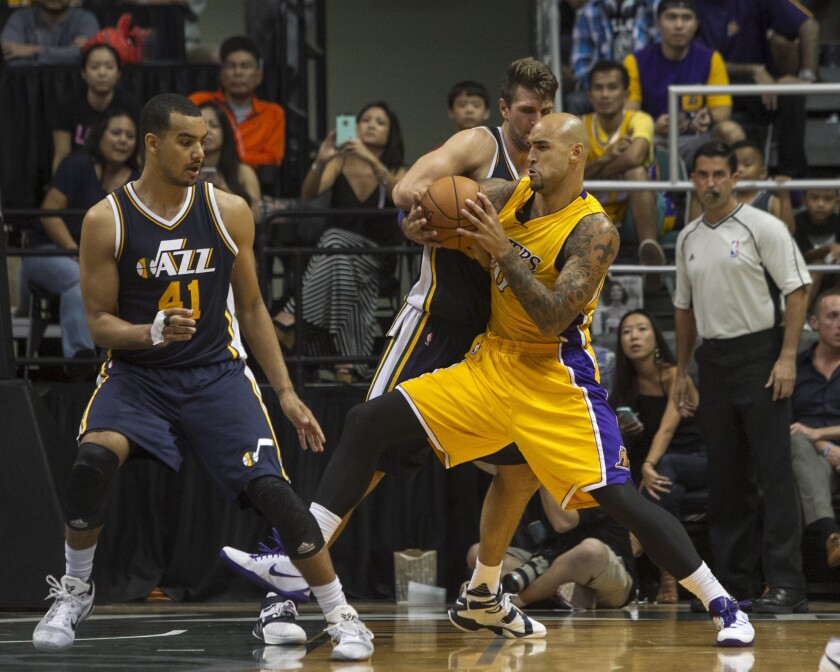 By Oct. 26, the Lakers will submit their opening night roster to the NBA.
Currently the franchise has 19 players under contract, four over the regular-season maximum. Twelve Lakers have fully guaranteed deals, while rookies Jonathan Holmes, Michael Frazier and Robert Upshaw have relatively small promises they'll earn if cut.
In late September, General Manager Mitch Kupchak said he might consider waiving a guaranteed player, if the team feels it's the right basketball decision.
Recent draft picks Larry Nance Jr. (27th overall) and Anthony Brown (34th) are safe. Third-year forward Ryan Kelly, who has played well through the preseason, also seems like a lock to stick.
The lone player with a guaranteed deal (nearly $1 million) on the bubble appears to be center Robert Sacre. While he's a legitimate 7-footer, and an exuberant locker room presence, Sacre may need to beat out both Tarik Black and Upshaw to keep his position.
Black is non-guaranteed at $845,059. While he's a bit undersized, Black is also a great teammate and is more athletic than Sacre.
Upshaw, on a rookie contract at $525,093, comes in with a very different reputation after getting dismissed from both Fresno State and Washington for team violations.
At Washington, Upshaw blocked 4.5 shots a game. He has great size for a center and tremendous potential, but only if he can keep his personal life in order.
The Lakers are likely to keep two of the three, and midway through the preseason Sacre may be on the outside looking in.
At guard, the Lakers also have a three-man battle, but for what appears to be one spot.
Second-year guard Jabari Brown had strong moments last season and with the Lakers' summer league squad in Las Vegas, but has not performed well this preseason.
Rookie Michael Frazier comes in as an established shooter, but is re-learning the point guard position after playing the two at Florida.
Thus far rookie Marcelo Huertas, an international veteran from Brazil, has been sidelined with a minor hamstring strain. Despite his absence, the Lakers may choose to keep him as a needed true, backup point guard -- over both Brown and Frazier.
Like Frazier, Texas forward Holmes has potential but making the roster may be a long shot. Both may end up in the NBA Development League with the D-Fenders.
That would leave one final spot for veteran forward Metta World Peace, who spent some of the summer mentoring second-year forward Julius Randle.
World Peace, if kept on a minimum contract at $1.5 million, may make more of an impact in the locker room and practice floor with his young teammates, or with the media and fans than on the court -- although he could find rotation minutes, especially in the 20 or so games All-Star guard Kobe Bryant sits out to rest this season.
Best guess the Lakers will start the season with guards D'Angelo Russell, Jordan Clarkson, Lou Williams and Huertas. Bryant likely starts at small forward, backed up by Nick Young, Anthony Brown and World Peace.
The Lakers will likely have Randle starting at power forward, with Brandon Bass, Kelly and Nance Jr. behind him. Roy Hibbert is the primary center, possibly with Black and Upshaw on the bench.
If Kupchak has made any roster decisions, the team has yet to act on them. The Lakers may choose instead to keep 13 or 14 players, or even find a trade partner before the end of October.
Email Eric Pincus at eric.pincus@gmail.com and follow him on Twitter @EricPincus.
---
All things Lakers, all the time.
Get all the Lakers news you need in Dan Woike's weekly newsletter.
You may occasionally receive promotional content from the Los Angeles Times.