Byron Scott to D'Angelo Russell: Play better or get less playing time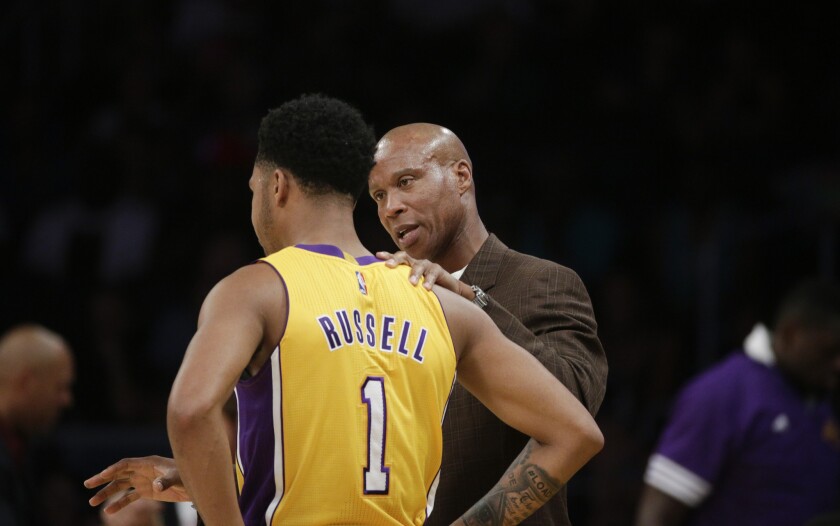 Reporting from Brooklyn —
Note to D'Angelo Russell: Lakers Coach Byron Scott wants to see more from you.
"He has to start getting it, just like the other young guys have to start getting it, and if they don't, they won't play as much," Scott said Friday, an hour before the Lakers played the Brooklyn Nets. "Playing time in this league is a very precious thing and I don't want our guys to take that for granted. Missing assignments on a continuous basis is not going to go unnoticed. You've got to start developing and doing a better job on that end of the floor."
Or else?
"When you make a mistake over and over again, that wood has a way of talking to your butt a little bit too. You get a couple of splinters here and there," Scott said, using an old metaphor for the team bench. "Sometimes that has a great way of communicating how important it is to play on that other end of the floor."
It's been only four games, but Russell has had trouble adapting to the NBA level. Minnesota guard Ricky Rubio and Sacramento guard Rajon Rondo had their way with Russell, scoring at will.
The Lakers in general have been lousy on defense, giving up an NBA-worst 116.8 points a game going into Friday night.
Russell hasn't been overly sharp on offense either, averaging 8.5 points and 2.8 assists. The second overall pick in the June draft is shooting only 34.1% from the field.
There's not a huge demotion on the way, but less playing time is obviously now on the table.
"I don't know about sitting [Russell] for games, but I do know that all these guys have got to start progressing a little bit faster," Scott said.
---
All things Lakers, all the time.
Get all the Lakers news you need in Dan Woike's weekly newsletter.
You may occasionally receive promotional content from the Los Angeles Times.