Pau Gasol will give priority to title contenders when he chooses team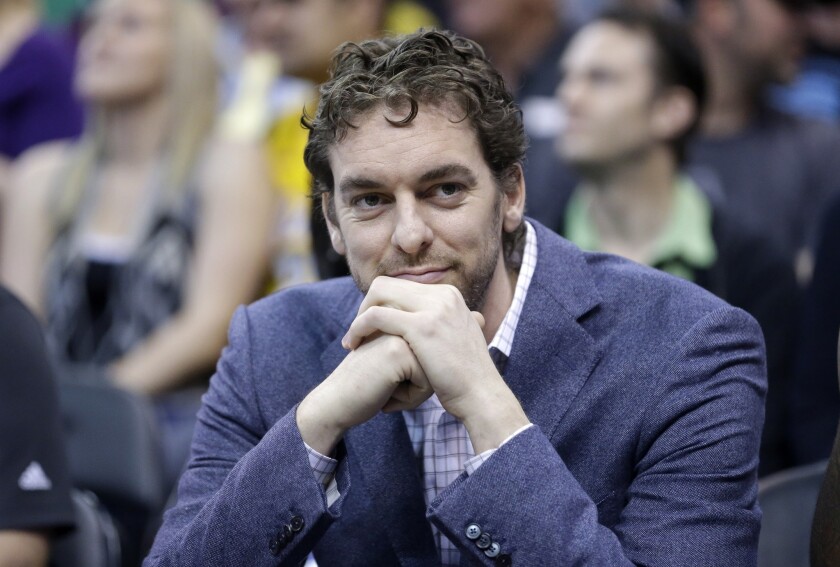 Lakers center Pau Gasol says he will give priority to title contenders as the countdown to his free agency continues.
"I'm not ruling anything out," said Gasol, speaking in Spanish during a video interview with Spanish sports website marca.com. "Of course, I hope the Lakers will make an offer - one that is good enough for me to consider - but I'm open to any offers that I would consider interesting and motivating for my present and my future."
In response to a reader's question, Gasol, who will become a free agent on July 1, said Memphis may be a good landing spot.
"The city of Memphis attracts me because it's a city I know, there's an opportunity of playing with my brother and they have a solid team," Gasol said.
He also said the Chicago Bulls, with the return of Derrick Rose and the possible addition of fellow Spaniard Nikola Mirotic, could be an interesting team.
But Gasol did rule out one team from his search.
"Going to the Clippers would be very difficult for me because they're our neighbors and there's a very strong rivalry there," he said. "So it would be very difficult for me to consider that as a real option."
The forward did, however, praise Clippers guard Chris Paul.
Asked about where he would like to play, Gasol said: "I like to play with the best," and included Paul, LeBron James, Kevin Durant and Carmelo Anthony in that category.
He also gave a nod to Western Conference rivals the San Antonio Spurs.
"The Spurs players maybe don't rack up statistics, but the team and the coach they have, to me, seems like a very good option," he said. "In the end, I'm more interested in a team than an individual player and how I would adjust and be worked into a system."
Lakers fans can hold on to some hope. According to marca.com, Gasol had this to say a day earlier about how Mike D'Antoni's resignation affects his decision this summer.
"Mike leaving was not the be-all end-all, but it is another factor," he said. "What is certain is that we are without a coach, and I say 'we' because I'm still thinking of myself as a Laker player."
---
All things Lakers, all the time.
Get all the Lakers news you need in Dan Woike's weekly newsletter.
You may occasionally receive promotional content from the Los Angeles Times.