LeBron James could be out at least a week, Lakers lose to Thunder
Lakers star LeBron James could be out "at least a week" with an abdominal strain, according to people not authorized to speak publicly on the matter.
James and the Lakers are taking a "cautionary" approach with the 19-year veteran, knowing that the forward "could be out longer or could return sooner."
The Lakers had another scary moment when Anthony Davis suffered a sprained right thumb late in the second quarter of Thursday night's game against the Thunder at Staples Center. But Davis (29 points, 18 rebounds) returned to play in the third quarter after getting his thumb taped in a game the Lakers blew a 19-point lead in losing 107-104 to Oklahoma City.
The Lakers announced that James had a strained rectus abdominis and would be out of the game against Oklahoma City, but Los Angeles didn't give a timetable for his return.
"Well anytime LeBron's out and he's going to miss some time, there's obviously concern," Lakers coach Frank Vogel said before the game. "Hopefully this is something that's minimal and hopefully he'll be back soon."
Vogel said James was injured sometime in the fourth quarter of Tuesday night's game against the Houston Rockets.
James played 36 minutes 16 seconds and scored a team-high 30 points. He scored 10 consecutive points early in the fourth quarter.
Five takeaways from the Lakers' 119-117 defeat of the Houston Rockets on Tuesday night at Staples Center, including LeBron James' stellar 4th quarter.
"Yeah, he doesn't know exactly what happened," Vogel said. "He just said when he came out of the game at that whatever, six- or five-minute mark or something in the fourth quarter, when he came over to the bench, he just said he felt something pulling. Was able to finish the game, but then obviously discovered there was something there after the game."
James, who will turn 37 next month, has missed two games this season because of right ankle soreness, and now this.
He missed 27 games last season, 26 because of an ankle injury.
Vogel was asked if the plan for the Lakers was to try and keep James healthy for the long haul and for when the playoffs start in April.
"Not any different than in years past," Vogel said. "We want to be responsible with his minutes and like you just said, get to the finish line as healthy as possible but also as in rhythm as possible. And that's a balance that we strike throughout the year."
James is second on the Lakers in scoring (24.8) and assists (7.0) and first in minutes per game (37.0) and steals (2.3).
DeAndre Jordan returned to the starting lineup in place of James.
Shooting guard Wayne Ellington played his first game of the season after missing time with a left hamstring injury.
Dwight Howard also was back after missing the last two games with neck stiffness.
"Obviously you can't replace what LeBron does but everybody else has to do what they do better and you have to start that way," Vogel said.
"And the communication piece is always the first thing at the top line, in terms of the rotation."
Even without James, the Lakers didn't have a hard time taking the Thunder serious.
The Lakers and their Big Three turned it around in the second half as L.A. pulled out a 119-117 win over the Houston Rockets on Tuesday night at Staples Center.
This was the same team that the Lakers had an epic collapse against, blowing a 26-point lead in the loss.
Russell Westbrook was ejected from that game last week in Oklahoma City after his frustration got the best of the Lakers guard at watching Thunder forward Darius Bazley steal a pass and waltz in for a dunk with a few seconds left even though the game was essentially over.
The Lakers have now lost twice to the Thunder, both times blowing big leads and collapsing at the end.
Westbrook had a big turnover when the Lakers were down by two with 21 seconds left and he missed a potential game-tying three-pointer with 3.5 seconds left.
He finished with 27 points.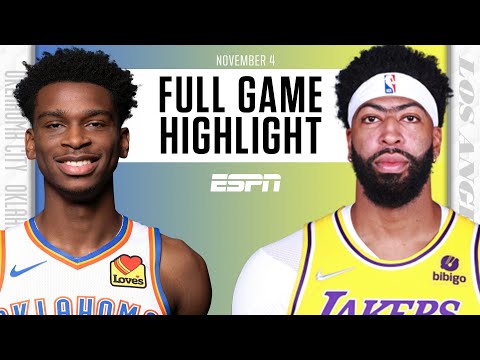 All things Lakers, all the time.
Get all the Lakers news you need in Dan Woike's weekly newsletter.
You may occasionally receive promotional content from the Los Angeles Times.